Loewen Be Hold-September Call Ups!
Tuesday, September 06 2011 @ 02:22 AM EDT
Contributed by: #2JBrumfield
Sportsnet's Shi Davidi tweets the Blue Jays have called up outfielder Adam Loewen, first baseman David Cooper and pitchers Chad Beck, Kyle Drabek, Danny Farquhar and Strasburg Canada™ - Brad Mills. This comes after the Jays activated pitcher Dustin McGowan from the 60-day disabled list and recalled infielder Chris Woodward from Las Vegas over the weekend after a wrist injury to shortstop Yunel Escobar.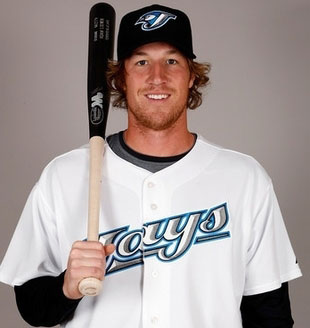 Surrey, B.C. native Adam Loewen is back in the bigs for the first time since 2008 when he pitched for the Baltimore Orioles.




Adam Loewen batted .306/.377/.508 with Las Vegas in 2011 with 46 doubles, four triples, 17 home runs, 85 runs batted in and 11 stolen bases. The 27 year-old left-handed hitting outfielder hit .303 against left-handed pitching and .308 against righties. His .306 average this year is 60 points better than his New Hampshire average from last season and 70 points better than his Dunedin performance in 2009. Loewen was 8-8 with a 5.38 ERA in parts of three seasons with Baltimore.




David Cooper gets his second cup of coffee in the bigs after winning the Pacific Coast League batting title with a .364 average. The 24 year-old left-handed hitting first baseman outdistanced Reno's Colin Cowgill (now with the Diamondbacks) by 10 points in the batting race. His OBP/SLG marks were .439/.535 and he racked up 51 doubles, one triple, nine homers and 96 RBI. The 2008 first round pick batted just .121 in 13 contests with Toronto back in May but did hit his first home run off Red Sox reliever Daniel Bard before lifting a game winning sacrifice fly to give the Jays an extra-innings victory at the Dome May 10. Like Loewen, Cooper saw a big increase in his batting average from last season after hitting just .257 with New Hampshire.




Danny Farquhar will look to make his major league debut with Toronto. The 24 year-old righty was 4-5 with a 4.70 earned run average out of the 51s bullpen this season. He pitched 51 2/3 innings and posted a 43-18 K/BB ratio with 14 saves. Over his last 10 appearances of the season covering 9 1/3 innings, Farquhar posted a 1.93 ERA. Originally drafted by the Blue Jays in the 10th round back in 2008, the 5-foot-11 hurler was dealt to Oakland with reliever Trystan Magnuson to Oakland in the Rajai Davis deal but was reacquired when the Jays sent lefty David Purcey packing to the Athletics early in the season.




Chad Beck will also look to sip his first cup of coffee with the team he was originally drafted by. Taken in the 43rd round of the 2004 amateur draft by Toronto, the 26 year-old righty from Jasper, Texas was taken two years later by the Arizona Diamondbacks out of Louisana-Lafayette in the 14th round. He was reacquired from the D-Backs in exchange for David Eckstein August 31, 2008. Beck has spent the majority of his time with New Hampshire this season and put up a 7-4 record with a 3.69 ERA. He pitched 95 innings while striking out 70 and walking 26 over 22 appearances (14 starts). That earned him a trip to Las Vegas where he made eight starts but he went 2-4 with a 6.70 ERA to go along with an unsightly WHIP of 2.09.




Kyle Drabek is back with the club but has endured a hellish 2011 campaign. He won 5 of 9 decisions with the 51s but PCL batters tuned him up for a .355 batting average which resulted in a ERA of 7.44. The 23 year-old barely struck out more than he walked over 75 innings with a 45-41 K/BB total. The one-time favourite of Hitler was 4-5 with a 5.70 ERA with the Jays before being demoted to Las Vegas.




Brad Mills, like Drabek, is also back with the Blue Jays for a second go-around in 2011. Unlike Drabek, Mills fared better against the PCL by going 11-9 with an ERA of 4.00. The 26 year-old lefty pitched 157 1/3 innings over 24 starts and struck out 136 batters while walking 39. He pitched one complete game and was the starting pitcher for the Pacific Coast League in the Triple-A All-Star Game. Mills was 1-2 with an 8.35 ERA in his first stint with the Jays in 2011. He suffered a hard-luck loss against Derek Holland and the Texas Rangers at the Dome July 30 when he allowed just two runs over 7 innings. He did earn a win in Baltimore in his next start as he allowed three runs over 5 1/3 innings. However, he got whacked for six runs over three innings in each of his next two starts and that led to a return trip back to Lost Wages. He struck out 18 batters over 18 1/3 innings but his WHIP was 1.75.




Dustin McGowan has battled his way back to the bigs after labouring away with Dunedin and New Hampshire this season. Over 12 total starts (seven in Dunedin), the 29-year old righty was a combined 0-4 but his ERA was 2.80 and he struck out almost batter an inning with 35 whiffs in 35 1/3 frames while walking 14. Opponents hit just .238 against him. McGowan looks to improve on his 20-22 career record in the bigs and whittle down his 4.71 ERA.




Chris Woodward gets another sip of the java with the Jays this season. He saw action in four games early in the season and was 0-for-4 and made an appearance in Monday's extra innings victory against Boston. The 35 year-old Woodward scored the winning run in a pinch-running appearance when John McDonald belted a walk-off two-run homer to sink the Tampa Bay Rays at the Dome April 22. The veteran infielder batted .296/.353/.474 with Las Vegas with 32 doubles, two triples, 15 homers, 63 RBI and four stolen bases. A career .240 hitter in the bigs, Woodward has spent 7 of his 12 seasons with the Jays.




MLB Trade Rumors reports the Jays have released lefty Brian Tallet. He was designated for assignment after taking the loss against Baltimore in his lone appearance August 30. He returned to the club from St. Louis in the Colby Rasmus deal in late July.

---

https://www.battersbox.ca/article.php?story=20110906002252377