Baseball America's Top 30 Blue Jays Prospects For 2018
Thursday, March 08 2018 @ 07:02 AM EST
Contributed by: #2JBrumfield
Here's a rundown of the Top 30 prospects in the Toronto Blue Jays system according to Baseball America.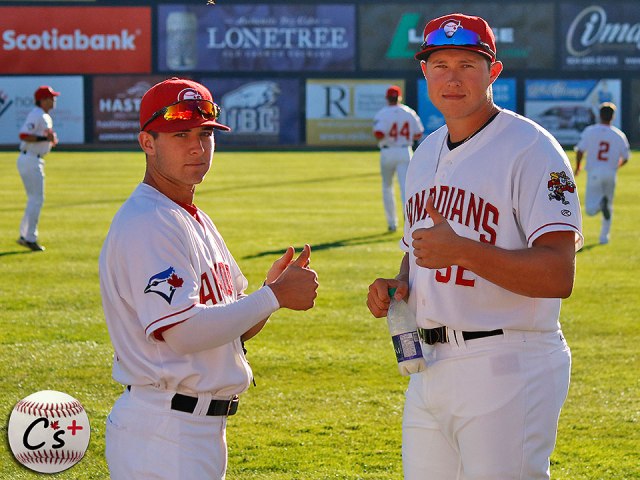 2017 first round picks Logan Warmoth and Nate Pearson are two of the three highest-ranked newcomers on Baseball America's Top 30 Blue Jays prospects list.
Here is how Baseball America grades each player, based on the traditional 20-80 scouting scale:

75-80 - Franchise player/number one starter
65-70 - Perennial All-Star/number two starter
60 - Occasional All-Star/number two-three starter/game's best closer

55 - First division regular/number three-four starter/elite closer
50 - Number four starter/elite set-up reliever

45 - Second division regular/platoon/set-up reliever
40 - Reserve player/swingman/long reliever
Risk factors for each player are as follows:

Safe - player is ready to contribute in the majors this season and has shown a realistic ceiling
Low - player is likely to reach his ceiling and become a big leaguer barring injury
Medium - player still has some tools to sharpen for major league caliber skills but is fairly polished

High - player is a first-year draft pick, has plenty of projection involved or has a worrisome injury history

Extreme - teenager in rookie ball, a player with a significant history of injuries or struggles with a key skill (pitcher's control or hitter's strikeout rate) that is a significant barrier to reaching his potential

The Blue Jays have the 8th best system in MLB according to BA, up 12 spots from 2017.


No.#
Player
Position
Grade
Risk
2017 Rank
1

Vladimir Guerrero Jr.

3B

75

High

1
2

Bo Bichette

SS

65

High

9
3

Anthony Alford

OF

55

Medium

2
4

Nate Pearson

RHP

55

Very High

NR
5

Lourdes Gourriel Jr.

SS/2B

55

Very High

3
6

Eric Pardinho

RHP
55

Extreme
NR
7

Danny Jansen
C
50
High
22
8

Logan Warmoth
SS
50
High
NR
9

Richard Urena
SS
45
Medium
6
10

Ryan Borucki
LHP
45
Medium
16
11

Sean Reid-Foley
RHP
50
High
4
12

T.J. Zeuch
RHP
50
High
8
13

Ryan Noda
1B/OF
50
Very High
NR
14

Edward Olivares*
OF
50
Very High
NR
15

Reese McGuire
C
45
High
13
16

Conner Greene**
RHP
45
High
5
17

Miguel Hiraldo
SS
50
Extreme
NR
18

Leonardo Jimenez
SS
50
Extreme
NR
19

Carlos Ramirez
RHP
40
Medium
NR
20

Riley Adams
C
45
High
NR
21

Rowdy Tellez
1B
40
Medium
7
22

Harold Ramirez
OF
40
Medium
14
23

Max Pentecost
C/1B
45
Very High
12
24

McGregory Contreras
C/1B
45
Very High
NR
25

Kevin Vicuna
SS
45
Very High
NR
26

Kevin Smith
SS
45
Very High
NR
27

Jordan Romano
RHP
40
High
24
28

Hagen Danner
C
45
Extreme
NR
29

Jon Harris
RHP
40
High
10
30

Yennsy Diaz
RHP
40
Very High
28
* - Traded to San Diego
** - Traded to St. Louis

The biggest risers on the list are Bichette (9 to 2), Jansen (22-7) and Borucki (16-10). The biggest fallers are Reid-Foley (11-4), Tellez (21-7), Harold Ramirez (22-14) and Harris, who nearly slid all the way off the list from 10 to 29. Harold Ramirez wasn't even the top Ramirez on the list as Carlos Ramirez made his first foray in the top 30. He's among 13 newcomers on the list, led by first-rounders Pearson and Warmoth as well as Pardinho in the top 10.

Top Rookie -  Borucki


Breakout Prospect - Noda


Sleeper - Alejandro Melean, RHP


Projected 2021 Lineup
C - Jansen
1B - Justin Smoak
2B - Devon Travis
3B - Guerrero Jr.

SS - Bichette

LF - Alford

CF - Kevin Pillar

RF - Gourriel Jr.

DH - Tellez
#1 SP - Marcus Stroman
#2 SP - Aaron Sanchez
#3 SP - Pearson
#4 SP - Borucki
#5 SP - Reid-Foley

CL - Roberto Osuna

---