2018 MLB Draft - Day 2
Tuesday, June 05 2018 @ 12:02 PM EDT
Contributed by: #2JBrumfield
The 2018 MLB Draft continues with rounds 3-10. The #BlueJays selected third baseman Jordan Groshans from Magnolia High School in Texas with the 12th pick and outfielder Griffin Conine from Duke with the 52nd selection.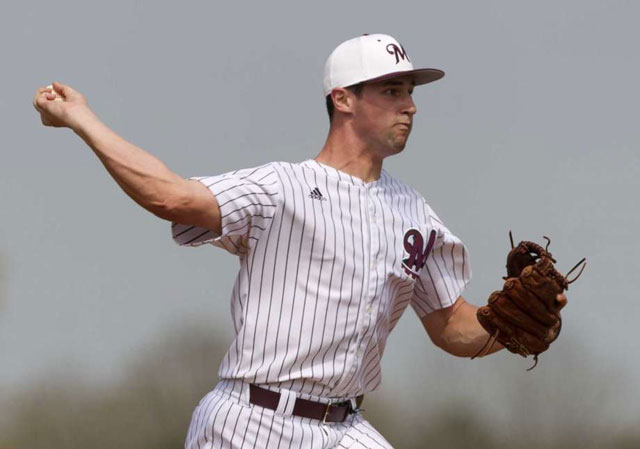 3rd round - 88th overall - RHP Adam Kloffenstein, Magnolia HS (Texas) - Bats Right - 6-5, 220 lbs. Born August 25, 2000 Pick Value $652,900.
MLB.com Scouting Report
He kicked off the summer showcase last June with a strong two-inning outing at the Perfect Game National and hasn't let up since. Kloffenstein can work in the low 90's with heavy sink on his two-seam fastball and hit 96 mph with his four-seamer. He has advanced feel for a breaking ball, showing the ability to morph his sharp slider into a bigger breaking curveball or a harder cutter. He also has a deceptive changeup with tumble.that lacks consistency but also can be his best pitch at times. At 6-5 220, Kloffenstein has a frame built for durability and also the room to add more strength. He's athletic and repeats his delivery well, allowing him to throw strikes. He's a tough competitor who can get overly animated on the mound, but the only real knock against him is that he may be difficult to sign away from Texas Christian.

Twitter Reaction
@KeeganMatheson
Kloffenstein is a high-value pick for the if they're able to sign him away from his commitment to the University of Texas. A top-50 prospect in this draft.
@NathanRode
Adam Kloffenstein would've been my bet for the top high school guy to go today. Easily could've gone yesterday. Young for class, plus stuff. Great pick for the
@StevensonFWST #TCU commit RHP Adam Kloffenstein has been selected by the #BlueJays with the No. 88 overall pick. #GoFrogs He's likely to be headed to #TCU.

@B_Sakowski_PG Blue Jays going with Adam Kloffenstein. Was #52 on our board, very young, physical, stuff jumped this spring, shows mid-90's with good offspeed stuff. TCU signee, going to be interesting if he'll sign. If they get him signed, big time pick.

@CarlosACollazo Just getting into the office now, but like the pick from the Blue Jays to take Adam Kloffenstein. Might be a tough sign but they could get it done after taking Jordan Groshans No. 12.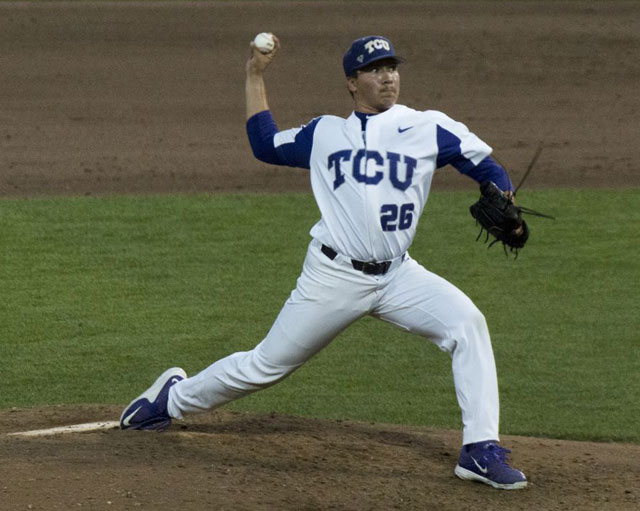 4th round - 116th selection - RHP Sean Wymer, Texas Christian University 6-1 190 lbs. Bats Right. Born March 19, 1997 Pick Value $478,600.
MLB.com Scouting Report.


Wymer served as a troubleshooting reliever on Texas Christian's College World Series club in 2017, the fourth straight year the Horned Frogs reached Omaha. Though he was extremely valuable in that role, retiring 35 of the 39 batters he faced while recording two wins and a save during the NCAA postseason, TCU shifted him into its rotation this spring. Though his stuff hasn't been as crisp as it has in the past and he missed time with back issues early in the season, he has still shown enough to factor in the first three rounds of the Draft. Wymer has four quality pitches and there's little consensus as to which is his best. He'll flash a well-above-average curveball at times, though there are other times when his hard slider is his superior breaking ball. He doesn't worry about radar guns, working at 89-92 mph with a quality sinker, though he can reach back for 95-96-mph heat when he needs to. As if that's not enough, Wymer can also unveil a solid changeup and fully trusts the pitch. Though he's not big, he's athletic and repeats his delivery, allowing him to throw a ton of strikes and boding well for his durability. He has advanced feel for pitching and mixes his pitches masterfully.

Twitter Reaction
---

https://www.battersbox.ca/article.php?story=20180605002714994