The 2018 MLB Draft continues with rounds 3-10. The #BlueJays selected third baseman
Jordan Groshans
from Magnolia High School in Texas with the 12th pick and outfielder
Griffin Conine
from Duke with the 52nd selection.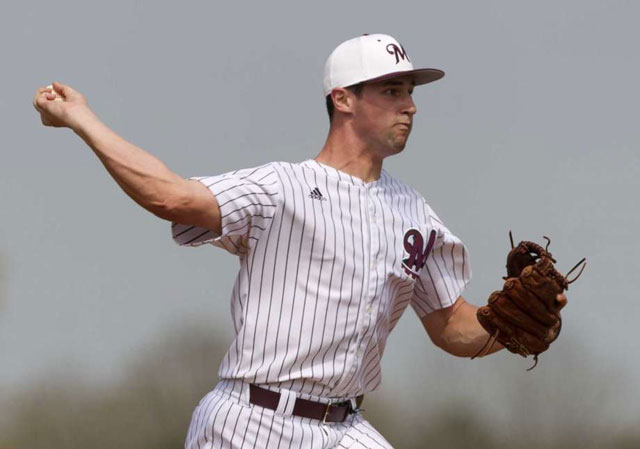 3rd round - 88th overall - RHP Adam Kloffenstein, Magnolia HS (Texas) - Bats Right - 6-5, 220 lbs. Born August 25, 2000 Pick Value $652,900.
MLB.com Scouting Report
He kicked off the summer showcase last June with a strong two-inning outing at the Perfect Game National and hasn't let up since. Kloffenstein can work in the low 90's with heavy sink on his two-seam fastball and hit 96 mph with his four-seamer. He has advanced feel for a breaking ball, showing the ability to morph his sharp slider into a bigger breaking curveball or a harder cutter. He also has a deceptive changeup with tumble.that lacks consistency but also can be his best pitch at times. At 6-5 220, Kloffenstein has a frame built for durability and also the room to add more strength. He's athletic and repeats his delivery well, allowing him to throw strikes. He's a tough competitor who can get overly animated on the mound, but the only real knock against him is that he may be difficult to sign away from Texas Christian.

Twitter Reaction
@KeeganMatheson
Kloffenstein is a high-value pick for the
#BlueJays
if they're able to sign him away from his commitment to the University of Texas. A top-50 prospect in this draft.
@NathanRode
Adam Kloffenstein would've been my bet for the top high school guy to go today. Easily could've gone yesterday. Young for class, plus stuff. Great pick for the
#BlueJays
#mlbdraft
@JBristolKHOU Blue Jays take both Magnolia kids! First Goshans, now Kloffenstein. Adam much tougher sign #khou11

@StevensonFWST #TCU commit RHP Adam Kloffenstein has been selected by the #BlueJays with the No. 88 overall pick. #GoFrogs He's likely to be headed to #TCU.

@B_Sakowski_PG Blue Jays going with Adam Kloffenstein. Was #52 on our board, very young, physical, stuff jumped this spring, shows mid-90's with good offspeed stuff. TCU signee, going to be interesting if he'll sign. If they get him signed, big time pick.

@CarlosACollazo Just getting into the office now, but like the pick from the Blue Jays to take Adam Kloffenstein. Might be a tough sign but they could get it done after taking Jordan Groshans No. 12.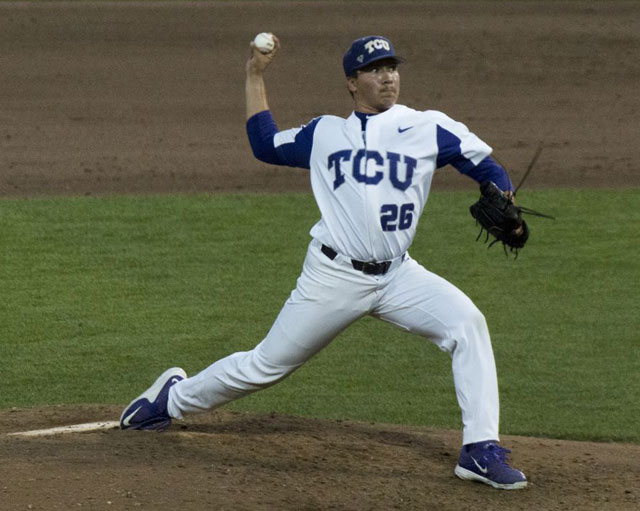 4th round - 116th selection - RHP Sean Wymer, Texas Christian University 6-1 190 lbs. Bats Right. Born March 19, 1997 Pick Value $478,600.
MLB.com Scouting Report.


Wymer served as a troubleshooting reliever on Texas Christian's College World Series club in 2017, the fourth straight year the Horned Frogs reached Omaha. Though he was extremely valuable in that role, retiring 35 of the 39 batters he faced while recording two wins and a save during the NCAA postseason, TCU shifted him into its rotation this spring. Though his stuff hasn't been as crisp as it has in the past and he missed time with back issues early in the season, he has still shown enough to factor in the first three rounds of the Draft. Wymer has four quality pitches and there's little consensus as to which is his best. He'll flash a well-above-average curveball at times, though there are other times when his hard slider is his superior breaking ball. He doesn't worry about radar guns, working at 89-92 mph with a quality sinker, though he can reach back for 95-96-mph heat when he needs to. As if that's not enough, Wymer can also unveil a solid changeup and fully trusts the pitch. Though he's not big, he's athletic and repeats his delivery, allowing him to throw a ton of strikes and boding well for his durability. He has advanced feel for pitching and mixes his pitches masterfully.

Twitter Reaction
@jeffMLBdraft
Sean Wymer
was viewed ahead of Feltman to start the year as the top TCU reliever. He was tried as a starter three above average pitchers could start or could work in the pen. He is not the biggest guy, might be best in the pen
@_ClintB_
BA had Jays 4th round pick Wymer, ranked 89th overall, had this to say "his above-average control of his big breaking ball and an above-average fastball that could make him a useful reliever in pro ball."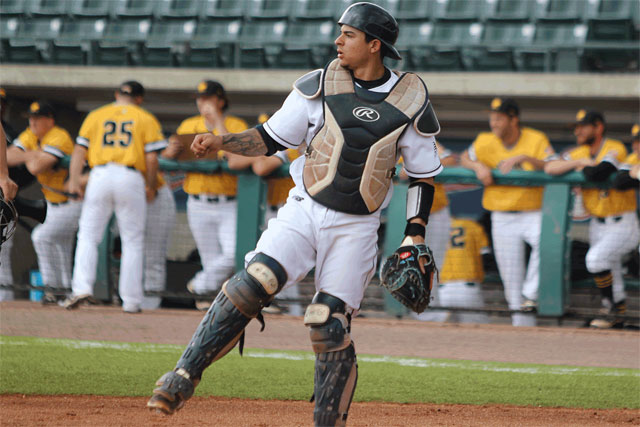 5th round - 146th overall - C Christopher Bec, U Maine Orono. Bats Right Throws Right. 5-11, 190 pounds. Born December 30, 1995. Pick Value $357,500.
@jeffMLBdraft
Blue Jays were scouting Pena at Main when they found Bec. They love bloodlines which is why they were mostly there checking out Maine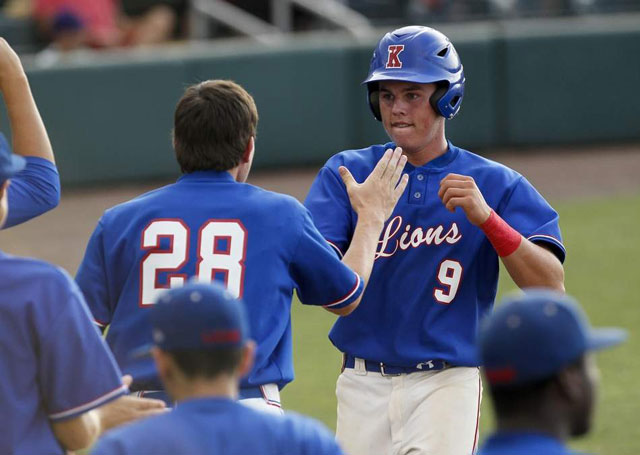 6th round - 176th overall - SS Addison Barger, C Leon King (HS), Florida, Bats Left Throws Right. 6-0, 175 pounds. Born November 12, 1999. Pick Value $271,100.
MLB.com Scouting Report
Attended same high school as former Blue Jay Derek Bell, a second-round pick in 1987. Barger is a left-handed hitting middle infielder who has shown some plus bat speed at times this spring. It's more of a line-drive approach at present, but there is raw power for him to tap into as he progresses in the game. Defensively, Barger has a strong arm and good hands, though with fringy speed, at best, the qeustion remains whether he can stick at shortstop long-term. Scouts think Barger can begin his career at the premium position and let him play his way off, with second or third a more likely landing place. Seeing Barger end up as an offensive-minded second baseman from the left side of the plate might be the best scenario, and he could profile best as a super-utility type who can hit. There is some offensive upside, and that could be enough to entice a team to sign him away from his Florida commitment.
Twitter Reaction
@DougFreemanPBR
Addison Barger heads to the #BlueJays. Can really hit and has solid defensive actions. Really surprised he has lasted this long if he signs.
Nice pick for #BlueJays. @DougFreemanPBR is an Addison Barger fan. Can really hit. #mlbdraft
Jays go with FL prep SS Addison Barger, really rose up boards this spring, likely a 2B/3B long term, LHH with some pop there, solid tools across the board
Mayo on Addison Barger: "I don't think he gets drafted here if they think he won't sign"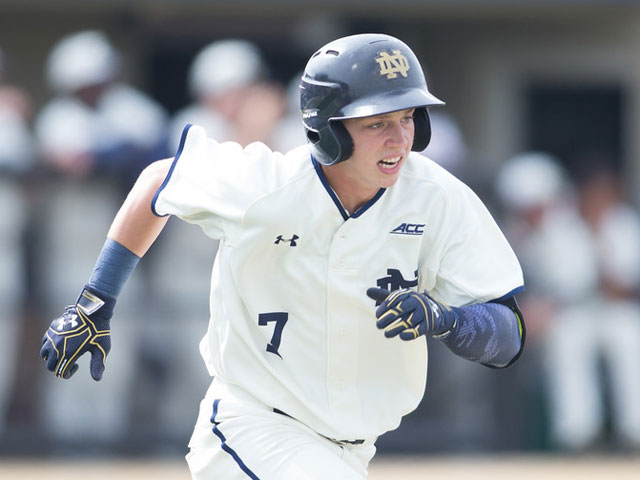 7th round - 206th overall - 2B Nick Podkul, Notre Dame. Bats Right, Throws Right. Born 6-foot-4, 215 lbs. Born June 25, 1996. Pick Value $210,200.
MLB.com Scouting Report
Second baseman hit .312 with a .433 on-base percentage and .525 slugging percentage this year - leading the Fighting Irish in all three slash categories - while adding eight home runs and nine stolen bases in 11 tries. Podkul doesn't wow you with his tools, but he's hit in the ACC, he has a good feel for the game and he's a solid defender.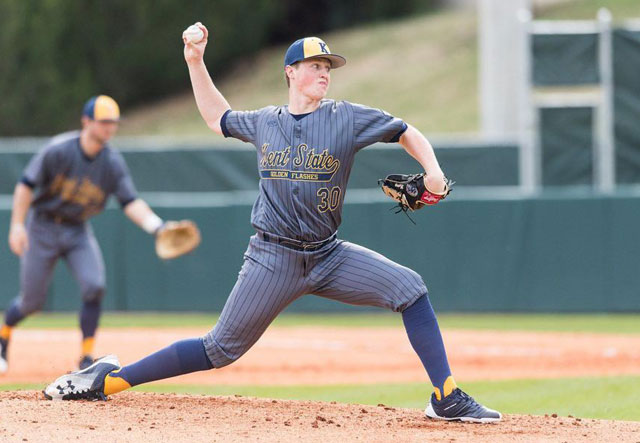 8th round - 236th overall - RHP Joey Murray, Kent State (OH). Bats Right. 6-foot-2, 195 pounds. Born September 23, 1996. Pick Value $169,600.

MLB.com Scouting Report

Murray's fastball typically runs from 87-88 mph and can touch 91, and the right-hander features a good curveball and decent slider and changeup. All of those pitches are made much better by a deceptive delivery that confounds opposing hitters, particularly the fastball, which seems like it's coming in much hotter than the upper-80s.
Twitter Reaction
@jjcoop36
Blue Jays 8th rounder Joey Murray throws an invisi-ball. Oustanding deception. Fastball plays way harder than the velo readings.
Blue Jays take Joey Murray from Kent State saw him a lot. His numbers are great this year set a MAC record for strikeouts. He died over the last month of the year. His stuff has always looked average, but no one could hit him the last two years.
Blue Jays also go the #MACtion route with Kent State's Joey Murray. One of the premier performers in college baseball in his career, lots of deception, mostly 87-91 mph with flashes of 55 SL. @CoachSimmons4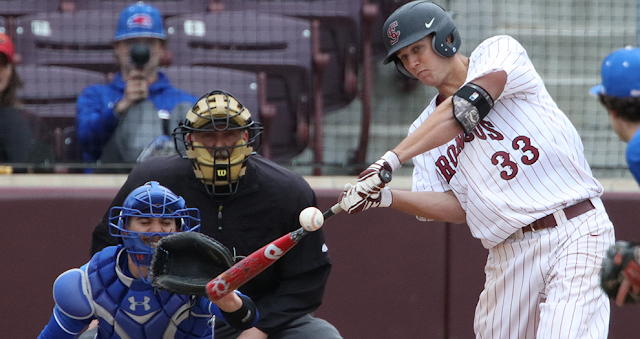 9th round - 266th overall - 1B Jake Brodt, Santa Clara University. Bats Right Throws Right. 6-foot-4, 220 lbs. Born March 11, 1996. Pick Value $149,400.
10th round - 296th overall - OF Cal Stevenson, Arizona. Bats Left Throws Left. 5-foot-10, 175 lbs. Born September 12, 1996. Pick Value $140,200.
Note - Selected by the Los Angeles Dodgers in the 36th round of the 2016 draft.