2019 MLB Draft - Day 1
Monday, June 03 2019 @ 02:52 PM EDT
Contributed by: #2JBrumfield
Rounds 1 and 2 of the 2019 MLB Draft are taking place in Secaucus, New Jersey. Follow the draft right here. #LetsGoBlueJays.
The Blue Jays have the 11th and 52nd selections and have a bonus pool of $8,463,300 to work with. Baseball America now has the Jays going with West Virginia righthander Alek Manoah with their first pick. Before that, it was UNLV shortstop Bryson Stott. MLB.com's Jim Callis and Jonathan Mayo agree the Jays are going to go with Manoah with the 11th selection. FanGraphs also believes Manoah is the Jays man.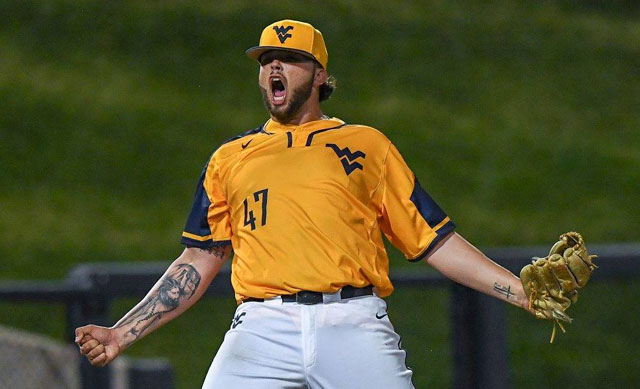 Image from wvmetronews.com

Round 1 - 11th overall. RHP Alek Manoah, West Virginia. 6-foot-6, 260 lbs. Born January 9, 1998. Slot Value $4.55M.

MLB.com Scouting Report
- Manoah was a two-way player out of high school in the Miami area in 2016, but went undrafted and headed to West Virginia. The big right-hander worked more out of the bullpen than in the rotation over his first two seasons, but opened a lot of eyes as a starter in the Cape Cod League, leading the league in strikeouts. He's been that pitcher ever since, moving his way to close to the top of college arm options in this year's Draft. A physical beast at 6-foot-6, 260-pounds, Manoah has always shown glimpses of solid power stuff, but without consistency or command of it. That's changed this spring as he has shown above-average control for most of his junior season. He's pitched with a fastball typically in the 94-97 mph range, missing a ton of bats thanks to good sink. His slider flashes plus at times and has been a more reliable weapon for him. He has a solid changeup, relying on it in the Cape Cod championship game, but he hasn't used it as much this spring. Manoah has managed to keep his large frame in sync and has repeated his delivery in order to fill up the strike zone more effectively. Given that he doesn't have that many starts on his resume, he's a rare college pitcher with projection, something that should get him off the board in the first round, much earlier than his older brother Erik, currently a reliever in the Angels system, who was drafted by the Mets in the 13th round of the 2014 Draft.
Video
Baseball America Scouting Report - Manoah split time between starting and relieving during his first two seasons with West Virginia, but after a stellar campaign as a starter in the Cape Cod League last summer—when he posted a 2.70 ERA with 48 strikeouts in 33.1 innings—Manoah has made a successful transition to a full-time starting role this spring. Through his first 12 starts this season, Manoah has been one of the more dominant arms in the country, posting a 2.07 ERA with 108 strikeouts over his first 82.2 innings (11.76 strikeouts per nine innings) and the lowest walk rate (2.29 per nine) of his career. Manoah mostly works off of two pitches—a power fastball that sits in the mid- to upper 90s and a hard slider that projects as a second plus pitch. While Monoah has shown a changeup at times, he's mostly been a two-pitch starter this season. He also entered the season with significant reliever risk because of his erratic control, large, 6-foot-6, 260-pound frame and questionable athleticism. However, he has started pitching exclusively out of the stretch and, as a result, has improved his strike-throwing ability enough to give him a real shot of sticking as a starter in pro ball. But while his walk rate is down significantly this season, Manoah still needs to refine his command—as evidenced by 17 hit batters over his first 12 starts—and teams will likely be concerned with how well he is able to manage his body moving forward. This list of major league starting pitchers who have had success at or near Manoah's size is a short one, with CC Sabathia, Aaron Harang, Justin Masterson and Michael Pineda some of the names who qualify. Still, Manoah's stuff compares nicely with most of the pitchers in the 2019 class, and he's steadily improved his draft stock with each start. Manoah should be one of the first college pitchers drafted this June.

Twitter Reaction
---

https://www.battersbox.ca/article.php?story=20190603131254243