Rounds 1 and 2 of the 2019 MLB Draft are taking place in Secaucus, New Jersey. Follow the draft
right here
. #LetsGoBlueJays.
The Blue Jays have the 11th and 52nd selections and have a bonus pool of $8,463,300 to work with. Baseball America now has the Jays going with West Virginia righthander Alek Manoah with their first pick. Before that, it was UNLV shortstop Bryson Stott. MLB.com's Jim Callis and Jonathan Mayo agree the Jays are going to go with Manoah with the 11th selection. FanGraphs also believes Manoah is the Jays man.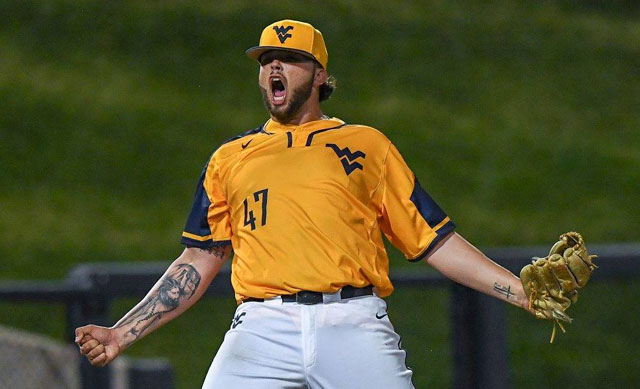 Image from wvmetronews.com

Round 1 - 11th overall. RHP Alek Manoah, West Virginia. 6-foot-6, 260 lbs. Born January 9, 1998. Slot Value $4.55M.

MLB.com Scouting Report
- Manoah was a two-way player out of high school in the Miami area in 2016, but went undrafted and headed to West Virginia. The big right-hander worked more out of the bullpen than in the rotation over his first two seasons, but opened a lot of eyes as a starter in the Cape Cod League, leading the league in strikeouts. He's been that pitcher ever since, moving his way to close to the top of college arm options in this year's Draft. A physical beast at 6-foot-6, 260-pounds, Manoah has always shown glimpses of solid power stuff, but without consistency or command of it. That's changed this spring as he has shown above-average control for most of his junior season. He's pitched with a fastball typically in the 94-97 mph range, missing a ton of bats thanks to good sink. His slider flashes plus at times and has been a more reliable weapon for him. He has a solid changeup, relying on it in the Cape Cod championship game, but he hasn't used it as much this spring. Manoah has managed to keep his large frame in sync and has repeated his delivery in order to fill up the strike zone more effectively. Given that he doesn't have that many starts on his resume, he's a rare college pitcher with projection, something that should get him off the board in the first round, much earlier than his older brother Erik, currently a reliever in the Angels system, who was drafted by the Mets in the 13th round of the 2014 Draft.
Video
Baseball America Scouting Report - Manoah split time between starting and relieving during his first two seasons with West Virginia, but after a stellar campaign as a starter in the Cape Cod League last summer—when he posted a 2.70 ERA with 48 strikeouts in 33.1 innings—Manoah has made a successful transition to a full-time starting role this spring. Through his first 12 starts this season, Manoah has been one of the more dominant arms in the country, posting a 2.07 ERA with 108 strikeouts over his first 82.2 innings (11.76 strikeouts per nine innings) and the lowest walk rate (2.29 per nine) of his career. Manoah mostly works off of two pitches—a power fastball that sits in the mid- to upper 90s and a hard slider that projects as a second plus pitch. While Monoah has shown a changeup at times, he's mostly been a two-pitch starter this season. He also entered the season with significant reliever risk because of his erratic control, large, 6-foot-6, 260-pound frame and questionable athleticism. However, he has started pitching exclusively out of the stretch and, as a result, has improved his strike-throwing ability enough to give him a real shot of sticking as a starter in pro ball. But while his walk rate is down significantly this season, Manoah still needs to refine his command—as evidenced by 17 hit batters over his first 12 starts—and teams will likely be concerned with how well he is able to manage his body moving forward. This list of major league starting pitchers who have had success at or near Manoah's size is a short one, with CC Sabathia, Aaron Harang, Justin Masterson and Michael Pineda some of the names who qualify. Still, Manoah's stuff compares nicely with most of the pitchers in the 2019 class, and he's steadily improved his draft stock with each start. Manoah should be one of the first college pitchers drafted this June.

Twitter Reaction
@ScottyMacThinks
My first impression of Alek Manoah: if he's wrong about something, I'm not going to be the one who tries to correct him.
#BlueJays
#BigBoy
@GregorChisholm #BlueJays select RHP Alek Manoah with the 11th overall pick. He's a junior from West Virginia and was ranked 11th by MLB Pipeline. He's 6'6, which also happens to be my height, so based on that alone this pick makes sense. More seriously, he's a power pitcher, hits 94-97 mph.

@SamDykstraMiLB Nate Pearson: 6-foot-6, 245 pounds Alek Manoah: 6-foot-6, 260 pounds One day, it could be Big Boy Season in the #BlueJays rotation, featuring plenty of heat

@WestVirginiaU Alek Manoah is heading to the Toronto @BlueJays with the No. 11 overall selection in the MLB Draft! That ties Chris Enochs for the highest pick in WVU history! Congrats, Alek!

@aaronfitt Alek Manoah of @WVUBaseball goes 11th to #BlueJays. This guy is so much fun—because his stuff is electric, and b/c he has so much personality (see photo). He came to the Cape ASG and chatted through the fence for several innings with me & Tom Holliday. Great conversationalist.
@DVNCallihan John Smoltz of @MLBNetwork called #WVU's Alek Manoah the right handed version of C.C. Sabathia

@jgoldstrass Nate Pearson, Alek Manoah, Maximo Castillo, and onward... The Jays will have a team that will serve as its own bodyguards.
@ChathamAnglers Alek Manoah (Chatham '18) goes 11th overall to the @BlueJays. Manoah led the @Official_CCBL in strikeouts last summer with 48 in just over 33 innings of work.
@baseballexis "The more we watched him, the more we liked him." - #BlueJays director of amateur scouting Steve Sanders said of No. 11 pick Alek Manoah.
@burkegranger Love the pick for the #BlueJays (Alek Manoah [@Alek_Manoah47], RHP, @WVUBaseball. Easy velo; holds mid-90s late into starts. Late life on RB; explodes through zone. + slider with two-plane break & tilt is a swing & miss offering; able to manipulate to either side of the plate.
@chasshill The first team I visited last summer when covering the Cape League was the Chatham Anglers. I asked the manager, Tom Holliday, which player he was most excited to coach. He told me about this under-the-radar WVU pitcher named Alek Manoah. A year later, he's a first rounder.
@longleysunsport #BlueJays director of amateur scouting, Steve Sanders, on first-round pick Alek Manoah: "We see him as a big strong durable guy who has the chance to take the ball every five days in a major league rotation."

@jgoldstrass As @AdamJaksa points out, a potential Alek Manoah / Alejandro Kirk battery would be awesome: over 500 lbs of talent. Tag-team wrestling at its finest.
@NolanKnightJr Alek Manoah during his phone presser "I've never even been to Canada, I don't have a passport." Manoah selected in the first round 11th overall. Sure they'll figure something out. #HailWV #BlueJays @BlueJays @WVUBaseball
@AnjelicaTrinone Alek Manoah on being selected by the Blue Jays & his conversations with the organization: "They told me they loved my size, competitiveness, who I am as a man off the field. They are extremely excited to get me going..it's a perfect fit with me an this organization."

@bnicholsonsmith #BlueJays amateur scouting director Steve Sanders on Alek Manoah "Alek's a big guy, but he's tremendously athletic. He's done a great job getting himself into really good shape. He hauled a lot of innings this year and maintained extremely high-level stuff from wire to wire... That's something that a big, durable frame will help him do. We're certainly confident in Alek's athleticism and work ethic ... We see him as a big, strong, durable guy that has the chance to take the ball every five days in a major-league rotation." #BlueJays
@Alek_Manoah47 MANOAH Retweeted Toronto Blue Jays Thank you for believing in me! Off to the 6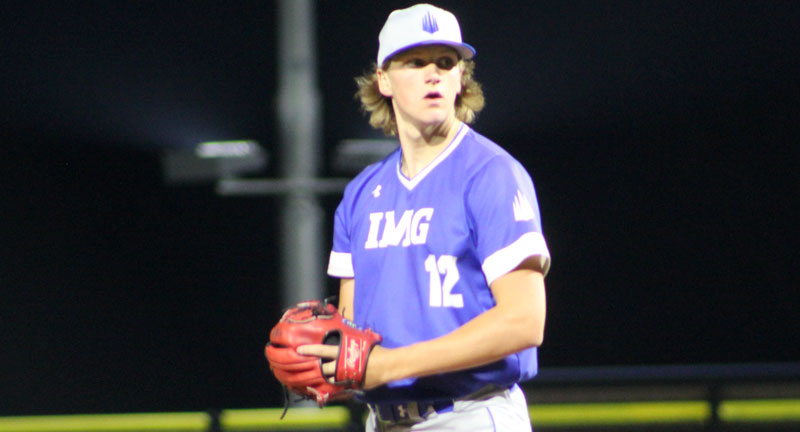 Image from baseballprospectjournal.com

Round 2 - 52nd overall. RHP Kendall Williams, IMG Academy, Bradenton, FL. 6-foot-6, 205 lbs. Born August 24, 2000. Slot Value $1,400,000.

MLB.com Scouting Report - In January 2017, in the middle of his sophomore year, Williams made the decision to relocate from his home in Mississippi to attend IMG Academy in Florida, with the hopes that the instruction plus the challenge of better competition would pay off. With a Vanderbilt commitment in his back pocket and his name trending in the right direction on Draft boards, it's looking like the move has paid off. At 6-foot-6, Williams is the quintessential projectable high school right-hander. While he started the spring a bit slowly velocity-wise, at 87-91 mph, it's been ticking up, sitting 91-92 mph and regularly touching 94 mph, as he did throughout his NHSI shutout in March. It plays up because of its steep plane and angle and there should be more consistent velocity to come as he matures. He's been throwing both a slider and curve this spring, with success, with some scouts thinking the curve will ultimately work better coming from his high three-quarter slot. He has some feel for a future average changeup, though he doesn't have to throw it much in high school. Despite his size, Williams tends to throw strikes and should have solid command and control, not to mention sharper stuff, once he figures out how to consistently repeat his delivery with his long levers. There's a lot to dream on here, though the team wanting to help Williams reach his potential will have to figure out what it takes to sign him away from Vandy. Video

Baseball America Scouting Report - Scouting Report: A 6-foot-6, 206-pound righthander who pitches alongside Brennan Malone at IMG Academy, Williams has added muscle and strength to his frame over the past few seasons, pairing a big league body with a solid mix of five pitches, clean arm action and adequate strike-throwing ability. Williams might not have a plus pitch at the moment, but each of his offerings project as average or above-average, led by a fastball that sits in the low 90s and touches 94-95 mph. He had previously used a mid-70s curveball as his go-to secondary offering, but he recently added a low-80s slider with short break that also showed out-pitch potential at USA Baseball's National High School Invitational this spring. Meanwhile, Williams' curveball varied in shape from an 11-to-5 downer to three-quarter breaker with finish to the glove side. He also throws a low-80s changeup and a two-seam fastball. There is some slight length in Williams' arm action, but he repeats a high, three-quarter arm action well and throws strikes consistently. While he doesn't have overwhelming pure stuff, the tall righthander gets good angle on his fastball and still has some physical projection remaining. Williams is a Vanderbilt commit and could be a tougher sign, but he has the talent to be selected on the first day of the draft.

Twitter Reaction
@CarlosACollazo Kendall Williams is super polished for a prep pitcher with his frame. He's got five pitches. Four-seam, two-seam, CB, SL and CH.
@jjcoop36 Blue Jays take yet another IMG Academy pitcher off the board. Vanderbilt is getting a very good recruiting class but looks like they won't be keeping Kendall Williams.
@ShiDavidi #BlueJays aim for some upside with their second-round pick, high-school right-hander Kendall Williams out of the IMG Academy in Bradenton, Fla. FB sits low 90s, can go get 94-95
@Crawford_MILB Kendall Williams has projection in a 6-foot-6 frame, should have a plus fastball along with two unique breaking-balls. Definitely got some work to do but there upside is palpable.

@TaylorBlakeWard #BlueJays 2-11: Kendall Williams, RHP, IMG Academy - advanced prep arm with projection remaining due to size and physical development, FB sits low 90's with good plane and he offers mix of breaking/off-speed that show abv-avg #MLBDraft
@ShaunKernahan Another IMG Academy selection with the @BlueJays taking Kendall Williams. Not a flame thrower but height creates excellent plane on the FB. to go with solid CB. #MLBDraft
@B_Sakowski_PG Jays grab Kendall Williams, a high-ceiling prep RHP. Lanky, projectable frame, usually 90-94 mph right now with the FB, CB flashes plus, have seen a plus CH, working with a SL that he shows feel for as well. Like him quite a bit.