2020 MLB Draft - Day 2
Thursday, June 11 2020 @ 04:52 PM EDT
Contributed by: #2JBrumfield
The 2020 MLB draft concludes tonight with rounds two through five. You can watch here or check out the draft tracker here. #BlueJays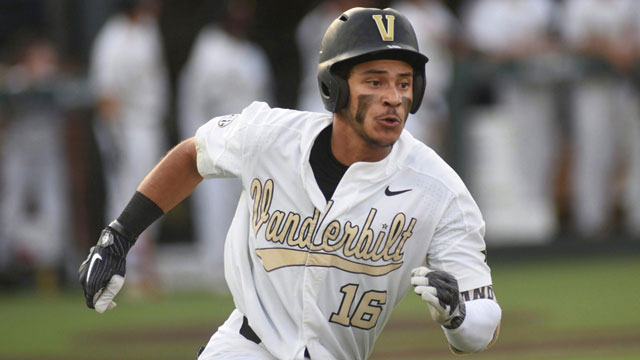 Vanderbilt infielder/outfielder Austin Martin was taken by the Toronto Blue Jays with the fifth overall pick of the 2020 draft Wednesday.


---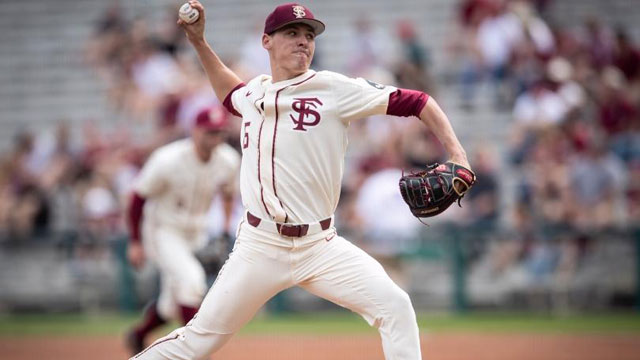 Round 2 - 42nd overall. RHP C.J. Van Eyk. Florida State. Bats Right. 6-foot-1, 198 lbs. Born September 15, 1998. Slot Value $1,771,100.

Baseball America Scouting Report - Van Eyk established himself as one of the more polished prep pitchers in the 2017 draft class. He ranked No. 109 on the BA 500 that year and would have been solidly in the top 100 of the class if it werenít for health questions that stemmed from a forearm injury. Perhaps because of that, Van Eyk made his way to Florida State, where he has been extremely consistent. After starting just five games as a freshman, Van Eyk made a successful transition to a starting role in 2019, when he posted a 3.81 ERA over 99.1 innings and 18 starts, with more than 11 strikeouts per nine innings. He was off to another successful season in 2020, posting a 1.31 ERA over four starts and 20.2 innings with 25 strikeouts and 12 walks. Van Eyk gets things done with a solid three-pitch mix, including a fastball in the 90-95 mph range, a sharp, 78-80 mph downer curveball and an 81-84 mph changeup with sinking action that fools hitters on both sides. All three of those pitches are solid-average or better. Van Eyk can also spin a slider, but the pitch has less depth and less swing-and-miss potential than his curve. Van Eykís operation is clean, with a loose, fluid arm that comes from a deliberate windup with very little coil or torque in his lower half, some hooking action in the back and an easy, balanced finish. Everything about the operation screams starter, but Van Eykís stuff isnít quite as explosive as the top-end pitchers in the class, which could make him more of a late first- or second-round pick.

MLB.com Scouting Report - A high school pitcher in Florida who was on the rise in 2017, Van Eyk missed a chunk of his senior year with arm soreness that all but cemented he'd be heading to Florida State instead of signing. After spending his freshman year pitching out of the bullpen, he made a smooth transition to the Seminoles' rotation as a sophomore and is now near the top of a solid crop of college pitchers in the Sunshine State eligible for the 2020 Draft. Van Eyk has a solid three-pitch mix that he knows how to use extremely well. He's been up to 95 mph, usually working in the 93-94 mph range, with his fastball and commands it well to both sides of the plate. He really knows how to spin his curveball, a breaking ball with almost 12-to-6 action that has really good late downward bite. He throws it in the upper-70s more often than not, but can add and subtract as needed. His changeup is his third pitch, and would be more effective if it had more sink, but he does throw it with good arm speed to fool hitters. The Florida State ace is capable of being a complete pitcher because of his willingness to pitch in with his fastball, his ability to throw his breaking ball at any point in the count and his feel for mixing his pitches to keep hitters off-balance, though issues with his command persisted over his first four starts in 2020. His potential as a starter still should have him in consideration in the top two rounds of the Draft. Video

Twitter Reaction

@FutureBlueJays Blue Jays select Florida St RHP CJ Van Eyk with their 2nd round pick.Reports say he has a good three pitch mix, although his CH could use more downward movement. Had some command issues. Has a starterís profile.

@bnicholsonsmith With their second-round pick, the #BlueJays select a college pitcher, right-hander CJ Van Eyk. In four starts at Florida State this year, he posted a 1.31 ERA with 25 Ks compared to 12 walks.

@KendallRogers CJ Van Eyk put together one of the better performances Iíve seen in a super regional at LSU last year. The @FSUBaseball righty flashes plus with the CB/CH and the FB can get up to 94-95. Love this choice by the @BlueJays

@mason_mcrae Wow. Fantastic addition for Toronto, Van Eykís got three plus pitches at his best, sitting in the mid-90ís with some of the best starter stuff in the draft. Heís 42nd on my board and goes 42nd in the draft. Some lower half concerns and Iíd have preferred two other Florida arms.

@mason_mcrae Meet Blue Jays Second Round Pick, CJ Van Eyk. Right away you'll notice his plus-CB and feel for two breaking Balls. Amazing Pick by Shane Farrell & co, once again proving how tuned the organization is as a whole.

@lauraarmy #BlueJays use their second-round pick on RHP CJ Van Eyk from Florida State University. The 42nd selection overall, Van Eyk was ranked by MLB Pipeline as the No. 39 prospect in the class, 5th on Keith Law's list of best remaining players.

@brettpn CJ Van Eyk is off the board to the @BlueJays in the second round. 4-pitch mix with two above average off-speed pitches and a low-effort, athletic delivery project him as a long-term starter despite control issues.

@jgoldstrass Yesterday, the #BlueJays drafted Austin Martin, bringing him into the same org. as college teammate Philip Clarke. Today, they draft CJ Van Eyk, reuniting him in the same org. with high school teammate PK Morris and college teammate Cobi Johnson.

@DavidSalituro #BlueJays 2nd-round pick CJ Van Eyk only pitched 4 games in the abbreviated '20 college season, but didn't surrender more than a run in any of them. He had 11.1 K/9, only gave up 1 hit in 6 innings against FAU on Feb. 28.

@Alek_Manoah47 Yoooo this man is nasty!! Letís get it bro bro @cjvaneyk17

@big_nate5 Letís gooooo! Congrats @cjvaneyk17! Welcome to the @BlueJays


---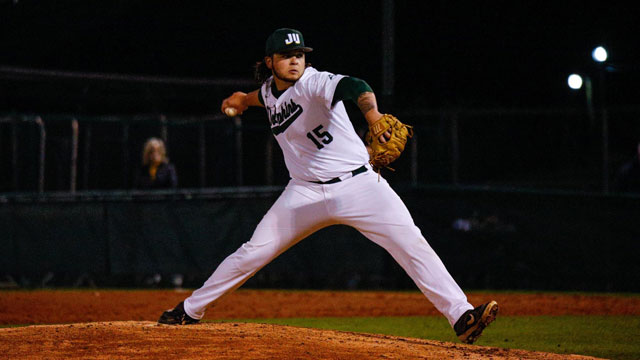 Round 3 - 77th overall. RHP Trent Palmer. Jacksonville University (FL). Bats Right. 6-foot-1, 230 lbs. Born April 2, 1999. Slot Value $805,600.

Baseball America Scouting Report - Palmerís first year as a full-time starter with Jacksonville got off to a great start as the righthander struck out 41 batters and walked just five over 27.2 innings in his first four starts. He was getting plenty of scouting attention for his early season performance after running his fastball up to 97 mph last summer in the Cape Cod League. On the Cape, Palmer appeared in seven games as a reliever and posted a 1.45 ERA in 18.2 innings with 21 strikeouts and eight walks. Palmer threw much better strikes this spring than he previously did as a reliever with Jacksonville in 2018 and 2019, and scouts think of him firmly as a top 200 prospect because of his improvement. This spring his fastball sat mostly in the 92-95 mph range, touching 96, and heís mixed in two above-average secondaries in a slider and a changeup. His slider is a firm breaking ball in the 84-87 mph range. At 6-foot-1, 230 pounds, Palmer will need to maintain his body moving forward, but heís shown a repeatable delivery that should give him every opportunity to start.

MLB.com Scouting Report - Jacksonville University has produced a lot of Draft talent over the past several years, including back-to-back third-round picks Michael Baumann (2017) and Austin Hays (2016), both with the Baltimore Orioles. While Palmer obviously hasn't been as scouted as any of his Dolphins predecessors, his arm strength and strong start to his spring, not to mention a successful turn as a reliever last summer on Cape, has his name popping up in the same area of the Draft. While not a prototype for a starting pitcher size-wise (6-foot-1, 230 pounds), some scouts do feel he has the chance to stick in a rotation because of his ability to maintain velocity and have a three- or four-pitch mix. He throws his fastball in the 91-96 mph range with good sink and he backs it up with a pair of solid secondary offerings. His changeup is a splitter thrown with good arm speed and downward action in the 82-84 mph range, and he throws a 79-83 mph slider with sweeping action, but with some depth. He can toss in a slower curveball in the low 70s, but it's definitely a fourth pitch. Command has been an issue at times for Palmer and he has more experience out of the pen than in a rotation, leading many scouts to want to make him a reliever at the next level. If teams saw enough of his very strong opening to 2020 (1.30 ERA, 41/5 K/BB ratio in four starts) to believe he has the chance to start, he could join Baumann and Hays in the top three rounds. Video

Twitter Reaction

@DavidSalituro Get to know Trent Palmer: 8.2 K/9 last season, 50th in the nation, 1.30 ERA in 27.2 innings. Struck out 13 in his last start against Illinois State, giving up only 3 hits in 9 innings.

@jeffMLBdraft Trent Palmer could have jumped a lot based on his early-season performance walk rate under 2 per nine K rate over 13.

@JoeHealyBA I wrote last week about how the Atlantic Sun has earned a reputation as a pitchers' league, and it proved it again with the selection of @JUBaseball's Trent Palmer 77th overall. Big, hard-throwing righty.

@TylerJennings24 Trent Palmer to Toronto. Excelled in his first year of starting full time this year. Touched 97 on the Cape last year, good slider and change-up too.

@NickAshbourne The Blue Jays grab RHP Trent Palmer with the 77th pick. Ranks 76th on Keith Law's top 100 and 114th on MLB Pipeline's top 200.

@BaseballCloudUS The @BlueJays with a great pick taking @JUBaseball pitcher Trent Palmer 77th overall. He threw gas topping out at 98mph and spun his Slider up to 2900rpm this season and was poised for a great year before it getting cut short. #JUPhinsUp

Andrew Gibson @1010XLAG Scouting report on @BlueJays RHP Trent Palmer from @JUBaseball head coach @chayes11_JU - 91-97 from a 3/4 arm slot - A same plane slider with late break - Split change that looks like a fastball until the last 5-6 ft. of delivery. "It's pretty special"


---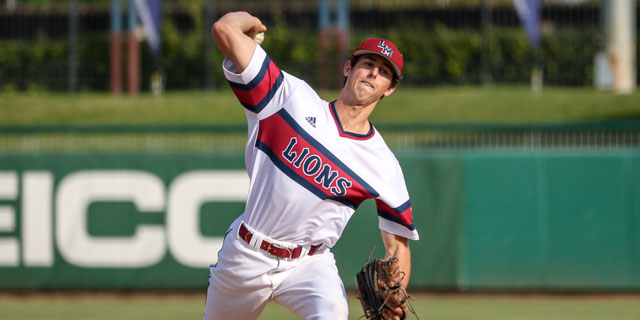 Round 4 - 106th overall. RHP Nick Frasso. Loyola Marymount. Bats Right. 6-foot-5, 200 lbs. Born October 18, 1998 . Slot Value $549,000

Baseball America Scouting Report - Frasso impressed with four scoreless innings in his lone start for USA Baseballís Collegiate National Team last summer. He entered this spring considered a potential first-round pick, but he failed to get through five innings in either of his first two starts before being shut down with forearm tightness. Frasso is one of the most athletic pitchers in the 2020 draft class. He was a high school basketball standout capable of throwing down emphatic dunks, and he still has a basketball build at 6-foot-5, 200 pounds with room to fill out. Frasso still has a relatively fresh arm due to his two-sport background. His 92-95 mph fastball plays up with both a high spin rate and plus extension, and his high-spin slider gives him a second potential plus offering, although it is inconsistent. His changeup is rudimentary but flashes average potential. Frasso locates his fastball to both sides of the plate and fills up the strike zone. He projects as a plus strike thrower overall. Frasso checks a lot of analytical boxes with his spin rates and extension, while traditional scouts love his athleticism and projection. He is in second-to-third-round consideration on talent, but concerns about the health of his arm may drop him lower.

MLB.com Scouting Report - Coming out of Palos Verdes Peninsula High School in Southern California, Frasso was a tall and gangly basketball player and pitcher with a ton of upside, but who had difficulty making the transition from one sport to the next, which kept his velocity down for much of the spring. He looked like the type of pitching prospect who needed college, and that's proven to be true. Focusing on baseball at Loyola Marymount, he's started catching up to his upside over his first two years, though an elbow injury suffered before the shutdown put his Draft stock a bit more in question. Frasso pitched mostly in relief as a sophomore so he could have more of a regular impact, and ended up saving 10 games. But he began his junior year as a starter, with the chance to work on his three-pitch mix. The velocity is now there consistently when healthy, and the 6-foot-5 right-hander is up to 97 mph with his fastball. He's lived off his four-seamer up in the zone almost entirely during his college career and it misses a ton of bats, as it has tremendous life. He has a sweeping 74-76 mph curve that can be effective at times as he tunnels it off of his fastball and shows some glimpses of an 80-82 mph changeup. Very thin with a herky jerky delivery, Frasso is athletic enough to repeat it consistently and throw a good amount of strikes, even if he's not a pinpoint command guy. Had he been able to prove he could start, he would have likely made a jump up Draft boards. The injury clouded things further, though he was reportedly throwing and working his way back when the season stopped. Pro teams could still send him out as a starter, knowing that he's very effective out of the bullpen as well. Video

Twitter Reaction

@bnicholsonsmith Decades ago, Dave Stieb & Tim Raines both went 106th overall. This year, the Blue Jays use their fourth-round selection on Nick Frasso, a right-handed pitcher from Loyola Marymount

@mason_mcrae Under-the-Radar pick from the Jays here in Nick Frasso. He played for the collegiate team this summer and only pitched twice this year but he's deceptive and gets awkward swings on his stuff. Likely a high-leverage reliever opposed to starter, but he's got an above average CB.

@affranco10 Blue Jays' Nick Frasso is pretty raw for a college arm but he's a gifted athlete with a mid-90's FB. Like him as a developmental flyer

@BlueJays fourth-round draft pick @nickfrasso is a FREAK athlete. Here's a video of the former @FirebirdsCCBL right-hander putting on a dunk clinic during a rain delay this past summer. @MLBNetwork @karlravechespn @Official_CCBL Video here


---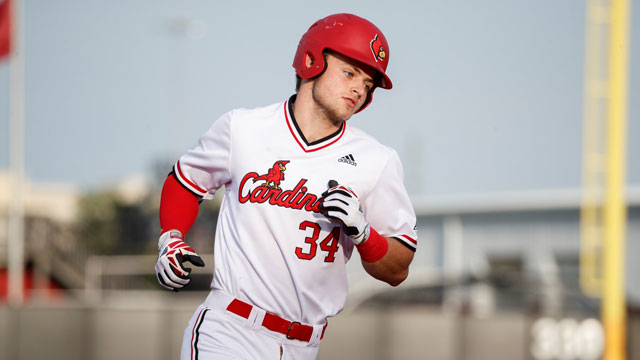 Round 5 - 136th overall. OF Zach Britton. Louisville. Bats Left, Throws Right . 6-foot-1, 200 lbs. Born September 9, 1998. Slot Value $410,100.

Baseball America Scouting Report - A 6-foot-1, 200-pound outfielder who was one of just three Louisville players to start all 17 games during the 2020 season, Britton has a fairly loud lefthanded bat. A career .280/.395/.455 hitter in 110 games with the Cardinals, Britton has a pretty lefthanded swing with good bat speed and some impressive exit velocity numbers. His hitting ability is the best tool in his box, and before play shut down for the 2020 season, Britton led all Division I hitters with 11 doubles. His power has been more doubles than over-the-fence in his time in the ACC, though he did hit five home runs in 28 games with a wood bat last summer in the Cape Cod League. Itís possible with a few swing adjustments Britton could be geared for more home run juice. Defensively, Britton fits best in left field, where heís a fringy runner with an arm that ranges from a 45- to 50-grade tool. Heís caught in the past but has been behind catchers at Louisville and during his time in the Cape and scouts donít think heís a good receiver behind the plate. Brittonís value comes from his bat, and his power potential from the left side puts him somewhere in the 5-7 round range.

Twitter Reaction

@bnicholsonsmith With their fifth and final draft pick of the 2020 draft, the #BlueJays chose OF Zach Britton from Louisville. Cue the Orioles jokes now...


---

https://www.battersbox.ca/article.php?story=20200611001932759