The Buffalo News
is reporting the International League's Buffalo Bisons
are talking
to the Jays about becoming its new Triple-A affiliate in 2013. Sunday marked the first day that major league and minor league teams could hold discussions about new Player Development Contracts.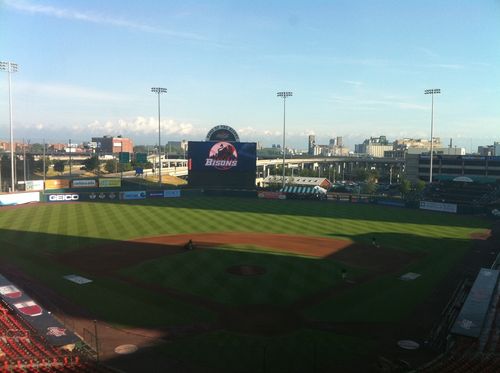 The Blue Jays could have its Triple-A prospects playing at Coca-Cola Field in Buffalo for at least the next two seasons if they reach an affiliation agreement with the Bisons this week.
The Blue Jays have been with the Las Vegas 51s of the Pacific Coast League since the 2009 season, a shot-gun marriage that was created after Syracuse ended its 31-year relationship with Toronto. The Chiefs/SkyChiefs franchise was frustrated with not having had a winning season since 2000 or a playoff appearance since 1998. The Jays losing ways at the Triple-A level continued in Las Vegas for its first three seasons before the string was finally broken this year thanks to a record of 79 wins and 64 losses. The 51s finished six-and-a-half games back of Sacramento, Oakland's affiliate, for top spot in the Pacific Coast League's Pacific Southern Division. Had it not been for the numerous injuries suffered by the parent club, the 51s may have made it to the post-season.
The planets are aligning for the Jays to return to the International League after a four-year absence. The combination of the Blue Jays turnaround of its minor league system, its 2012 success in Las Vegas and the New York Mets lack thereof over its four-year affiliation with Buffalo means the Jays top pitching and hitting prospects can develop under normal conditions instead of dealing with the high altitude and hard-rock infield at Cashman Field in Las Vegas.
It's believed the Blue Jays want a four-year commitment from the Bisons but will probably have to settle for two as Buffalo wants to make sure the Jays will provide them with a winning product on the field. Buffalo is hoping to find the same success it had as a Cleveland affiliate, winning International League titles in 1998 and 2004 and qualifying for the playoffs nine times in its 14 years with the Tribe. The Indians ditched Buffalo after the 2008 season for Columbus and the brand new Huntington Park.
Will this be the start of a beautiful relationship or will the Blue Jays and Bisons be looking for different dance partners after the 2014 season? Only time will tell.