Here's the final
POTD
for 2010 from my end. I had never seen the Jays live on the road until the missus and I made a trip to Cleveland to catch the noon hour finale of a mid-week three game series at Progressive Energy Field. It was her idea to go and I wasn't about to argue! However, the Jays would be in tough as they had to face Indians ace
Fausto Carmona
, a big obstacle standing in the way of a series sweep.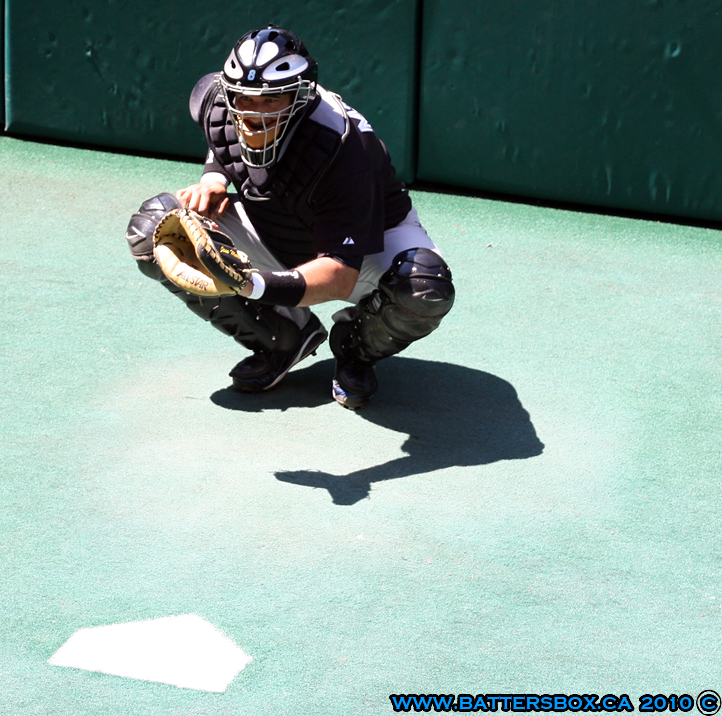 Jose Molina
got the start behind the plate as he catches a warm-up toss from starter
Brandon Morrow
in the Jays bullpen. This picture was the first time I realized there was a small number 8 on his catcher's mask. Molina would contribute to the Jays offense with an RBI single and a walk.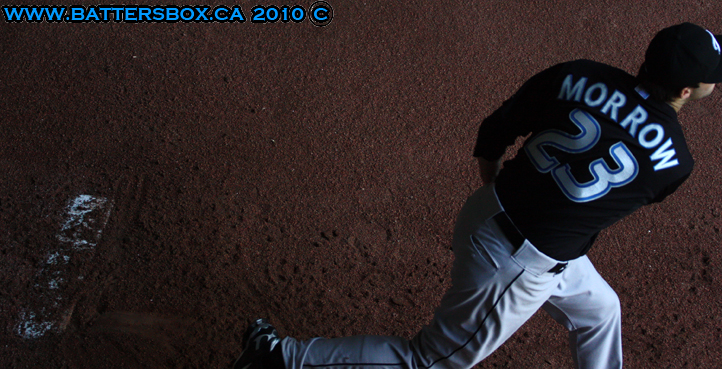 Morrow throws from the shadows of the bullpen. He had his moments with 9 strikeouts and hitting 100 MPH on the radar gun as his heater was consistently in the high 90's. However, he gave up three runs on six hits, four walks, and hit a batter in 5 1/3 innings before
Shawn Camp
bailed him out of a bases loaded situation with a ground ball double play to end the sixth inning.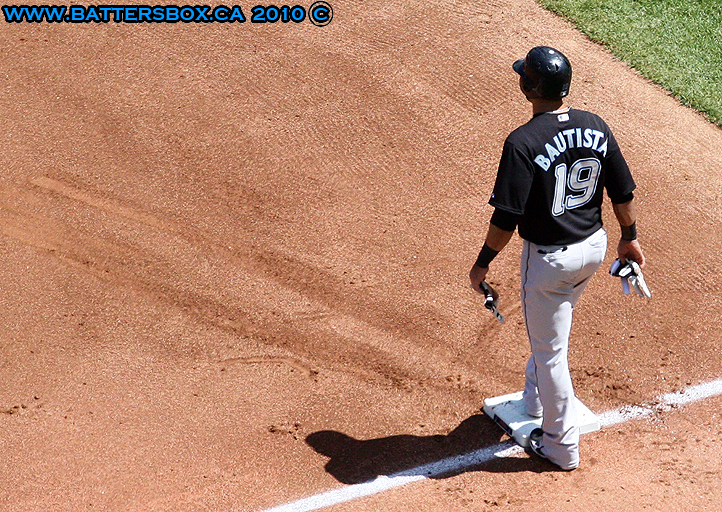 Jose Bautista
stands at third after a leadoff triple in the third inning. He would later score on
Travis Snider's
RBI single to give the Jays a 1-0 lead. The Indians would fight back with a
Grady Sizemore
RBI double to score future Lansing Lugnuts manager
Mike Redmond
to tie the game in their half of the third before
Travis Hafner
belted a solo homer in the fourth. The Jays would tie the game on an RBI single by Molina to score
Alex Gonzalez
in the fifth but an RBI single by Redmond off Morrow in the sixth and a
Luis Valbuena
RBI double in the eighth off lefty
Rommie Lewis
gave the Indians a 4-2 advantage.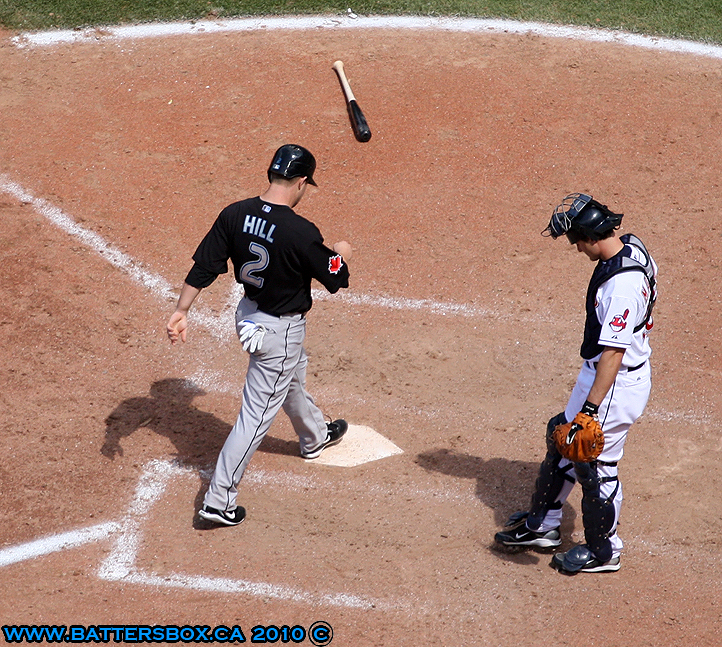 The Jays were down to their final strike not once, not twice, but three times!
Fred Lewis
kept the game alive with a double but the game appeared to be over when
Aaron Hill
hit a tailor-made ground ball to short. However, it went through the wickets of Valbuena, who was filling in for the injured
Asdrubal Cabrera
and that allowed Lewis to score. Hill would later come in to score the tying run...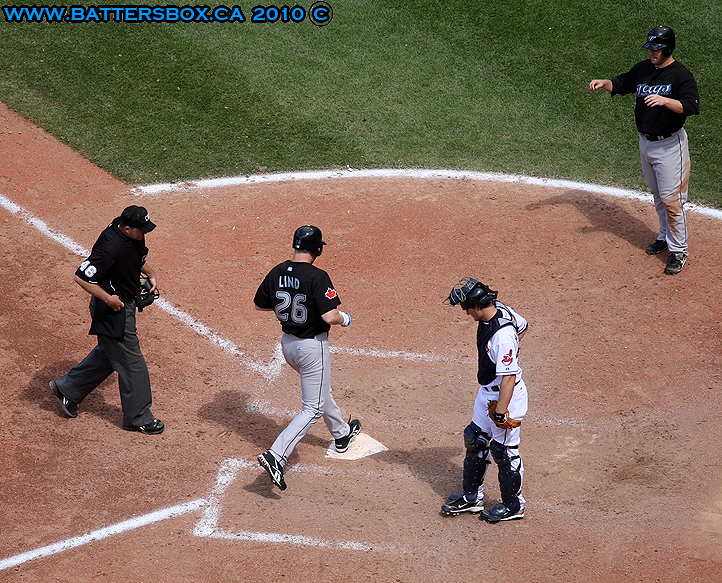 ...when
Adam Lind
sent a 95 MPH fastball from Indians closer
Chris Perez
over the left field fence for a two-run homer to put the Jays ahead 5-4. Indians catcher
Lou Marson
looks down in disgust.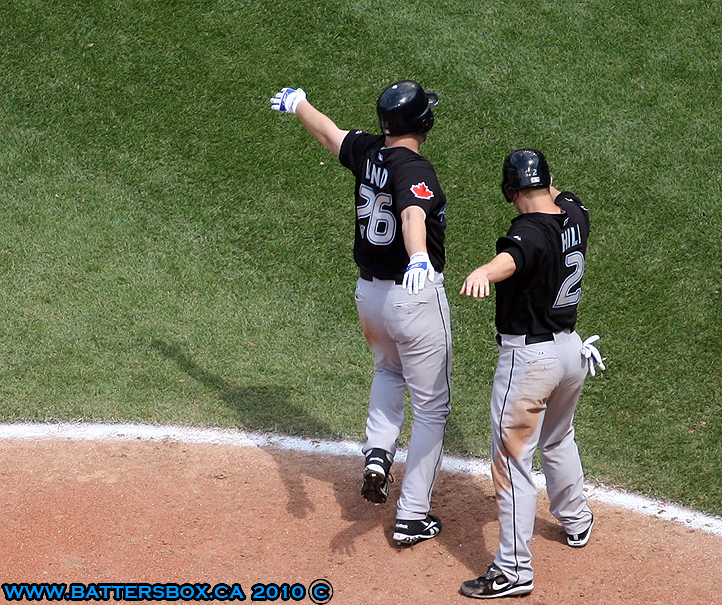 Lind and Hill celebrate after crossing home plate.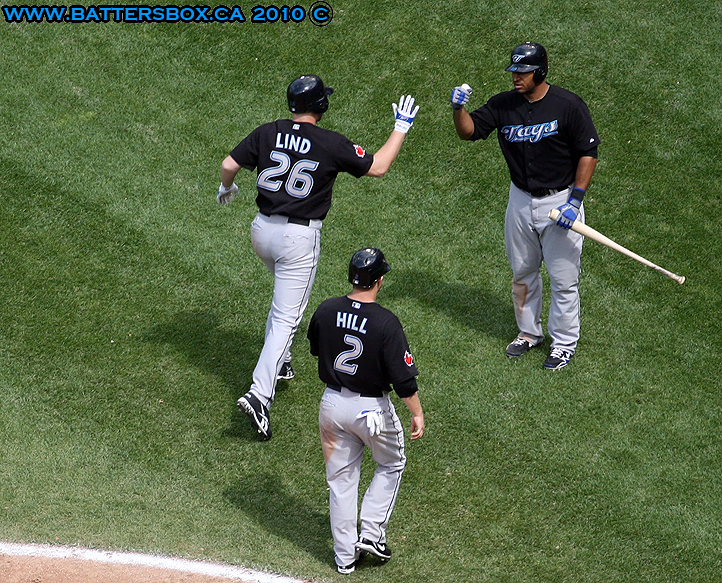 Lind gets ready to high-five
Vernon Wells
.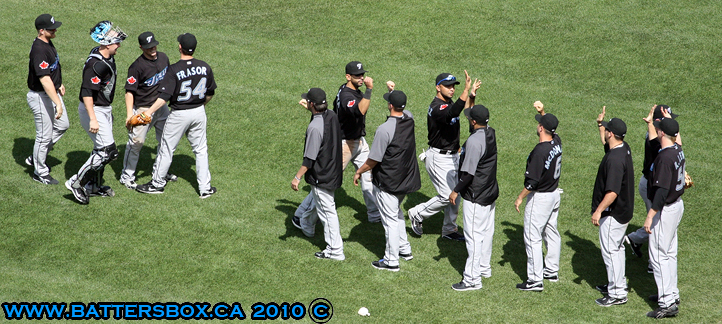 Jason Frasor,
fourth from left, stranded a Valbuena double for
Rommie Lewis
to end the eighth and survived a two-out double by
Shin-Soo Choo
to nail down the victory.
Mike McCoy
, third from left next to Frasor, made a fine charging play from third base to get
Jhonny Peralta
for the game's final out. He came into the game as a pinch-runner for
Lyle Overbay
.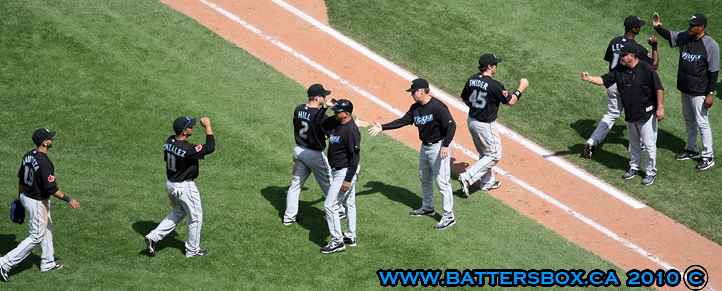 From right to left, manager
Cito Gaston
, bench coach
Nick Leyva
, third base coach
Brian Butterfield
, and first base coach
Omar Malave
greet from left to right,
Jose Bautista, Alex Gonzalez, Aaron Hill, Travis Snider
, and
Fred Lewis
as they celebrate a three game series sweep.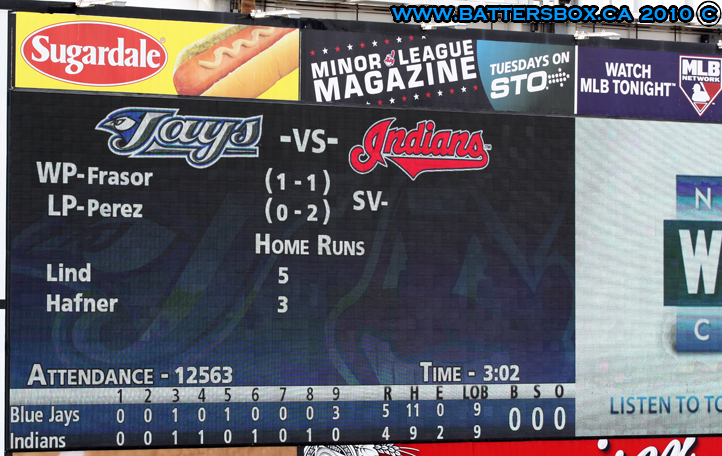 The good news is there for visiting Jays fans to see on the big scoreboard! Later, we stopped by CVS Pharmacy where I picked up a USA Today Sports Weekly and on the cover was none other than
Vernon Wells
. Perfect end to a perfect day and a perfect end to the
POTD
for 2010! Happy 2011, Bauxites!