Seven of the eight affiliates found the win column on Monday. The only setbacks were a shutout loss and a doubleheader split.
Buffalo 5 Rochester 2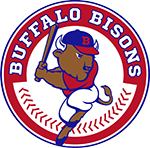 Rochester, NY
- It was the
Darrell Ceciliani
show at Frontier Field as he had a hand in the first four Bison runs. He started the game with a double and eventually came around to score on a wild pitch. Ceciliani then drove in the next three runs with a two-run single in the fourth and a sacrifice fly in the sixth.
Jesus Montero
knocked home the final run with a base hit in the ninth. Montero joined Ceciliani in the two-hit club but it was
Matt Dominguez
who was the on-base leader with a single and two walks.
Andy Burns
singled, walked and stole a base and
David Adams
drew a pair of walks and stole a base.
Domonic Brown
singled and walked and
Alexi Casilla
had a double and a free pass.
Scott Diamond
(6-7, 3.33) drilled the Twins affiliate down to a single run on four hits, two walks and a hit by pitch over seven innings. He struck out two to compile a Game Score of 69.
Franklin Morales
pitched a shutout eighth with one hit and one whiff.
Ryan Tepera
got the final three outs after the Red Wings got to him for a run on two hits and a walk. He struck out one.
New Hampshire 4 Portland 3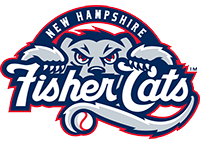 Manchester, NH
- The Fisher Cats scored in their last at-bat to down the Red Sox affiliate.
Roemon Fields
singled to start the eighth inning and went all the way to third on an errant pickoff attempt. He would then tag up and score on a
Jason Leblebijian
sacrifice fly for the winning run.
It was Leblebijian who started the scoring for New Hampshire with an RBI single in the third. They grabbed their first lead in the fourth on a
Shane Opitz
two-run home run that scored an
Emilio Guerrero
double. Fields and
Rowdy Tellez
were the only ones to reach base more than once with a single and a walk.
Dwight Smith Jr.
had the other extra-base hit with a double.

Luis Santos
served up a two-run home run but found his way through 6-1/3 innings, surrendering three runs on seven hits, a walk and a hit by pitch. He struck out five and recorded six outs on the ground.
Matt Dermody
(2-0) struck out a pair to get the final two outs of the seventh and added a perfect eighth.
Chris Smith
had a 1-2-3 ninth for his third save.


Brevard County 3 Dunedin 0

Viera, FL
- The Brewers affiliate strung together two singles, two walks and a sacrifice fly to score three runs in the seventh inning off
Brad Allen
(4-4) to down the Blue Jays. Allen struck out two of the three batters he faced in the sixth and had another whiff in the seventh.
Dusty Isaacs
pitched a scoreless eighth.
Francisco Rios
scattered five hits and hit a batter over five shutout innings and struck out five with no walks. He induced four groundouts to finish with a Game Score of 65.
Dunedin only had three hits in the form of singles from
Richard Urena
,
Mike Reeves
and
Dickie Joe Thon
.
Anthony Alford
was the only one to work the count to ball four.
Lansing 12 Dayton 5



Lansing, MI
- The Lugnuts racked up 10 runs over their last three at-bats to overwhelm the Reds affiliate. Half of those runs came in the seventh to erase a 3-2 deficit.
Justin Atkinson
tied the game with an RBI double and scored the go-ahead run on an
Austin Davis
single.
J.C. Cardenas
then connected for a three-run home run.
Juan Kelly
had an RBI single in the seventh to score
Juan Tejada
, who reached base after a strikeout.
Max Pentecost
knocked home two more runs with a single in the eighth and scampered home on a
Carl Wise
single. The final run scored on a wild pitch. Pentecost, Wise, Kelly and
Connor Panas
all had a pair of hits with Kelly walking twice and Pentecost walking once. Tejada also walked twice and stole a base as did Kelly.
Ryan Metzler
walked and took one for the team.
Jordan Romano
tossed four shutout frames on three hits and two walks. His strikeout and groundout totals were four apiece.
Nate Abel
(3-0) allowed three runs on five hits over two innings while striking out a pair.
Ryan Cook
was roughed up for the other two runs on three hits and two walks over two-plus innings.
Dan Lietz
stranded a runner for Cook and struck out the final batter in a perfect ninth.
Vancouver 4 Salem-Keizer 2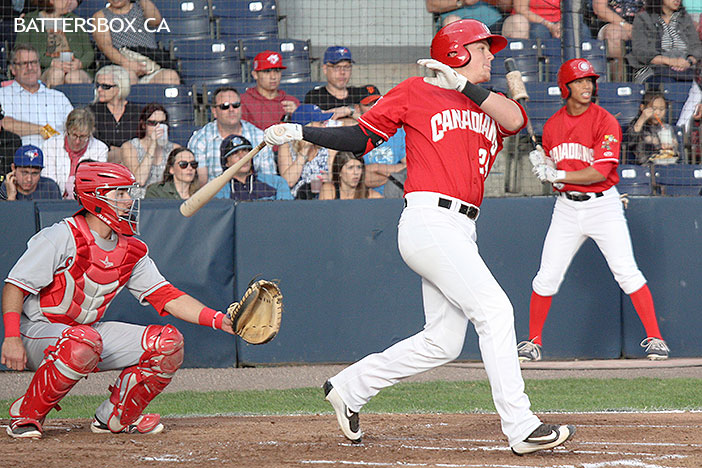 Christian Williams
put one over the fence for his first homer of the year Monday.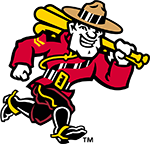 Keizer, OR
- The C's used some small ball to upend the Giants affiliate in the opener of this five-game series. With the game tied at 2-2 in the seventh inning,
D.J. McKnight
singled and made it to third on bunt singles by
Cavan Biggio
and
Rodrigo Orozco
. A wild pitch brought in McKnight before
J.B. Woodman
delivered a single to score Biggio.
Christian Williams
crushed his first home run of the season to tie the game at 1-1 in the fourth. They went ahead in the fifth when McKnight doubled and moved to third on a balk before scoring on a Biggio sac fly. McKnight, Woodman and Williams had a couple of hits apiece with the latter two drawing walks. Woodman also stole a base while Biggio added a free pass.
Deiferson Barreto
and
Bryan Lizardo
also made an entry into the hit column.
Despite 13 baserunners on eight hits and five walks over five innings,
Dalton Rodriguez
managed to limit the damage to two runs thanks to three inning-ending double plays and McKnight throwing out a runner at second from right field. Roadhouse struck out two to go along with six groundball outs.
Grayson Huffman
(2-0) worked around three hits and got an inning-ending double play and a strikeout over his two scoreless frames.
Jackson McClelland
set down the side in order in the eighth and
Jackson Lowery
lowered the boom by striking out the side swinging in the ninth for his fifth save.

Bluefield 10 Elizabethon 5 (Completed Early, Rain)



Elizabethton, TN
- The Jays put together two big innings to beat the Twins. The Jays got the jump on the Twinkies in the first, courtesy of a three-run home run by
Bradley Jones
. They added four more in the seventh on a
Juandy Mendoza
two-run double and a
Matt Morgan
two-run dinger.
Nick Sinay
singled, stole second, stole third and scored on an error at third in the eighth. A
Jesus Severino
fielder's choice completed the scoring in the ninth. The other run came in the fourth when
Levi Scott
grounded into a double play. Sinay had three of Bluefield's 14 hits while Jones, Mendoza, Morgan and
Vladimir Guerrero Jr.
had two apiece with Guerrero getting a triple.
Osman Gutierrez
gave up single runs in four of the five-plus innings he worked with the damage done on eight hits - four of them doubles - and three walks. He struck out five and induced six outs on the diamond.
Luke Gillingham
(1-0) allowed a run on two hits and a walk but struck out four in his three innings of work.
Andrew Deramo
gave up a hit to the only batter he faced in the ninth before the game was called because of rain.
GCL Blue Jays 6 GCL Braves 3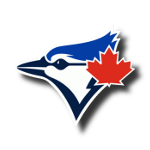 Kissimmee, FL
- The Jays broke a 2-2 deadlock by scoring in their final four-at bats to chop down the Braves.
Danny Jansen
got things rolling with a two-run single in the third to give the Jays the early lead.
Antony Fuentes
drove in the tie-breaking run in the sixth with a base hit to score a
Francisco Rodriguez
double. A
Norberto Obeso
RBI groundout highlighted a two-run seventh.
D.J. Daniels
singled home another run in the eighth and back-to-back RBI doubles by Obeso and
Bo Bichette
rounded out the scoring in the ninth. Bichette, Fuentes and
Joshua Palacios
all had two hits on the afternoon. Rodriguez had a walk to go with his extra-base hit.
Dany Jimenez
(1-0, 3.38) surrendered just two runs on two hits and two walks and struck out five over five innings. Seven of his 10 outs in play were on the grass.
Jake Fishman
gave up three hits and plunked a batter but struck out three over three shutout frames. He allowed just one of his eight outs in play to escape the infield.
Jared Carkuff
was cuffed for a hit but struck out one in a shutout ninth.


DSL Blue Jays 11 DSL Orioles1 1 (Game 1 - 7 Innings)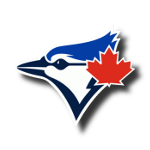 Boca Chica, DR
- A converted touchdown in the third quarter, er, inning put the Jays on Easy Street in this one.
Luis De Los Santos
knocked home the first run with a base hit and after a two-run error,
Christian Peguero
singled home two more.
Jonelvy Molina
followed up with an RBI single and
Ronald Concepion
added an RBI double. Peguero doubled in another run to jump-start a four-run seventh. A Molina sac fly and two wild pitches produced the other three runs. De Los Santos had a three-hit day while Peguero and Molina had two apiece.
Aldo Ovando
,
McGregory Contreras
and
Ronald Concepion
all reached on a knock and a walk.
Jose Dominguez
(1-2, 5.64) worked around six hits and two walks with eight strikeouts, allowing just one run over five innings for the win.
Wilton Mueses
walked one and struck out four over two shutout frames.
DSL Orioles1 5 DSL Blue Jays 0 (Game 2 - 7 Innings)

Boca Chica, DR
- The defence sabotaged the Jays' hopes for a doubleheader sweep as they committed three errors, leading to three unearned runs.
Ruben Ventura
(0-1, 3.00) was roughed up for four runs (two earned) on six hits and three walks over five frames. He struck out three and got eight groundball outs.
Emmanuel Reyes
was nicked for an unearned marker in his two innings.
Yhordegny Kelly
was 2-for-3 out of the cleanup spot while.
Aldo Ovando
had a hit and a walk.
Antonio Concepion
and
Luis De Los Santos
had the other hits.
Jose Briceno
and
Ronald Concepion
drew free passes.
*** 3 Stars!!! ***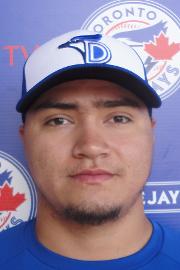 3. Francisco Rios, Dunedin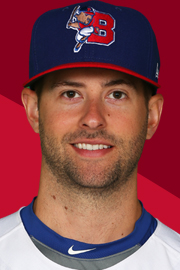 2. Scott Diamond, Buffalo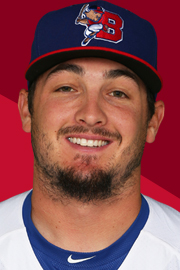 1. Darrell Ceciliani, Buffalo


Monday's Linescores
Tuesday's Schedule / Probable Starters
DSL Reds @
DSL Blue Jays
, 10:30 am ET - TBA
GCL Reds vs.
GCL Blue Jays
, 12:00 pm ET - TBA

Dunedin
@ Brevard County, 6:35 pm ET -
Justin Shafer
(1-4, 6.33)
Buffalo
@ Rochester, 7:05 pm ET -
Casey Lawrence
(0-2, 9.24)
Portland @
New Hampshire
, 7:05 pm ET -
Jason Berken
(2-7, 4.71)
Dayton @
Lansing
, 7:05 pm ET -
Tayler Saucedo
(3-7, 5.28)
Princeton @ Bluefield, 7:05 pm ET - TBA
Vancouver
@ Salem-Keizer, 10:05 pm ET -
Juliandry Higuera
(1-2, 3.86)
Extra Innings