You were third in the East last season. And frankly, you've grown really tired of seeing the same team finish on top every year. What to do...
Pythagoras says you should have won almost 90 games last season, although you did no such thing. So perhaps one good move would be to replace your generic closer with a hard-throwing lefty ace The fact that you're spiriting said ace away from a division rival is just a happy bonus, of course.
Your best player is your centre fielder, a splendid two-way player just reaching his prime years. But he had been asked to be the centre of the team's offense in 2005, and had proven not quite up to the task. What you need is a Big Scary Bat to carry some of the offensive load. And you obtain one in a trade, a bonafide slugging star, with a lengthy resume of hitting 40+ homers and drawing 100+ walks.
And now you're ready to rumble. Right? And last night, the Mets made it seven wins in a row. The new closer, Billy Wagner, collected his third save. The new Big Scary Bat, a fellow named Carlos Delgado, has driven in 9 runs in 9 games. And Tom Glavine struck out 11 while improving his record to 2-0, 1.50.
Oh - did you think I was talking about the Blue Jays? Well, we can talk about them, if you like.
The outlook wasn't brilliant for Ricciardi's crew this night .Scott Downs tried to sneak a fastball past Paul Konerko in the second inning, and was promptly and justly punished for his presumption. From that moment on, Downs seemed very reluctant to throw anything that was actually in the strike zone, and the White Sox moved out to a quick 5-2 lead.
But were the Fighting Jays discouraged? We do not think they were. Gregg Zaun led off the top of the fifth with a double, and took third when Alex Rios followed with a single. Rios alertly moved up to second when Dye missed the cutoff man. Aaron Hill delivered one run on an infield grounder, and Russ Adams lined an RBI single over Iguchi's glove to bring the Jays to within one run. A Catalanotto single put two men on base for Vernon Wells - but V-Dub inexplicably reverted to his 2005 form, flailing at the first pitch and popping out harmlessly to the infield. And man, was he upset with himself afterwards...
But this year, Vernon has help. Just as Darrin Fletcher was talking about how your True Star is a man who can deliver the key two-out hit - Troy Glaus delivered they key two-out hit in very impressive fashion, going down to get a tough outside pitch from Vazquez and lining it into the right field corner. "Behold Liam, for he is a mighty warrior!" I cried in true Homeric fashion, and I do expect to sing the Song of Troy many times this season. The Blue Jays were suddenly on top. Lyle Overbay quickly cashed in Glaus, and the Jays never looked back.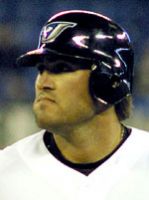 Star of the Game
- Troy Glaus is a mighty warrior indeed, carrying a powerful and thunderous Stick - epic deeds are in store. Is it not nice to have a Big Scary Bat around the house again?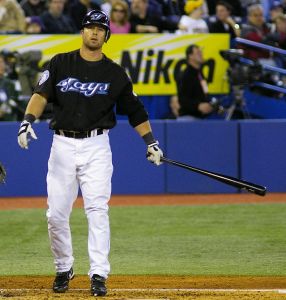 Unsung Hero
- There were several. Shea Hillenbrand finally broke out with three hits, including a two-run homer to start the scoring, not that Shea ever seems to actually
enjoy
any of it. Lyle Overbay's four hits almost got lost in the shuffle. Gregg Zaun had not one, not two, but
three
doubles, and Vernon Wells extended his hit streak to 10 games, and hit yet another home run. Pete Walker and Vinnie Chulk each threw three scoreless innings out of the bullpen (although Walker could only strand one of three runners he inherited from Downs.)
For the Sox
- Joe Crede went 4-4, and Pablo Ozuna, filling in for that Pod Person, had three hits including a two run single that put the White Sox ahead in the second inning.
Defensive Play of the Game
- I'm going to go with Aaron Hill's diving stop on Cintron's grounder up the middle to third. He managed to flip the ball to Adams in time to get the forceout, even if they couldn't get the double play. With the bases loaded and just one out, getting an out instead of allowing a two-run single was huge. The most impressive defensive play of the game was Crede's remarkable diving stop on Reed Johnson's shot down the line. But there was no way Crede could throw him out, and Sparky promptly scored on Wells' homer.
Defensive Misplay of the Game
- The White Sox made two rather mysterious errors, but the worst play was Dye overthrowing the cutoff man by thirty feet on Rios' fifth inning single. Rios alertly took second, and the Sox could not play for the double play that would end their trouble.
DP Watch
- Shea Hillenbrand was back in the lineup, and along with his three hits he provided us with a 361 DP, something we don't see all that often. That's 6 GDP in just 9 games for Hillenbrand. He's on pace to ground into 96 DPs, which would of course be a New World Record. The mark to beat is 36, set by Jim Rice in 1984. What is the Toronto team record, you wonder?
Well, Doug Ault hit into 20 GDP in 1977. His mark stood until Rico Carty returned in 1979 - at age 39 and with two bad legs, it's a miracle the Beeg Mon only hit into 21 double plays. George Bell matched Carty's total in 1988, but no one would surpass it until Ed Sprague was given regular work. Sprague hit into 23 GDP in 1993, which still stands as the team record. Vernon Wells (in 2003) and Hillenbrand (in 2005) have both managed to hit into 21 DPs with the Blue Jays. George Bell, of course, would go on to GDP glory with the White Sox, grounding into 29 of the accursed things in 1992, to set the White Sox team record.
Boxscore
-
Uh, over here.
Elsewhere
- Two outstanding pitching duels. Curt Schilling and his Bloody Red Sox edged the Ancient Mariner, Jamie Moyer, by a 2-1 count. Schilling scattered three hits, and is off to a 3-0, 1.64 start. Even better was the contest in St.Louis, where Aaron Harang and the Reds beat Chris Carpenter and the Cardinals 1-0. Cincinnati is off to a 7-3 start and Mick is trying to tell everyone that "I told you so." And so he did...he was just Ahead of his Time.
And the Yankees lose!
The... Yankees... Lose...