When I visited the Fisher Cats in Binghamton recently I had a chance to talk with Canadian pitcher Vince Perkins, as well as some of the other pitchers.
Growing up in Victoria, BC, it was baseball all the way for the Perkins family. "I played some street and ice hockey but never organized hockey," says Vince Perkins, "we were a baseball family. My grandfather was an umpire in the pacific coast league, my dad played college ball and semi-pro so my whole family is centered around baseball." As a kid Vince played organized ball on Vancouver Island. "When I was 15 I played in a 16-18 year old league in Parksville, which is about two and a half hours north of Victoria, so it was a drive each weekend, and once midweek for practice." Back in those days Vince played in the field and was an occasional pitcher. "I played a position all through little league, either first or third or a little bit of outfield, I never pitched regularly until college and I played a position in college too." I wondered who figured out that Vince should be a pitcher? "I guess Walt Burrows, from the scouting bureau in Canada, and Lowell Hodges, they are the ones who told me to go to Parksville. The coach up there, Dave Wallace, would let me pitch each weekend, even though I walked everybody, but he let me pitch once a week."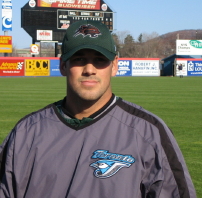 The Baltimore Orioles drafted Vince out of high school in the 49th round in 1999, and Vince went to junior college as a draft and follow. "I had a pretty good year and the Orioles were going to sign me in 2000 but I got into a pretty bad car accident on Easter weekend, and I cut up my foot pretty bad. The Orioles decided to wait and then were going to draft me again, but the Jays drafted me in the eighteenth round before the Orioles could get me." Like many west coast families the Perkins family followed both the Blue Jays and the Mariners, so they were happy when Vince was selected by the Jays.
2004 was an injury filled year for Vince. "Before spring training even started I was playing long toss with Billy Koch, and he likes to throw it a long way and he moved way out there and I hadn't warmed up properly and I pulled some rib muscles. I was held back in spring training but I broke with the team but in my second or third outing I tore the rib muscle again, and that was a lot worse and I was out until the middle of the year. Then when I came back from that I strained my UCL, the Tommy John ligament, and I was out until the end of the year." The Blue Jays sent Vince to the Arizona Fall League at the end of the year to get some work in and he was able to pitch well and feel better about himself coming into 2005.
Some of you might have read in spring training reports that Vince is working on staying straighter to the plate during his delivery. "It's something Brad Arnsberg brought up, he is a big believer in towel drills, he did them with Matt Clement who also used to throw across his body. He worked with me on it at big league camp, gave me a towel, and told me to work on it the rest of the year and its starting to pay off, my control is better than I ever had." Indeed while I was in Binghamton I saw Vince working on the towel drill each day. Also Vince draws a line perpendicular to the pitching rubber, he uses the line to check where his foot lands in relation to it, if he is getting off line he can see it and correct it.
Vince started the first game I saw in Binghamton. In that game Vince pitched well with his fastball but was inconsistent with his slider and change-up. "I had pretty good control of my fastball, until the end of the game I didn't feel comfortable throwing anything but my fastball, but I kept it low, moved it in and out and it worked pretty well. My change-up and slider have been good, last night was just an off night, they will be there, I just need to cut down on the walks and I can move up." Dave LaRoche, the Fisher Cat pitching coach, agreed. "Perk struggled with his off speed stuff, I told him it is important to be able to adjust when you don't have your best stuff, it should be a confidence booster to do well without your best stuff, it shows how good his fastball is. Vince throws a heavy ball and breaks a lot of bats. He spotted the 2 seamer and 4 seamer and it worked for him. We talked about how to pitch when things are going wrong, anyone can pitch when things are going well."
Shaun Marcum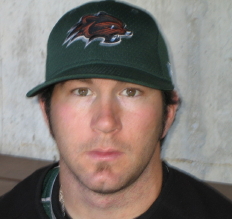 Shaun Marcum is adjusting to AA and he has noticed that the AA hitters have a better idea of what they are looking for. "They sit on a pitch and if they don't get it they are not worried about taking strike one. At this level every pitch has to look like a strike. I am going to have the move the ball around more, change the hitters eye level, move the ball in and out. This year I want to locate my pitches better and learn how to work hitters better." Baseball America wrote that Marcum's best pitch was the slider, but he disagreed. "I think the change up is my best pitch, its the best pitch in baseball, it helps keep my pitch count down." And Marcum is happy staying in the rotation. "I like starting, I get more work, I know when I am going to pitch, I can get my pitch count up."
Josh Banks
Josh Banks also talks about making adjustments for AA hitters. "Basically last year I had to start throwing my changeup and spotting my fastball more. I had got used to throwing my fastball by guys in Florida, that wouldn't work here. Up here I need to locate my fastball and throw my offspeed down in the zone." Banks throws five pitches, fastball, change, splitter, slider and curveball. I asked Josh about the story in 2004 that the Jays asked him not to throw his splitter. "They wanted me to work on the changeup, I had never really thrown one, so I started working on it and I can throw both now. I throw the changeup when I am behind in the count (when guys are sitting on the fastball) and I throw my split more to get a strikeout. Being able to throw a straight change is important to me and I worked on it all off season and its worked out pretty good so far." I ask Josh about his plan for 2005. "I finished strong in 2004 and coming in to 2005 I have an idea how guys think up here and I just want to build on every start and get better every time."
Ismael Ramirez
I talked with pitching coach Dave LaRoche about Ismael Ramirez. "Ramirez has had some issues with his delivery getting straight to the plate, he has had a tough time with it in a couple of games, and as a result he is having a tough time managing the outside of the plate to righthanders and getting a lot of pitches up. We want to work with him and get him more straightened up. He worked on it before his last start and he pitched better. Hopefully he will get over this little hump, everyone has to get over them."
Bubbie Buzachero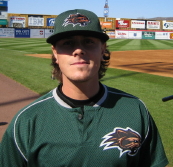 Bubbie got his name from his sister, its baby talk for her "brother", and the name stuck all the way through school, Bubbie's real name is Edward. I asked Bubbie if he was disappointed not to be promoted in the middle of 2004. "Yeah a little bit, but you just have to carry on and leave them to deal with the moves." At the time the Jays did not say anything to Bubbie about the non-promotion. Although its only a few innings Bubbie's initial impression of the hitters was that "they are more disciplined, you cannot just throw your fastball to get ahead, you have to throw it to spots."
Organizational News
Dave LaRoche also discussed an organizational philosophy. "The organization is trying to push guys to learn the cutter and curveball instead of slider. I like that. The cutter is what the slider started out as and now the slider has become a harder curve. The original slider was short and hard and righthanders could use it to get in on lefthanders or brush them back. The curveball is a great pitch, it is a tough pitch to throw and a tough pitch to hit, whereas the slider is probably the easiest pitch to learn. The slider is a unique pitch, as I say to the pitchers, with the slider you hope if they swing they swing at a ball and they take a strike. Other pitches are different, you want to throw your fastball or curveball for a strike and you don't mind if the hitter swings at it, those pitches are harder to hit, but a slider is easier to hit, if it is a strike."