There's an intricate etiquette that applies to the ferry from Toronto Island Airport to the mainland, and this guy didn't get it. Even though I was in the last row of the puddle-jumper that landed at the airport late yesterday afternoon, I had no luggage and I was an old hand at this. I strode past the other passengers – you mosey, you lose – and ended up fourth in the makeshift lineup that waits at the entrance for the ferry to return to the island.
If you've ever taken the Island Airport Ferry, you know that it's basically a floating platform with room for cars and not much room for people, and that there's a long covered passageway on the right-hand side where you can duck inside to escape the worst privations of a winter crossing.
Well, I had gotten myself fourth in line and was feeling pretty pleased with myself, when this guy, who was at the back of the line originally, ducked inside the covered part and walked all the way through to stand near the front of the line. And that is just not done, because there are only so many taxis waiting at the other side of the 30-second boat trip, and if you miss a cab, you'll be waiting a long time for the next one.
So we all glared at him meaningfully (the four of us at the front, that is), and he seemed to get the message, since he backed off and let us past (though I don't know if he cut in line in front of anyone else. Bad form if he did). By that time, there were five cabs on the far side, so I collared number four and gave him the Armadillo Texas Cafe on Front Street as the destination, where about a dozen Rosterites were gathering for a pre-game Tex-Mex chowdown, the first game I'd been to all year and the first opportunity I'd ever had to meet most of my fellow Box authors in person.
A few observations on the way:
- My cab driver had the hairiest arms I've ever seen, and I've been to the zoo.
- The Planet Hollywood near the stadium is still open. I was amazed – I thought it would have closed up by now from sheer embarrassment. It's a relic of the '80s – as is Rogers Center, for that matter. As am I, really.
- Every time I come to Toronto, I remember another reason why I'm glad I left. Today's reminder: Toronto drivers.
So in due course, we arrived at the restaurant. Here are just a few of said authors. I'm not going to use many of the interior pictures since the lighting was not that great, and no one looks good halfway through a mouthful of tortillas.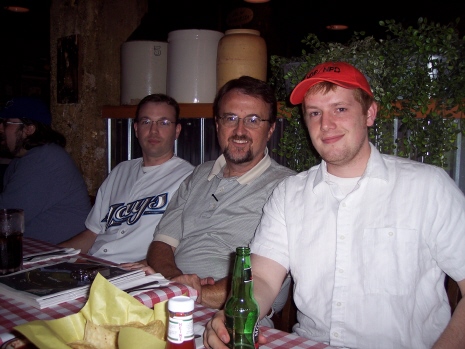 From your left, you have Kurt (AKA Pistol), Gerry and Leigh – off to the left of the picture is Craig Burley, who will someday be starring in an Oliver Platt biopic.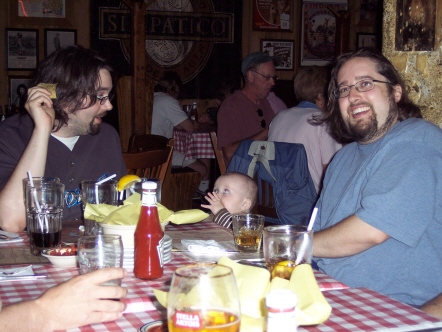 And here we have proud papa Aaron (Named For Hank), who will someday be starring in the Craig Burley biopic, along with little Theo (7 months old and cute as a bug's ear) and Craig, whom Aaron is shadowing in order to "get" his character.
I ordered a burger, and I can tell you that for a burger place, Texas Armadillo Café makes great fajitas. Not so much Tex-Mex as Tex-Meh. Anyway, the company was excellent and the conversation flowing – what is up with National League West, anyway? And before we knew it, it was ballgame time.
What with the vagaries of separate bills and several of us needing to get tickets (Ted Rogers would have been pretty happy to see lineups for walk-up tickets after the game had already started), we made our way up to legendary Section 518 in the bottom of the first. We saw the score was 1-0, and sticking with the principle of Occam's Razor, Mike Green correctly deduced that a Vlad home run had done the damage (a Towers-Guerrero matchup yielded few possibilities). We later learned from the other fans in attendance -- it's a very friendly group in the 500 level, way nicer than the opera snobs in the 100 seats -- that Hinske had dropped a pop foul before Guerrero's blast, which explained how a home run could be an unearned run.
At this point, I pulled out the camera and started clicking. Here's a little photojourney through the ballgame.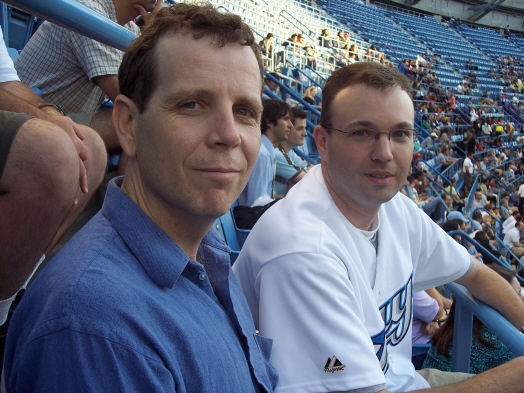 Here's Mike Green and Pistol to my left. We all discovered something about Section 518: on clear days, the sun is directly, and I mean directly, in your eyes as it sets towards the edge of the stadium. I discovered something else, too: no matter what The Weather Network tells you about overcast skies in Toronto, bring your sunglasses with you on any trip to a ballgame.
And how about that ballgame? From the 5th deck, Bartolo Colon looks like a solid little bundle of cellulite, but man, he was throwing bullets, and those bullets were darting all over the strike zone. His 104th pitch of the night hit 98 mph on the stadium radar gun. As Craig noted, though, Josh Towers matched him pitch for pitch and threw one gutsy game. The ninth inning was exciting, but it had added resonance for the denizens of the Cheer Club, and your correspondent in particular. Here are a few more observations:
- The new turf looks terrific – from a distance, it could easily pass for actual grass. Mid-game, Aaron (who gets to hear a lot of cool things down in the camera bay) related that there were apparently loads of grasshoppers in the turf, and they were a confused lot. I can only imagine. "What the hey? This isn't grass! I don't know what this is, but this is not grass. I'm a grasshopper, and I think I know what grass is. And this ain't it."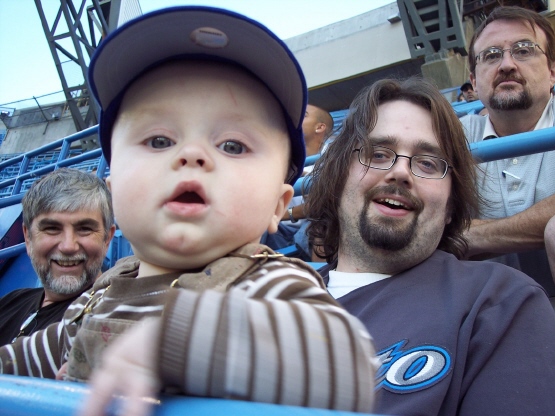 - Young Theo thoroughly enjoyed his ballgame (and thoroughly enjoyed yanking my hair for a half-inning -- something I'm at least used to, thanks to my own nine-month old at home). That's Kent to Aaron's left and Gerry right behind him
- I had been wondering why the Cheer Club chose Section 518 for their lair. Around the 7th inning, I think I figured it out: men's room directly to the left, beer fountain directly to the right. I purchased what they called a "large" beer. Had I bought a beer can off the shelf and poured as much of it as I could into a plastic cup, I would've gotten no more liquid than was served to me. It cost $8.50. Looking down into a my "large" cup of beer, I suddenly also figured out where that $20 million payroll increase must be coming from.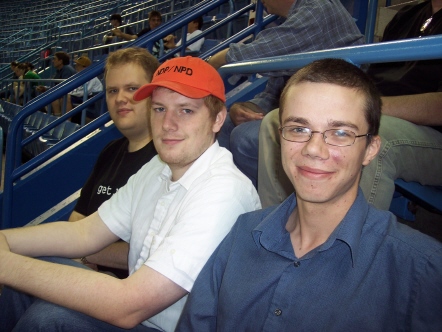 - More Rosterites: from the left, there's Joe, Leigh and Thomas. At this point, the memory on my digital camera is failing and I'm running out of room for more photos. I decided to snap more cautiously.
That is, right after I took a picture of this young man, who appeared on the JumboTron during one of those embarrass-yourself-publicly-for-a-chintzy-prize promotions: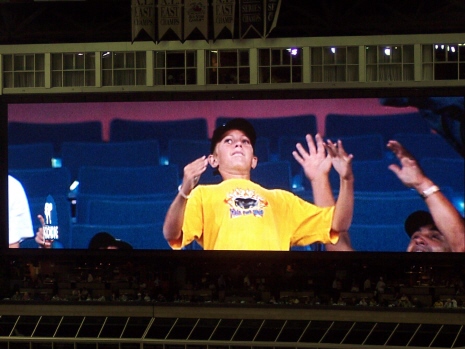 I would not do this for a Klondike Bar.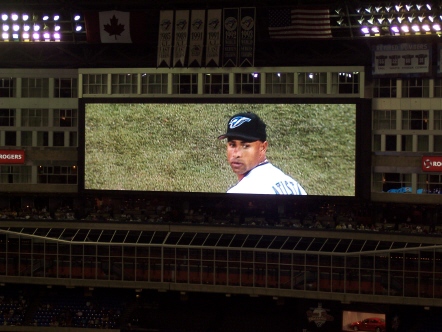 If you haven't been to the ballpark, the new JumboTron looks good. Really good. This is the quality of visual reception you get from the fifth desk, halfway across the stadium, with only a slight magnification from my camera. So why did Gibbons bring in Batista after only an inning of work from Jason Frasor, anyway? It's never a good sign for a manager when the fans are reviewing your bullpen decisions and throwing around the name "Carlos Tosca."
"Game-winning RBI pool," announced Aaron after the top of the tenth inning, and began collecting loonies for a wager on who would drive in the winning run. Someone (I forget who) took Garrett Anderson, and was quickly denounced as a traitor. Kent took Russ Adams, who was slated to lead off the bottom of the 10th ("Walk-off home run," he predicted). Thomas took Frank Catalanotto. Gerry took Vernon Wells. Someone else (I also forget who – it was getting late) chose Aaron Hill. Everyone else divvied up the remaining Jays.
The bottom of the tenth began. Adams grounded a single, and there went Kent's chance. Catalanotto, to everyone's shock (and Thomas's dismay) dropped down a sac bunt, and the throw pulled the pitcher (who was covering) off the bag, but the umpire incorrectly and mystifyingly called him out – or so it sure looked to us in the fifth deck, and we rained down merciless abuse on the umpire. With a runner on second and one out, the Angels walked Wells. I didn't manage to get Gerry's reaction photographed in time, but it was one of the best slow burns I'd ever seen.
Then Hill bounced a grounder to Orlando Cabrera, which wouldn't have been two outs but might've been one – but Cabrera bobbled it, and it was none. Now the bases were loaded with one out, and the Jays' third baseman strode to the plate.
"Who's got Koskie? Who's got Koskie"? the Rosterites asked. Slowly and calmly, I raised my hand, smiling. The Angels had pulled their outfield in, so with the speedy Adams on third, a medium flyball would win the game for Toronto and $10 for me.
"You know," said Kent, "it's a Cheer Club tradition that the Game-Winning RBI shares his winnings with the Game-Winning Run."
"Nice try," I replied.
Kent decided to take a different tack. "Wild pitch!" he called. "Let's see a wild pitch!" I laughed. Laughed, I did. "Do I still collect if my guy is at the plate when it happens?" "No," someone said.
Donnelly delivered his first pitch. It bounced in the dirt and rolled away from Bengie Molina. In a cloud of dust and great excitement, Adams slid across the plate with the winning run.
I sank back into my seat, stunned, as the whoops exploded around me. Finally, I just stared at Kent. "How did you do that?" I demanded, in language not quite as temperate as that. Kent was unabashed.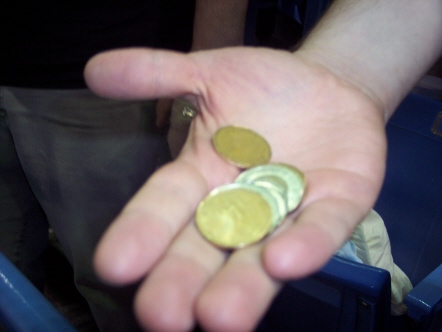 There it is -- $10 that could have been mine but for Bengie Molina's inability to corral a split-fingered fastball. I say: Not Enough Molinas!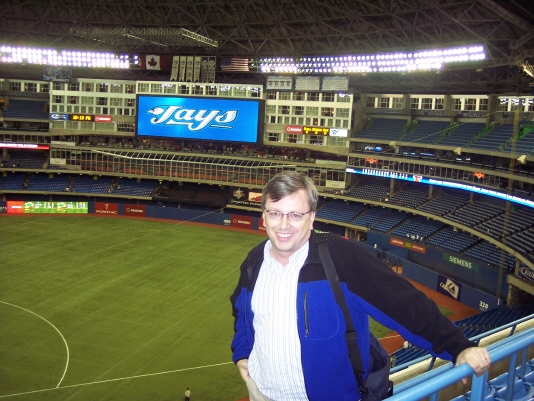 From there, events moved rapidly, as there were trains to catch and post-game brewskis to be downed. Craig insisted on snapping a picture of your humble correspondent in front of the empty field. Somewhere far down below, you could probably hear the grasshoppers back to going about their business.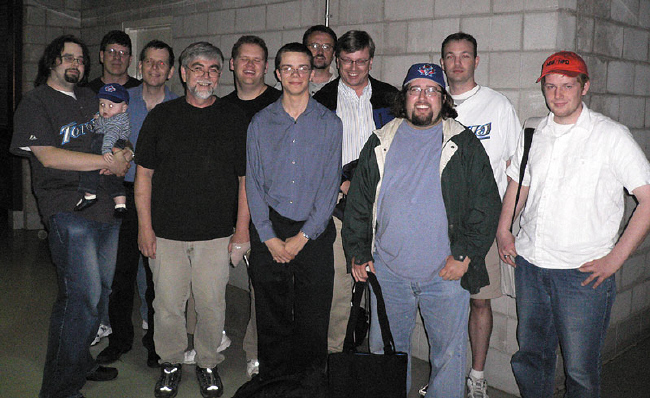 Finally, here's a photo of the Section 518 Rosterites, snapped by Mrs. Named for Hank after the exciting finish. From your left: Aaron (& Theo), Dave Till, Mike Green, Kent, Joe, Thomas, Gerry, Jordan, Craig, Pistol and Leigh. There's no truth to the rumour that the producers of the Fantastic Four have contacted us about portraying the Legion of Doom in the next summer blockbuster. But for the record, I've called dibs on Lex Luthor.