Cleveland are making things interesting.
Standings

CENTRAL		W	L	PythW	PythL	RS	RA	
Chicago Sox	75	47	70	52	568	488	
Cleveland	70	56	71	55	596	520	
Minnesota	67	58	67	58	551	506	
Detroit		61	62	63	60	582	568	
Kansas City	40	83	44	79	516	717	

Run Differential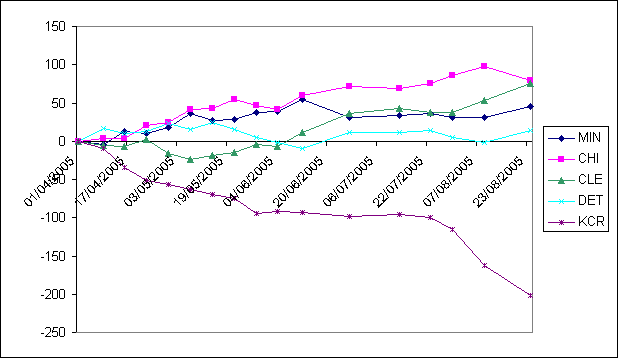 Chicago are looking fallible, and Cleveland are, finally, putting all the pieces together in August. The final few weeks of play in the Central should be considerably more interesting than they promised to be a few weeks ago, not that that's hard. The White Sox have had to deal with things not going there way for the first time this year, they have won just 7 games to 22 losses for the month as I write this, and have scored a miserable 58 runs while conceding 77. Cleveland's offense, which was terrible at the start of the season, has gone nuts scoring 115 runs in the month while the pitching has limited opponents to 76. That has been good for a 15 and 5 record and a significant reduction in the gap with the leaders. The question of course is, is it all too little too late for the Indians? I think it is, Cleveland will probably need a minimum of 95 games to win the divison, that means 25 wins from their remainings 36 games, that is a big ask. They do have an ace up their sleeve in that six of their remaining games are against Chicago. still, whilst I expect Cleveland to make the playoffs, it is via the Wild Card not the Divison title. Chicago have a little over half their remaining games left against teams under .500, if they can make some hay in those games they should have enough pitching to hang onto the division lead.
The Twins have staged something of a renaissance of late as well, just as they lose their talismanic center-fielder for the season, it's hard to see how they are going to climb over either of the top two in the standings let alone both of them. Detroit's season, which promised much, has never really got any momentum going as they have fluttered around the .500 mark all year, they seem set to spend the rest of the season playing kingmaker in the division, as the three clubs above them all have at least six games with the Tigers left.
Chicago
Reamining Opponents
Seattle 3 Texas 4 Detroit 8 Kansas City 6 Anaheim 3 Minnesota 8 Cleveland 6
Home/Away
home 17 away 22
Predicted Record
94-68
Notes
Two of the White Sox starters have not been pitching well in August. For a team that lives and dies by it's pitching, that's not a good sign:

		IP	H	R	ER	HR	BB	SO	DEC	ERA*
El Duque	19.0	15	12	11	1	6	14	0-3	5.21
Garland		25.2	34	16	15	4	6	14	1-3	5.26

Scot Podsednik is travelling to Charlotte for a rehab assignment this weekend and is expected back with the big club on Monday. There are those who believe Posednik's absence has been the cause of the clubs offensive woes. We shall see....Freddy Garcia threw a one hitter and still lost to the Twins on Tuesday, he's the first player to do that since Ted Lilly for the Yankees in 2002.
Cleveland
Remaining Opponents
Tampa Bay 4 Toronto 3 Detroit 6 Minnesota 6 Oakland 3 Kansas City 7 Chicago 6
Home/Away
home 19 away 18
Predicted Record
91-71
Notes
I noticed this on Primer this week, and it's worth repeating. According to the third order Winning percentage in BPro's adjusted standings, Cleveland are the best team in the AL. Makes me feel marginally less stupid for picking them to win this division.
		W3 	L3
Cleveland	72.7 	53.3 
Boston		71.4 	51.6
New York	71.1 	52.9
A's		70.5 	53.5

Expect to read a lot more about Jhonny Peralta in the next few weeks. He is rocketing up the statistcal rankings and is beginning to be mentioned in MVP discussions. He is having a season to match the more publicised Brian Roberts, unlike Roberts though he has flown under the radar until now as he didn't put up great numbers at the start of the season. Roberts started out like lightning and has fallen off a little, whilst Peralta started slowly in April but is coming on strong in the middle going. Here's the OPS by month copmaprison:

Month		Roberts		Peralta
April		1.185		.739	
May		1.009		.967
June		.942		.775			
July		.705		.971	
August		.665		1.046

Minnesota
Reamining Opponents
Chicago 7 Texas 3 Kansas City 7 Cleveland 6 Texas 3 Detroit 6 Oakland 3
Home/Away
home 17 away 20
Predicted Record
87-75
Notes
The Twins are 8 and 2 in their last 10 and are just a couple of games back of Cleveland in putting the pressure on the Sox...Old friend Shannon Stewart jammed his shoulder making a catch against the wall on Tuesday and felt the joint pop in and out, the good news is it isn't a bad injury and he's just day to day...With Stewart and Hunter hurt and Jacque Jones on personal leave the Twins fielded old friend Brent Abernathy in left, Lew Ford in center and Michael Cuddyer in right yesterday...
Detroit
Remaining Opponents
Oakland 1 Boston 3 Cleveland 6 Chicago 8 Kansas City 7 Minnesota 6 Anaheim 4 Seattle 3
Home/Away
home 17 away 21
Predicted Record
80-82
Notes
Jeremy Bonderman has 14 wins, the first time a Tiger has won that many games since 2001...Bonderman left last nights game in the fourth after being hit on the wrist by a Scutaro line drive, he was in obvious pain - rolling around on the floor. Some body needs to get these guys some protection out there. The diagnosis for Bonderman is just bruising with nothing broken...Rondell White though is out for the season with a torn rotator cuff...Better news is that Carlos Guillen should be back with the next two weeks, he is down in Miami rehabbing right now, nice work if you can get it.
Kansas City
Opponents
Boston 1 New York 3 Minnesota 7 Texas 4 Chicago 6 Detroit 4 Cleveland 7 Toronto 3
Home/Away
home 19 away 20
Predicted Record
few-lots
Notes
My Mom always told me if you can't say anything nice don't say anything at all.