That could have gone better. What has made the biggest impression on me so far?
Well, the new catcher is
really
slow.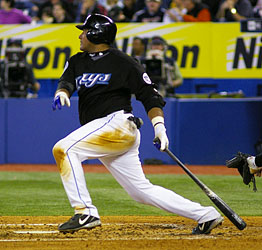 Molina is slow in ways I have not previously associated with baseball players. In the press box, someone suggested that he runs like Buck Martinez, after Buck broke his leg. Someone else suggested "
the day after
Buck broke his leg..." Which is a bit of a stretch. Probably.
I was trying to describe Molina's speed afoot to Liam, and I said "He runs like he's still wearing his shin pads." Liam said, no, he runs "like he's wearing
goalie
pads."
It was startling enough that they threw him out so easily at third on Adams' sac bunt, even if Kazmir made a nice play scrambling down off the mound. But his double to right field - it was incredible. Branyan was playing in right-centre, and the ball went into the corner on a hop. Branyan ran and ran and fielded the carom, and turned around to toss it back to the infield - and he must have been utterly amazed to discover he had actually had chance for a play at second base. Alex Rios would have been pulling into third.
Scott Kazmir came within one out of his first career complete game, and he was impressive in ways we don't usually see from Kazmir. He's had a tendency to throw way too many pitches, and have to leave the game, no matter how well he's throwing, after five or six inings. On this day, he scattered 12 hits, worked out of a number of jams, and outpitched the savvy vet and former Cy Young winner working for the home side. Doc looked sharp through 7 but brought nothing - nothing at all - out to the mound for the eighth inning. The only out he could record was given to him by the D'Rays. He couldn't even get Jonny Gomes out, after striking him out three straight times on curves in the dirt. It was strange, come to think of it - Halladay is the horse, big and strong, much more experienced - and, as usual, he wasl much more economical with his pitch count. Nevertheless, it was Kazmir out there in the ninth inning.
Rob has prepared something called a Win Expectancy chart for Sunday's game.
Rob notes that:
- the decline from 18-19-20 is Adams botched sac bunt followed by Johnson and Rios striking out in the third.
- the drop at 28 is the Hillenbrand DP in the fourth.
- the peak near 38 is Wells' double in the fifth
- Ryan came in at 62, well after the game was already out of reach
It hasn't been a great start, it hasn't been a disaster. Everybody, except Hillenbrand, has chipped in with the bat. Vernon Wells seems to think it's July or something. Maybe it really does do him some good to have a Big Scary Bat in the on-deck circle. The bullpen crew had two disastrous outings, but the guilty parties have now all managed to pitch effectively since then. But, still. You'd rather take two of three from Tampa, of course. Especially going into Fenway...