Josh Towers and Russ Adams have been sent to AAA. The Jays must have a special deal on the AAA shuttle or they want the frequent flyer miles but the shuttle has been busy this year. Jason Frasor, Vinnie Chulk, Shaun Marcum, Dustin McGowan and now Towers and Adams have all been sent down to AAA.
UPDATE: Sportsnet is reporting Adams will play second base in Syracuse.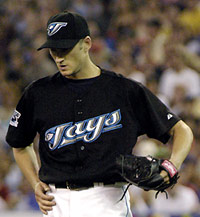 Josh Towers has been unable to find his control this season. Tonight his pitches were in the middle of the plate and very hittable, as he has pitched all season. Towers cannot survive in the middle of the plate. Like Frasor and Chulk before him Towers needs to find his control in AAA. Jason Frasor is under a AAA watch as well and survived tonight because Towers was worse.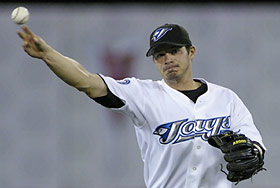 Adams is going down to work on his fielding and I would guess Adams will be back before Towers. Adams needs a couple of weeks to practice his throwing and get comfortable again making the plays in the field.
The Jays have not announced their replacements, Vinnie Chulk and Sergio Santos are the most obvious choices. With Ty Taubenheim pitching Sunday the Jays don't need an extra starter for a couple of week. If Taubenheim pitches well this week then he can fill Towers spot, if not then the Jays can get by with four starters for a couple of weeks with an off day next week. Sergio Santos could come up to back up John McDonald and make a few starts, otherwise he sits at Syracuse to let Russ Adams play.
Another quick hook from JP.