The Jays have a chance to win a series against a good team and Josh Towers gets the start.
Let's just avoid talking about Sunday's game. Towers started and Scott Downs had to come in early. What, did we travel back in time to May when I wasn't looking?
Instead, hear me out on this. I think, through five innings, it's not completely insane to say Casey Janssen and Tom Glavine were almost even in terms of pitching outcomes. Janssen wasn't terrible and Mr. Glavine was saved in the fourth and fifth by the Blue Jays' ability to make fans everywhere curse. When you give up eight hits in seven innings, more than one run is expected. (Fine, seven hits -- I don't know how the hell there was no error on the pop fly that Valentin and Nady just sort of forgot about.)
And this is silly to do, because it's a futile exercise in what-if-ery, but if you remove the two homers from Janssen's record, he and Mr. Glavine had very similar pitching lines through five innings. As Mike Wilner would say, though, "if my grandmother had wheels, she'd be a bus." I'd give Mr. Glavine credit for inducing all those ground balls, but Toronto does this often. Two double play balls in the eighth didn't help, either. Shea Hillenbrand got on base in another questionable way, but Bengie Molina struck out -- again -- to end the threat.
Ah, Molina. Despite his popular sitcom, I'm still not impressed with him. There were two pitches on Friday, two high ones he was crossed up on, that fell out of his glove. He just didn't close it in time. That's a mistake
I
make. The passed ball in the second was another lazy play. Not only that, anyone else would have: a) had a double on that ball down the RF line and b) beat the throw to first on the 4-6-3 double play. More on that double play in a second.
Carlos Delgado did get his much-deserved ovation, and he collected a fair number of hits to boot. It was nice to see him, but I'm not interested in his return at the moment. Two other former Blue Jays made their return to SkyDomeRogersCentre this weekend. Chris Woodward came home, went up there in the ninth and got the
Justin Morneau Treatment
. Oh well.
Steve Traschel...well...there's not...a lot...you...can say...about...his long...long....time....in Toronto. With the Blue Jays only four games back at the beginning of the day, they made a deadline deal...in name only. I didn't evn have to look it up: Brent Abernathy for Mark Guthrie and The Reason People Complain About Baseball. Traschel had 13 starts, none of them memorable, and it's not like he was going to do anything. But you must put this in context: I was 13 years old and became a fan
after
the back-to-back championships. Years of Felipe Crespo and Robert Person leave you hungry for contention, and I thought this might just do it. As you might recall, it didn't.
How did Traschel do on Sunday, you ask? Hell if I know. The game wasn't on TV, radio, like failure,
is not an option
, and I'm 111 km away from the stadium.
One thing I did track on Friday and Saturday was the speed of certain baserunners. On any close play at first, which usually meant a grounder to the left side, I timed how long it took for the batter to reach first, measured as the crack of the bat to the foot touching the bag. If the runner pulled up early, I didn't count it -- I was only looking for what appeared to be 100% effort.
So, who was the fastest runner I timed? No, not Jose Reyes. He wasn't even in the Top 3. Carlos Beltran wasn't #1 either, though he was still pretty fast. Vernon Wells was clocked at about average, slightly faster than Delgado. The bottom three times all came from catchers, predictably. I bet you'll never guess who came in dead last: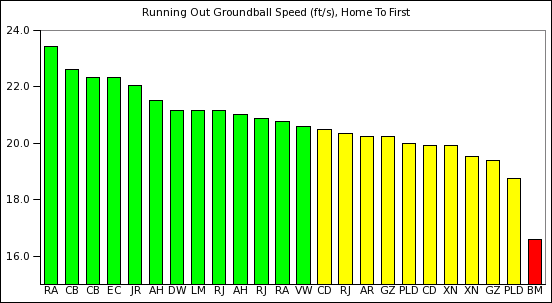 Even worse -- Molina's bad time was on the double play. Yeah, the Jays still hit into those. (The Mets do as well, but they like to make them interesting.)
Another player who likes to make things interesting is Alex Rios. He didn't have the best time out in right field this weekend, did he? And apropos of nothing, after hitting .360 in April and .362 in May, he's at .241 in June. Now, I'm not saying his hot start was just that, a hot start. But if April's numbers can be obsessed over, so can another month's.
So where are the Jays now? Pretty much where they've been all year. Four (or so) games behind the Red Sox, two (or so) behind the Yankees. The non-Doc pitching still leaves a lot to be desired and B.J. Ryan is still kicking ass. I'll see you in two weeks, when things will be the same.