Jays edge Indians
Gibby likes to say that he hates using Bo Jr for more than one Innings at a time, that doesn't of course stop him from actually, you know, doing it.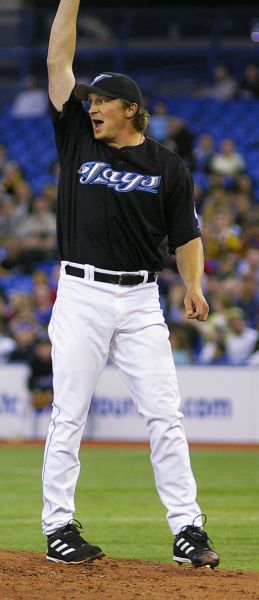 He was at it again last night noting, "...you're trying to win games and you've got that special guy down at the end (of the bullpen) who makes his living down there. ... I try not to, but it's tough not to use him.", after he had called Ryan as another disaster needed to be averted in the eighth. Ryan got the job done last night. He came in with no-one out, and after some fun and games during which Cleveland loaded the bases, induced Marte to pop-out and K'ed Grady Sizemore. Normal Ryan service was, thankfully, resumed later with a 1-2-3 ninth. Not a bad time to go to the big guy for a long outing last night, he hadn't pitched in four days and was probably chomping at the bit, and with Speier on the shelf, League already used, and Accardo having worked the day before there was no obvious candidate to come in once Downs had given up a homer to open the eighth.
It was nip and tuck for the Jays to get into a situation where they needed Ryan, but a solid five Innings from Marcum and some timely hitting against the opposition's ace was just enough to scratch a lead going into the final Innings.

Player of the Game:
Another excellent Vernon effort, two for four with a couple of RBi and a home-run.

Unsung hero:
Marcum had his third good start in a row, he went five innings, striking out six and walking just one.
Boxscore
Elsewhere in the East:
The Yankees were having a tough time against the Royals until the eighth, when they went through most of the Kansas City bullpen en route to a 10 run Inning. In Baltimore Rodrigo Lopez had a stellar start, but the O's offense could do nothing to help him and the game was lost 1-0. Not to blame the O's offense too much, they had to face Weaver, Shields and KRod - it doesn't really get much better than that. Boston kept their lead over the Jays to two, winning a close one with the White Sox behind a strong Tavarez start. The Red Sox got Varitek, Nixon and Ramirez back from injuries and expect Oritz to return today. The Devil Rays also dropped a close one, losing 2-1 to the Twins despite another decent Tim Corcoran outing, he's having a nice little run lately.

Today:
Halladay against Sowers, 7:07 at the RC