Yeah, so it was all my fault. 2006, I mean. Seriously. It's why I've been so quiet lately.
Before we get to that, though, I have to say that sometimes it sucks to be Kenny Rogers: his third baseman and his own throwing ability picked a fine time to leave him, and very quickly the Jays were up 2-0 in the first. The good guys went on to score another pile of runs, and the Tigers made it interesting by mounting a late comeback against the Jays' pen, but B.J. Ryan did the job he's paid the big dollars to do.
So now let's talk about how this season was my fault.
I'll admit that I'm a little disappointed by the season. I'll also admit that this is the first season in forever where I could reasonably feel disappointed by the outcome, so I suppose that's a good thing. But actually, disappointment is the wrong word. What I feel is "responsible".
Those who were reading Batter's Box during the Season From Hell will recall my cursed cap. For those who don't, here's a brief summary: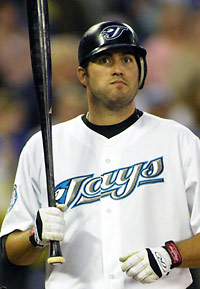 In January of 2004, I found a Jays cap in my old closet at my parents' house. It was virtually brand-new, as it had never fit me properly as a kid when my dad bought it for me back in 1985 at Exhibition Stadium. I figured that since 1985 was a good season, the cap must be some kind of good omen.
I wore it throughout the remainder of the winter and through spring training. I brought it to a game that I photographed in April, hidden in my camera bag.
A funny thing happened: the team stunk, except for Kevin Cash. And that's when I realized that the cap was responsible: when our own Coach had sat down to interview Cash for the Box, I had taken pictures of the two of them, and Cash was sitting right next to my camera bag, right next to the cap. Somehow he had absorbed some evil power from the thing that was benefitting him but killing the rest of the team. It was like that stupid Kryptonite that makes everyone else strong while making Superman weak. Well, except backwards. Or in whatever way that doesn't imply that Kevin Cash is Superman.
I had to do something -- but what? I tried everything short of destroying the cap. I figured if I burned it, the changes might be permanent. By the time I realized what needed to be done, the season was in ruins.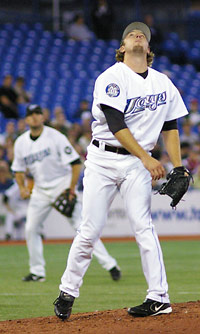 My wife and I moved into a new house the following winter, and I found a nice, dark closet and squirreled away the cursed cap at the back of it, buried under soft odds-and-ends, just like it had been back at my parents' house. It seemed to work.
And then, a few months ago, a terrible thing happened: we insulated the roof.
We needed to do it. And it never occurred to me what evil would be unleashed as a result. How was I to know that the very closet that was containing the evil cap was also the only access point to the attic? I had to take everything out of the closet. Actually, like something out of a Stephen King novel, I didn't recognize the cap at first because I had no memory of putting it in there, but as soon as I touched it my memories came flooding back.
Oh
Jesus Christ
, I thought.
Why am I touching this? WHY AM I DISTURBING THIS?
I had to -- the guys were there in their workboots with their scary insulation hose. I had to take it out of the closet. I didn't touch it with my hands -- I ran down to the kitchen and got my barbecue tongs. I tried burying it under clothes and jackets, but it didn't work. As soon as the insulation guys were done, I put the cap back in the closet precisely where it had been, but it didn't work. The Jays immediately went on a soul-crushing losing streak that effectively destroyed their playoff chances. After about two weeks of horror at what I had done, it occurred to me that I needed to put the cap into a new closet; as soon as I did, the team righted itself.
So there you go, Jays fans -- it's all my fault. I wanted a warmer bedroom this winter for the new baby, and my selfish thoughtlessness cost the Jays their first playoff berth in a decade.