The Tigers in the playoffs? The Red Sox in third place? The Royals losing 100 games? (Okay, ignore the last one.) It appears there is a new order in this league, or at least two isolated events that allow me to come up with some sort of introduction to this, the last day of the season.
Jays 6, Yankees 5:
Alex Rodriguez and Gary Sheffield, the latter contorting his body and increasing his swingular velocity to inhuman levels, went back-to-back to spell the end of Shaun Marcum's day early on. Four Toronto runs in the seventh against as many pitchers put them on top for good, though, and they added another one when the Yankees just kinda forgot Vernon Wells was on second base. (That sure didn't look good in hindsight after Bobby Abreu's eighth-inning single.)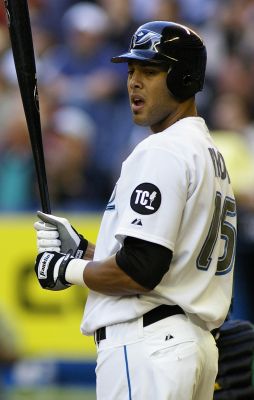 I had a feeling that Jeff Karstens' day would, or should, end soon after Gregg Zaun came up in the seventh, and sure enough, he was removed after the Yankee first baseman (who wasn't even Sheffield) screwed the pooch on a routine 4-3. Facing the delightfully irrelevant Mike Myers, John Gibbons decided his "defensive specialist" was a viable pinch-hitting option and this time, it was Robinson Cano's turn to make the error that wasn't ruled an error. Alex Rios got the real run-scoring hit with a monster triple and that was it.
Joe Torre sure LaRussa'd his way through that seventh, eh?
-
Myers replaces Karstens
- McDonald reaches on error
-
Beam replaces Myers
- Rios triples
-
Villone replaces Beam
At this point, I expected Reed Johnson to replace Frank Catalanotto and then Torre would attempt to bring in Kyle Farnsworth, damn the rulebook!
Aside: are lefty relievers like Myers looked down upon like punters? You think Sal Fasano likes squatting 100 times per day while Myers makes almost three times as much for doing less than one-third as much?
Second aside: Yes, I know I derided the choice of John McDonald and he went on two collect two official hits. I stand by my original statement.
A Note:
Jamie Campbell prefaced the bottom of the seventh with "The Jays have made all kinds of changes here." I don't know about you, but replacing one catcher with another and performing the now-standard "McDonald to SS, Hill to 2B, Adams to bench" move doesn't exactly span the set of all possible changes. They still employ Warren Sawkiw, after all.
Doesn't He Read?
Joe Torre sat Jorge Posada yesterday,
ignoring Alex's Advance Scout "advice"
.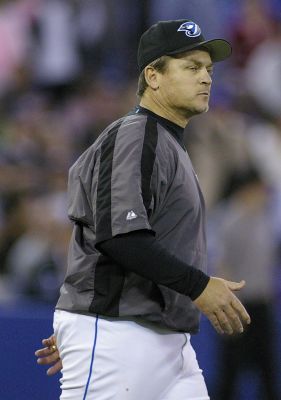 The Hook:
John Gibbons always seems to pull his starters early, but it's probably due to the personnel available rather than his tendency to yank 'em when he can. The Jays rank 12th of 14th in innings from their starters, at 896.2 including Marcum yesterday, or about 5.6 innings per game. (Gotta love those crazy decimals in innings pitched tallies.) The reason I say it's a team thing, not a Gibby thing, is that the only pitchers above that team average are Roy Halladay, A.J. Burnett and Ted Lilly. Exactly two of the other pitchers have starting ERAs below five: Marcum and Ty Taubenheim (who squeaks by with 4.99).
Ted Lilly and Roy Halladay finished the year with 32 starts, and since the list of the "others" looks like Casey Janssen (17), Gustavo Chacin (17), Marcum (14), and Josh Towers (12), Lilly-boosters can add another argument to their arsenal: Would you really want three of those pitchers in the 2007 rotation?
Goulet Watch:
Toronto, tied with Boston entering Saturday, had already won 12 of its 19 games against the Sox to claim the just-made-up tiebreaker for second place in a division. Thus, a Toronto win and a Boston loss would "award" the Red Sox their first-ever Robert Goulet Memorial Trophy For Copacetic Third Place Achievement. Well, Boston played the Orioles after the Toronto win and things were going well for them before they trusted the 2006 Mike Timlin with a ninth-inning lead. A two-run Kevin Millar single later, the Orioles had a 5-4 lead. Three outs later, that became a 5-4 win. So congratulations to the Boston Red Sox: the
Goulet
is yours!
Today, the expected rain in New York may eliminate any chance of Game 162. For everyone else, it's either "161 down, 1 to go" or "173 down, 0 to go", depending on your view.
Other Races:
The Astros, winners of 9 of their last 10, were down to their last chance as one more loss meant the 83-77 Cardinals would clinch the NL Central. They won 5-1 to stay alive for now.
The N.L.West is one of those psuedo-races; the loser still gets to play next week, they just have to play the Mets instead of the Cardinals. Nonetheless, the Dodgers and Padres were tied at 86-74. David Wells -- who, I must admit, I never really hated -- held the Diamondbacks scoreless for six innings until Stephen Drew, wearing an un-baseball purple uniform, hit a homer off Cla Meredith into the un-baseball swimming pool in right field. (I remember touring Bank One Ballpark and never one feeling like I was in a baseball stadium.) No matter, San Diego still won 3-1 and Los Angeles rode Julio Lugo, J.D. Drew and Greg Maddux to a 4-2 win of their own. Short version: they're still tied.
Assuming that the wild card winner in the Not-so-good League will fall to the Mets, then I'm hoping for a loss by LA today. Jason Schmidt, your mission is to outpitch Derek Lowe and if you can contribute to an early defeat of the Los Angeles Dodgers...well, we're past gratitude and into a full-blown mahalo.