Two years ago, I had a look at some first basemen who potentially might be Hall of Fame candidates-
Rafael Palmeiro
,
Fred McGriff
,
Frank Thomas
,
Jeff Bagwell
,
Carlos Delgado
, and
Jim Thome
. What I did not discuss in the articles was the implications of the steroid issue on their chances. Palmeiro and Bagwell (along with McGwire and Giambi) have been implicated in the steroid mess.
Rafael Palmeiro


Palmeiro seemed to be a lock for the Hall of Fame in 2004. I wrote then:
"The similarity between Murray and Palmeiro is really striking- consistency, durability, and the 3 hitting abilities (average, strike zone judgment and power) in perfect balance. Palmeiro's 3000 hits and 550 homers will be impossible to ignore when he becomes eligible. Plus, he's got the Drysdale "fame" thing working for him, courtesy of the Viagra ads."
There are some kinds of fame that one doesn't want. Will the voters discount some of his accomplishments in his 30s to reflect imputed steroid use? Should they? I suspect that they will take it into account, and that Palmeiro will not be a first ballot selection. He may not get the call in the long term, depending on how attitudes in society towards steroid use evolve. As for the merits, I now personally doubt that Palmeiro was in Murray's class, and that John Olerud or Norm Cash might be better markers. Each was, I think, noticeably better than Palmeiro at his peak, but not as durable. That would put Palmeiro just outside.
Fred McGriff


Maybe, just maybe, the steroid revelations will help Fred McGriff. Without any adjustment, he was as good a hitter as Palmeiro and no one has ever suggested that he used any form of enhancers. His career path, a peak from age 25 to 28 (1988-1992) and a slow gentle decline, is entirely typical. Two years ago, I said:
"While he is Hall-worthy, my gut tells me that he won't be elected. Bill Terry hit .401 in 1930, and I don't think that Hall voters appreciate that this was not an awe-inspiring achievement due to the batting averages of that year, and really McGriff's performance in 1988-90 is about as impressive. McGriff just didn't put up the shiny numbers that capture the attention. His lack of All-Star recognition in 1989, 1990 and 1991 presages, I think, what will come when the Hall votes are taken. If it is perceived that there are a glut of first base candidates from the 90s, McGriff's name will be the easiest to ignore."
McGriff is unlikely to be a first ballot candidate either, but maybe, when the voters look at Rafael Palmeiro's and Fred McGriff's statistics in 10-15 years, they will remember the other factors. On the other hand, they both might be rejected.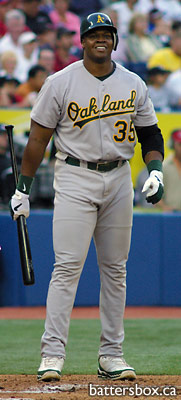 Frank Thomas


Now we can really have some fun. Big Frank was an automatic first ballot section 2 years ago, and nothing has changed. After a struggle at age 37, he bounced back this year with another Hall of Famer's season, .270 with 39 homers and 81 walks in 559 plate appearances. So, where does he stand among the great first basemen? Two years ago, I wrote,
"He obviously stands behind Gehrig. It will take a superb end-of-career rush for him to equal or pass Foxx offensively, but he's a little ahead of McCovey at this stage."
With 9161 PA and a 160 OPS+
at age 38
, he's much closer now to Foxx than to McCovey. Frank will have played about 1/2 his career as a DH, and was never much with the glove, so the overall comparison between him and McCovey would be very close.
Jeff Bagwell


Do we really have to look back at what I said 2 years ago? Fair's fair:
"The Baseball Reference comparables capture Bagwell very well. He's halfway between McGriff/Palmeiro and Thomas as a hitter. While not as good as Eddie Murray with the glove, he has been a fine defensive first baseman. He had good speed when he was younger, and was moderately successful as a basestealer...
Should he be in the Hall of Fame? Will he? If his career ended tomorrow, he would be a good Hall candidate. If he can produce 2 more good seasons, there will be no question. My instinct tells me that he will reverse his recent decline and follow the pattern of the great modern first basemen by producing 2 or 3 more good years. If that happens, he should and will."
Two years later, Bagwell is done with no additions to his career line.
As of age 37
, he is still halfway between McGriff/Palmeiro and Thomas offensively. McGriff though had one more very good year left, and Palmeiro had three pretty good ones. And then, there are the steroid allegations. In Bagwell's case, it is near impossible to tell what to make of things. He reached his peak at age 26-31 (1994-1999) and declined gracefully through age 35. Players have been following this kind of career path since time immemorial. Personally, I doubt that he would have been a better player than Will Clark in a neutral environment, but that is impossible to prove. We will see what the voters think.
Carlos Delgado


Two years ago, Carlos Delgado left Toronto after a disappointing (for him) and injury-plagued season, in which he hit .269/.372/.535. I wrote then:
"To my surprise, it's not only Delgado whose performance at age 30-32 exceeded both his age 24-26 and his career marks. That's also true of Bagwell and Thome, neither of whom are likely candidates for a late career peak.
Will Delgado end up in the Hall of Fame? I think so. It's as likely as not that he'll end up with a similar career to Fred McGriff in actual value, but a flashier home run number, and that would make the difference.
For the Green projection method today, huevos rancheros, saute onions and tomatoes, add optional chilies, and then scramble in eggs. Savour and pronounce:
Carlos Delgado's final statistics-550 homers; .276/.389/.550."
Carlos has put up 2 fine seasons in 2005 and 2006, and now has 407 homers through age 34. As of age 34, he sits between Fred McGriff and Jim Thome on the scale. He is definitely on a Hall of Fame course, but it will depend on whether he does a graceful McGriff/Murray exit. My money remains on him.
Jim Thome


Jim Thome had a big year at age 33 in 2004, with a .279/.396/.581 line. I wrote then:
"Should Thome be a Hall of Famer? Will he? Right now, he is well on his way, and he appears objectively to be significantly ahead of Delgado. Somehow, I don't think he is, for two reasons. First, the age comparison which shows Thome as one year older than Delgado is deceptive; Thome is 22 months older, but his birth date is just after the July 1 cutoff and Delgado's is just before. Secondly, subjectively, I believe that Delgado's build and dedication to fitness make it likely that he will be healthier in his late 30s. than Thome. I see Thome ending up with numbers very close to McGriff's when all is said and done, but probably just enough to squeak in to the Hall of Fame.
For the Green projection method today, we have a little chicken soup. One whole onion, a cut up chicken, water to cover, cook for 45 minutes, then add dill, one sliced parsnip, six sliced carrots, six stalks of celery in 3" pieces and some freshly ground pepper, followed by another 45 minutes of cooking. Inhale and pronounce:
Jim Thome's final career statistics: 510 homers, .274/.395/.540"
Shall we count that one as an incomplete? Thome struggled at age 34 in 2005 due to injury, but then returned to the tougher league and put up a better line in 2006 than he had in 2004. At this point, he has 472 career homers. It would be a surprise now if he didn't end up with noticeably better numbers than McGriff and make it into the Hall, but one never knows.
On deck: the second basemen, Jeff Kent, Roberto Alomar and Craig Biggio. And today, we have a little homework- who is your nomination for the closest offensive player to Jeff Kent? Don't peak at BBRef or PECOTA comparables or you'll spoil the fun.