When the hostilities had finally come to an end, the old general looked around. He saw his kingdom, once so mighty, so proud, so invincible, lying in ruins.
For many a season now the greatest oracles and thinkers in the land had foretold the inevitable Fall of the Kingdom, for nothing made of flesh can endure forever. But even so, at this moment, as the old king surveyed the broken stones of what had seemed an unbreachable fortress, as he saw that the predictions had at last become reality, the knowledge that all was changed utterly and forever swept over him. And he wept bitterly.

Barbarians from the land of Queens far to the north, young warriors eager to prove their mettle but aided by veteran mercenaries reknowned for their skill and power, had secretly devised a plan. Their cunning strategy had singled out the old kingdom's defensive forces, known to be poorly kept, particularly the relieving legions. The decisive battle was expected well ahead of time; what was not expected was the enormous advantage the invaders would gain so quickly once hostilities actually began. While the striking forces of the kingdom fought well and with enough strength to give them hopes of a recovery, the relieving legions were constantly being decimated. Often the old kingdom was forced to choose between raw apprentices or journeyman knights who had wandered from kingdom to kingdom, unable to make a name for themselves anywhere due to their lack of any kind of skill or prowess.

Eventually the walls fell, and despite a late resurgence among their ranks, it was far too late to salvage anything. It was, at last, over.

But the old general was unwilling to allow his kingdom to fade into nothing more than memory and legend. He knew he was not as young as he once was. He knew that clearing away the remains and rebuilding from scratch could never be accomplished in the time he had left. So he gathered the long time king, with whom he went way back and shared a mutual respect with, his most veteran and experienced knights who had experienced the kingdom's glory days, his top advisors, and the best stone and brick layers available in the land, and told them all that the time to reclaim the throne of the land was now. The ones who had stolen their crown were heavily weakened from inconsistency and long injuries among the ranks of their knights, while other contenders either lacked the ability to rule or were a few years away from being ready. There was no better time than now for a return to glory.

So the king travelled far across the mountains until he came at last to the most distant side of the country, where members of his kingdom would rarely visit. There, he recruited one powerful young knight, who although having suffered serious wounds, was returning to his full strength and had raw abilities that few could match. Then the king travelled to a land closer to home, where he and another king swapped combatants, giving up one of his finest offensive fighters of that failed summer season, for a small but quick footed knight, a fierce fighter from the left side, and calm under the pressure of the fray. With these two new recruits joining them, it was hoped that they would stabilize the wretched reliving legions of their forces. Accompanied by the swelling tide of youthful knights growing into their strength, although perhaps required to fill roles hitherto unknown to them, hope was renewed for the upcoming summer season. Once again, they would gain the throne that had been stolen from them, and glory would be restored.

The Old Order changeth not!

It is I, Liam, son of Magpie, who tells these things to you. I, who wrote last spring about the Detroit Tigers. You saw what happened to them. I have the power. And I have a hat.
That's right. I cheer for the Atlanta Braves.
I admit, many people ask "why" when I tell them that the Atlanta Braves are my number two team. Often I'll get responses like: "eww…" or "that's like cheering for the Yankees" or "Meh.. Atlanta doesn't even deserve a
hockey
team…"
I have my reasons. I've been to Atlanta, twice (OK, both times it was just the airport). I, uh, I like the jerseys… They were Hank Aaron's team? (Way before my time, I know) … uh, Greg Maddux and Tom Glavine? Wait they're gone… uh… did I mention that I have a hat?.
I guess the reason I like cheering for them now is their eternal underdog status. I know how strange that sounds, but bear with me. The Braves are different than the Yankees. The evil empire is expected to win the division every year. Everyone says so, year after year. Everyone points to their latest acquisition (or assimilation) and concludes that Resistance is Futile. By contrast, the Braves in recent years have waved goodbye to player after player (some to the Yankees, in fact) and the world has shaken their head and predicted their demise. The fall of the kingdom. The arrival of that day, long-awaited, when they would be relieved of their hold on the division crown. Except they haven't been.
Until now.
Which puts the Braves in a position they haven't been in since old Magpie had hair on his head - about 1363 victories, three presidential administrations, eleven different World Series champions, and an infinite number of Leo Mazzone rocking motions ago. On the outside, looking in.
The last Braves squad that watched as the post-season went on without them - that would be the 1990 team, folks - faced a tough uphill road. That group couldn't even slug .400 (.396) and had a team OPS+ of 94. Not this time. Last year's Atlanta's squad was one of the finest offensive units in the National League, boasting a 110 OPS+ and slugging about 60 points higher than their bat challenged ancestors. Only four major league teams scored more runs - three from the DH league, and the Phillies in their little bandbox of a ballpark.
So how about the pitching? While Charlie Liebrandt and Steve Avery are long gone, two of those 1990 starters are still active, still winning, and one of them's still in Atlanta. That would be John Smoltz, who led both the 1990 and 2006 teams in wins and innings pitched. Strangely enough, the 1990 team posted a 4.58 ERA in a hitter's park (Fulton County Stadium was known around the National League as "The Launching Pad"), while last year's squad posted a 4.60 in a pitcher's park. But that 1990 staff was the worst in the league, standing 12th in a group of 12. The 2006 team comes in 11th in a field of 16. So a few things have changed. The 1990 Braves competed in a much lower scoring environmentyear for the National League (3.79 league ERA in 1990 compared to 4.49 in 2006). The fact that these team ERAs are even close gives the advantage to our more modern, less MC Hammer inclined version, which ranked anywhere from 8th to 11th in most pitching categories, just a little behind the middle of the pack.
You've got a team that smashes the seams out of the ball (222 team home runs led the NL) and a pitching staff that's just about average in every way. What went wrong? Why aren't we all once more predicting the Braves downfall, this time after 15 straight division titles? We need to look a little more closely at the pitching. It's true that the Braves starters were all pretty average (aside from Smoltz, who was brilliant, and Kyle Davies, who was terrible) but the bullpen… wasn't just another story, it was a completely different language. A language where just about every word was a variation on "infuriating" except for the ones that were synonyms for "horrifying."
The specific problem with the 2006 Braves bullpen? It wasn't that they had a lot of bad ERAs. You can, if you like, consider that the clue that leads us to suspect something was seriously amiss. The Braves relievers didn't lead the major leagues in walks allowed; they didn't even lead the majors in blown saves. But being better than the Kansas City Royals and pretty well no one else is no way to win in the twenty-first century. The Braves had four relief pitchers that struck out less than 50 batters, but walked over 30 - Macay McBride, Ken Ray, Tyler Yates, and Lance Cormier. I will dub this gang of four The Men from NUTS - Not Understanding The Strike zone) When your starters (aside from Smoltz) are not dominating the opposition, when the other team is still in the game, when they are leaving the game with runners on base, you don't need relievers who are just as likely to walk the next batter as to strike him out. That's what known as a home-cooked, Georgia style recipe for disaster. The Atlanta bullpen coughed up 29 leads that had been entrusted to them, the highest figure in the National League.
It gets worse. Each of those men from NUTS seemed to have a special secret talent for disrupting the Braves out of the pen. Cormier was "The Man who was Lonely all the Time" - he always seemed to want someone on the basepaths to keep him company, as his .367/.428/.620/ line with the bases clear seems to suggest. Tyler Yates was "Mr. Third to Sixth Inning" or "Afraid of the Dark" - when the sun would set and the ballpark lights came on in the latter part of the game, old Yates could work on his close and late OPS against of 1.006. Macay McBride was "Fifteen Good Pitches and then... the Deluge" - through pitches one through fifteen, he allowed 16 runs in about 160 at bats. After pitches fifteen and up, 12 runs in 52 at bats.
But the ring leader of NUTS was surely that sinister, maniacal mastermind that goes by the name of "Chris Reitsma" Was he human? Was he truly a major league pitcher? In 28 not-soon-to-be-forgotten innings, the Reitsma gave up 27 runs. He put 57 men on base. Yes - he allowed more baserunners and gave up more runs per inning than Josh Towers. This was Atlanta's
closer.
Blue Jays fans were grumpy after 2005? The Braves would have killed to have a Miguel Batista. Luckily, the Reitsma didn't pitch after the all-star break; better still, he's been banished to farthest reaches of Washington State.
So what's the prognosis? What's this crazy Toronto Braves fan getting at? Here it is - the 2006 Braves weren't actually as bad as they appeared. They scored 44 more runs than they allowed - which suggests that they should have gone something like 85-77. The reason they couldn't crack 80 wins, therefore, could be random chance. Or it could have been the work of the Men from NUTS. While a set of effective relievers may not have been enough to catch the Mets, it would likely have kept them in the hunt for the wildcard until the very end.
That was then, this is now. 2006? Ancient history. Never happened. The Braves feel they're more ready and prepared to win a division title than ever before. To prove they weren't all talk and tomahawk chops, they went off and traded often injured starting pitcher Horacio Ramirez for the flame throwing reliever Rafael "I ain't da Fonz" Soriano. Then, in a somewhat startling move, they sent first baseman Adam LaRoche, one of their best hitters in 2006, for Pittsburgh closer (whatever that means) Mike Gonzalez. The most pressing need of all was actually addressed at the deadline last season, snagging Bob Wickman from Cleveland to actually, ya know, close games for them, a role Wickman is excepted to fill again.
Excepting Wickman to duplicate his ERA of 1.04 last year as a Brave might be a bit of a stretch. But there is one thing Wickman doesn't that ought to be a very welcome change: he doesn't walk people. Last year in 28 innings with the Braves, Wickman walked only two batters, exactly what this first base stroll happy bullpen needs. But one thing the big guy has problems with is staying healthy - he's been able to pitch in 50 games just twice in the past five seasons. Hence the other off-season maneuvers. Should Wickman go down, which is not unlikely, both Gonzalez (previous experience in the role) and Soriano (classic closer ability) could conceivably step into the role without much disruption. In the meantime, both profile to be Wickman's set up men, with Gonzalez likely facing the more left-handed heavy parts of the batting order.
You can expect Chad Paronto, Oscar Villarreal, Anthony Lerew, Joey Devine, Blaine Boyer, Jonathan Johnson, Peter Moylan, Tanyon Sturtze (shudder) and the holdovers from NUTS to fight over the otherfour or five relief spots. Paronto and Villarreal should be in for sure, and Macay McBride (second lefty) with Joey Devine look like the best bests to take the last two spots. The Braves are very high on Devine, once projecting him as the closer of the future. Although he might have been the Braves worst pitcher in 2006 (not even NUTS worthy) he's come into camp this season free of the injuries that plagued him last year. I will not be at all surprised to see him sneak into the back of that roster in a quasi middle relief role. To sum it up, the Braves major weakness is much improved, and might become an asset rather than a liability.
The Atlanta starting corps was, in its own small way, capable of sending chills of Dread down one's spine, even if it was not quite the vacation on Neptune that the bullpen was. Their league average numbers as a group were almost entirely the product of yet another excellent season by John Smoltz. Smoltz turns 40 in a couple of months, but since returning to the rotation in 2005 he's picked up right where he left off in 1999, after that little detour as one of the best closers in the game. (Really - how many relievers have had better seasons than Smoltz did in 2003? Count 'em on one hand, I'll wager.) This spring he's working on adding a changeup to his still-nasty repertoire. NL hitters will be happy to hear that, I'm sure.
After Smoltz, the rotation is filled with question marks of one kind or another. Tim Hudson hasn't been his Oakland self since arriving on Georgian soil. He's had one good and one mediocre season since donning the red and navy blue. Hudson still seems able to soak up a lot of innings, so if he remains at the level he showed last year he's a decent #3 or #4. But Atlanta was expecting considerably more from Hudson, and they're hoping he can bounce back to the form he displayed for so many years in the Other League. Hey, Tim, it's easier over here. Pitchers go up to bat, you can strike them out at will.
Then we've got Chuck James! I'm Chuck James… and I pitched pretty danged good. Southpaw James came out of nowhere to win 11 games, and post the best ERA among the starters next to Smoltz. He'll need to watch the potatoes on the stove (20 HRs in 110 IP) but his other peripherals are solid.
Sadly, the Braves will need young James to maintain that form, what with the questions surrounding our next guy… Mike Hampton. Remember him? I think Hampton could be the key to Atlanta's 2007 season. If he's recovered, he's the perfect middle of the rotation pitcher the Braves need. Win about 10-13 games, ERA around 4, and just keep the powerful offense in striking distance. Not too much to ask in a comeback year. But Hampton has his problems; in his last season (2005) his strikeout rate plummeted to about 3.51 per 9, and he's coming off Tommy John surgery. Hampton himself admits he's not quite 100 percent yet. Should he not be able to go when the bell rings, youngster Kyle Davies will be forced into a more important role in the rotation, instead of hanging back in the fifth spot learning the major league game. Lance Cormier has been mentioned as a backup starter as well, but we're all hoping it doesn't come to that. The Atlanta Braves desperately,
desperately
need their starters to stay healthy in 2007. Otherwise we might be seeing something like NUTS once again, rotation edition.
Enough. On to the strength of the Braves, the part I'm going to actually enjoy talking about. That's right, the Lumber Yard. The Atlanta Braves were second in the National League in runs scored, first in slugging percentage, second in team batting average, and as I may have mentioned earlier, first in home runs. Most of the players responsible for this were on the young side of 30; several were on the young side of 25. So lets break down the nine (er, eight) Turner Terrors for ya.
Starting with the busiest defensively of the nine, the position of catcher is crucial for any baseball team with aspirations of any kind. Whether it be World Series, AAA championship, High School Regional Title, a beer league bet with a keg on the line, you need a good catcher to have any hope of making your dreams come true. (You can kiss that keg goodbye otherwise, not to mention that you'll have a lot of passed balls.) The Braves have one of the best. Brian McCann had a solid major league debut in 2005 at age 21, mostly in a platoon situation. In 2006, at age 22, McCann pulverized the National League, leading the NL in batting for the first part of the season. He eventually settled for a pretty nifty .333 average, along with his first (of most likely many) all star appearances and silver slugger awards. While I'm doubtful he'll carry over his insane slugging percentage of .572 from last season, (I'm hopeful though) you can expect another, at the very least, productive season from McCann, who looks ready to become one of the elite catchers in the game. Did I mention that he turned 23 like two weeks ago?
Then, you've got first base. The Braves had a good one in Adam LaRoche, who broke out in 2006, but now he's gone. So it appears Canadian Scott Thorman will get a shot to make the job his. Thorman has shown flashes of power, but is in probably not quite ready for the full time gig. Enter everybody's favourite least used Yankee, the star of many an old Alex Rios trade rumour, Craig Wilson himself. Wilson's reputation as a lefty killer precedes him, so it will be his job to face the lefties while Thorman faces the righties. Is there a word for this kind of thing? Battalion or Platonic or something? I dunno…and hey weren't the Braves doing something just like this at first base just a few years ago? When LaRoche was breaking in, splitting time with Franco?
Wait a minute there, Season Preview Guy… you said that the Braves offense was terrifying and should be again in 2007. They lost one of their best hitters in LaRoche, and they let Marcus Giles walk away for nothing. What's up with that? OK, they did let Giles walk away for nothing (although saving 6 million dollars is
something
) but I don't think this hurts their offense in anyway. Why? Because Giles wasn't that good in 2006. He was expected to fill the leadoff hole left by Furcal's defection, and posted his worst on-base percentage since becoming a regular. Did he make up for it with more power? Not so much - his slugging percentage was a sadly inoffensive .387. (his career mark is .448) Now that the brothers Giles have been united in southern California, Atlanta hopes former outfielder Kelly Johnson can make the, uh, unusual transition from the outfield to second base. (Isn't it always the other way around?) Johnson isn't a great hitter, and he didn't play in the majors in 2006, but he will take a walk on occasion, and has the ability to hit a few potatoes out as well, which is always a bonus for a second baseman. The biggest issue with Johnson should be defensively (he started his pro career as a shortstop before moving to the outfield, but he hasn't played second before). He does have an excellent teacher - he worked all winter on learning the position with Braves' first base coach Glenn Hubbard. Johnson figures to be a league average hitter or slightly worse, so I'd expect Giles 2006 and Johnson's 2007 to be a bit of a wash - just so long as Bobby Cox decides on not making Johnson the leadoff hitter… gosh this story just gets stranger…
Shortly stopping or Stopping short? That's what many were wondering about Edgar Renteria's dismal 2005 with the Boston Red Sox. As it turns out, Edgar was far from stopping short as the Braves shortstop, bouncing back after a quick change in scenery with an all-star season that made everyone forget about Rafael what's-his-name. I think Edgar just might be one of those players who can NEVER leave the National League no matter what, so another season like the last one for Renteria isn't too crazy to ask or expect. He's still only 31 years old, despite the fact that he's been around forever and is closing in on 2000 hits (not this year, but in 2008). He's not a classic leadoff hitter, but I expect Atlanta may eventually decide he's the best man for the spot. He's my pick, anyway.
At third base is a guy I'm sure you've heard of. Ask yourself a question; who is the greatest switch hitter in baseball today? I suppose it would be Lance Berkman, right? As far as career accomplishments, it's still Chipper Jones. Chip had an interesting year in 2006; he missed about 50 games because of injury, but he was unstoppable when in the lineup. In fact, he was just about as good as Berkman. Chipper posted the third best batting (.324) and slugging (.596) averages of his excellent career. The problem for Chipper is staying in the lineup - he's missed 130 games over the last three years. But if Jones can find a way into 130-140 games in 2007 and just produce at his career norms (.304/.402/.542, all of which he was well over last season) this position will be a major strength for the Braves. Jones' counting numbers don't look all that impressive - he has lost roughly two years and more to injury - but he looks to have an excellent chance to wind up with more than 1500 RBI. Only two third basemen in the history of the game have as many (Schmidt and Brett both have 1595). Unless he loses his ability to hit overnight, or retires early, he's going to the Hall of Fame. Since Schmidt retired, which third basemen has been both as consistently dominant as an offensive force?
The outfield is another Atlanta strong suit, aside from left field which has been Ryan Langerhans for the taking the past million years or so. But whoever captures the left field job (Langerhans, Matt Diaz, Craig Wilson) they'll certainly be in the shadows of their two neighbouring mega-boppers. Andruw Jones is still one of the best centerfielders in all of baseball today. And he still's just 29 years old. With all the contract talk and free agent status concerning Andruw, he's still an Atlanta Brave for one more year. They're going to need him - the power in the middle of the lineup, the spectacular catches in the outfield. If there's going to be any hope at all, they're going to need Andruw. And he'll be there - since becoming a regular at age 20, he has never played less than 153 games in a season.
Jeff Francoeur can hit the crap out of the ball as well, and his great arm complements Jones in centerfield perfectly. He's still very young, and there are holes in his game. The words "walk" and "taking pitches" aren't in his vocabulary - he thinks he can hit anything, and no one can. Still, you have to like what happens when he does hit the ball. The Braves obviously need him to work on his plate discipline - 23 walks in 162 games, almost 700 plate appearances is a problem. He makes too many outs. But I don't think Bobby Cox cares all that much, and Francoeur will probably be groomed for the cleanup spot in the batting order for 2008, assuming Andruw moves on.
The Braves are a scary bunch offensively these days, and that's not changing in 2007. Their hopes for the postseason are powered by their bats.
Returning to that 1990 Braves team, the last one that watched the post-season go on without them - I think it's obvious that they were nowhere near as good as the 2006 team. And in 1991, so I have been told, the Braves won the division, improving by 29 games. They went to the tenth inning of the seventh game before losing the World Series. That was a much higher hill to climb than the one that confronts the 2007.
So will history repeat itself? Will the kingdom of Atlanta collect yet another division title?
The bullpen will be much improved, so the key will be the starting pitching. If they're even half-decent, watch out. After all, for the first time in a long, long while, the Braves are hungry to win back the title. For the first time in almost forever, Bobby Cox didn't have to make his "Let's not be complacent" speech this spring.
So yeah, Mike Green has looked at the Mets and said they're going to repeat. The old Magpie has surveyed the Phillies and said it's their turn. But I think the old general is going to get his crown back.
The once and future king.
93-69, first place.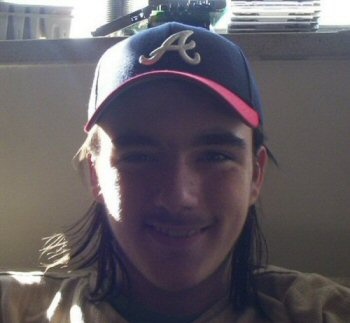 Trust me. I have a hat.