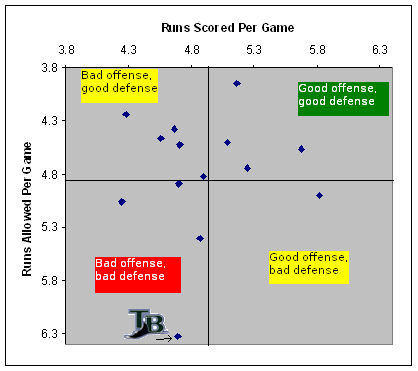 Gentlemen, start your bats. After a weekend-long funk on the South Side, the Jays' hitters get a nice chance to regroup against the worst run-prevention team in the league. The weakest starter the Jays encountered over the weekend was Jon Garland; the strongest one they'll see in Tampa is debatable. It's probably the guy they have to deal with tonight, though the second guy has pitched very well against them this year and the third is probably the most highly-regarded prospect.
Tonight, it's a battle of underrated #3 starters as Dustin McGowan faces
Andy Sonnanstine
. Sonnanstine is a control artist who, since April 2005, has handed out 75 walks in 77 professional appearances, all of them starts. He throws a high-80s fastball, a slurve, and Jamie Shields' weird modified changeup. (Shields himself taught Sonnanstine the pitch.) Sonnanstine will throw from several different arm angles to compensate for the unoverpowering nature of his stuff. That package may not make scouts salivate, but it has thoroughly mystified minor-league hitting for the last few years. As a 23-year-old in 2006, Sonnanstine posted a 2.67 ERA behind 21.2% K and 4.7% BB in a full season at AA Montgomery. He repeated that pace at AAA this year, earning a callup.
Despite the gaudy 2006 stats, my trusty Baseball America annual ranked the following Rays prospects ahead of Sonnanstine at the start of the year: Young, Longoria, Brignac, Niemann, Jacob McGee, Dukes, Iwamura, Wade Davis, Matt Walker, Jeremy Hellickson, Joel Guzman, Jason Hammel, Mitch Talbot, Juan Salas, Fernando Perez and Shawn Riggans. Although Sonnanstine has posted very good peripheral stats in the majors this year, he has played as a flyball pitcher and had great difficulty keeping the ball in the park, and he's also struggled to strand baserunners. Perhaps the scouts have a point. However, Sonnanstine's strengths are well-defined. The Rays would be nuts to remove him from their rotation this year. He appears to have very little to gain from further minor-league experience. If he can improve with runners on and get a bit more consistent with his location, Sonnanstine figures to be an annoying pitcher for the next five years. He'll have to fight tooth and nail to defend his rotation spot from the oncoming horde of hard-throwing prospects, though.
Most of y'all will recall Sonnanstine's debut, in which the Rays gave him one hell of an
initiation
. In that game, Sonnanstine outpitched Roy Halladay, giving up 6 runs over 7 innings to leave with a comfortable lead. The Jay who gave Sonnanstine the most trouble was Adam Lind, 2-3 with a homer and 4 RBI. Alex Rios was 0-4 with 2 strikeouts.
Tomorrow, it's
Edwin Jackson
. He's faced the Jays twice this year and come away with two no-decisions. He pitched well both times, racking up 15 strikeouts and 4 walks in 12.0 innings and allowing 7 runs; his game scores of 56 and 51 were his third- and fifth-best of the year. The Rays are giving him the McGowan treatment: since he's been jerked around mercilessly for four years, the Rays figure he stands to benefit from a bit of stability... in the big-league rotation. Unfortunately, he's sitting on a 7 ERA, and like Sonnanstine, he really needs to improve to stay ahead of the Rays' pitching curve with all the young arms on the horizon.
Jackson is essentially a two-pitch pitcher with a hard fastball and a slider. The heater tends to start out in the low mid-90s and often picks up steam as the game goes on. He also has a changeup, which he'll break out against lefties, and a splitter. Those are really show pitches. His platoon splits are minimal and his walk rate is the #1 cause of his problems, so it's kind of odd that the Jays have had such difficulty against him. Lyle Overbay is 0-8 with 0 walks and 3 strikeouts. Frank Thomas is 2-3 with 2 walks and a homer and Troy Glaus is 3-5; those are the guys I'd expect Jackson to have the most trouble with.
Wednesday,
Jason Hammel
takes the hill against Josh Towers in a Getaway Game. This will be Hammel's third start of the year. In his last one, he faced Boston and left with a 1-0 lead in the sixth inning. Unfortunately, the Rays bullpen initiated him by allowing two of his inherited runners to score. Hammel took the loss.
Hammel had his third shot at AAA this year after being rushed to Durham at age 22 in 2005. He finally managed to get his ERA below 4, earning himself a promotion. He throws around 92 with his fastball and tends to throw it high. In the Boston game, the Sox hitters had great difficulty catching up to it the first couple of times through the order, as Hammel did a good job of mixing in his changeup to keep them off balance. His slow curveball, when it's working, is a dirty out pitch that really snaps sharply on its way home. I think I saw a slider once, but that isn't a prominent weapon in Hammel's bag of tricks.
Roster moves! The Devil Rays have shuffled the metaphorical deck in recent days. They traded the ghost of Jorge Cantu to Cincinnati, and dealt Ty Wigginton to Houston for bullpen help in the form of
Dan Wheeler
. Then they made some internal roster moves as well...
Goodbye:
Wigginton (to Astros), ghost of Jorge Cantu (to Reds), Jae Kuk Ryu (to AAA), Seth McClung (to Milwaukee), Raul Casanova (to AAA), Jay Witasick (to DL with a right elbow sprain), J.P. Howell (to AAA), and Shawn Camp (to AAA).
Hello:
Wheeler (from Astros), Grant Balfour (from Brewers), Josh Paul (from 60-day DL), Hammel (from AAA), Juan Salas (from AAA), and Ben Zobrist (from AAA).
Ben Zobrist
earned his recall by being one of the very best contact hitters in AAA, with notably excellent strike zone control. Here are
his stats
. He has struggled to get hits in the big leagues, and due to his lack of power, he needs the BABIP demons to rally behind his cause if he wants to see significant playing time in Tampa. According to Advance Scout Saint
Bill Chastain
, Zobrist won't unseat incumbent starting shortstop
Brendan Harris
, but he'll see some starts at second and third, as well as short.
Evanston, Illinois native
Josh Paul
was activated from the 60-day DL after recovering from an elbow injury.
Wire reports
suggest that Paul, who has hosed 6 of 15 prospective basestealers this year, will receive significant playing time spelling
Dioner Navarro
. The switch-hitting Navarro was the major-league Triple Crown leader a month ago, possessing the worst BA, OBP and SLG in the majors among qualifiers, but he no longer leads in any of those categories. However, he's still the OPS champ at .541. He did hit a crucial home run in Sunday's victory over the Red Sox which ended the Rays' eight-game losing streak.
The most notable thing about the chart is how high the BABIPs are. Granted, there are some hitters here who will systematically post BABIPs way higher than .310 year in and year out. There's
Carl Crawford
, whose wheels and history suggest that his .347 BABIP is right where you'd expect it to be. And there are guys who absolutely pound the crap out of the ball when they hit it, like the reborn
Jonny Gomes
and 30-homer-man-at-last
Carlos Pena
. I'd probably include
B.J. Upton
and
Delmon Young
in that group. However,
Akinori Iwamura
's .360, Upton's obscene
.460
(which lets a guy who strikes out 28.1% of the time hit .337!), Harris' .358, and
Josh Wilson
's .367 all look like mirages. They constitute a very clear warning that this is a dangerous lineup and pitching to contact might not be the greatest idea in close and late situations given what the Rays can do to meatballs. But if I overheard someone on the subway saying, "Ya know, not only is this team's pitching awful, but they're hitting way over their heads. This team is going to get even worse, and that is possible," I wouldn't really object.
Crawford is day-to-day
with a wrist injury, says Sir Chastain. He underwent an MRI today and it's unclear when he will return.
The Jays are sending some of their more contact-happy starters to the hill after tonight, so there's the real danger that the Rays may lead at some point in the series. If that happens, don't despair. Take Salas in this: Once the Jays Fossum to fire up the pen, the Trop will collectively Reyes the white flag and groan, "Dohmann," knowing that each pitching change will only Stokes the fire and bring more excruciating Balfour.
Yeah, the bullpen has a
6.78 ERA
. Makes the White Sox look dominant. At least they had a closer, a sidearmer and a knuckleballer.
Gary Glover
was the most effective reliever while
Al Reyes
was hurt; he threw 50 pitches over 2.1 innings to nail down Sunday's win. He's not pitching tonight. He's the only Rays reliever other than Reyes with positive WPA in 7 or more innings.
The out-of-options
Grant Balfour
(worst pitcher name ever; I'd rather be Rusty Kuntz) was a shrewd pickup, as the Brewers basically had to give him away for something before the end of the year. Balfour is better than at least half the pitchers here and is a solid bet to ascend the leverage ladder in a hurry.
And it'll be interesting to see what role is thrust upon Wheeler. I haven't heard anything, but I do think he's the best reliever here. Reyes has cooled off since his red-hot start, as the homer gods decided to smite him down. In a mop-up outing on Thursday ('cause he was collecting dust 'cause the Rays don't get that many save situations), Reyes gave up four runs. Quoth pitching coach Jim Hickey to the St Pete Times'
Marc Topkin
, when asked whether Wheeler is capable of doing Reyes' job if Reyes gets traded: "I think he is a rock-solid eighth-inning-kind-of-guy right now. And if you chose to convert him to a full-time closer, do I think he could grow into that role? Absolutely, yeah, no doubt. I've already seen it."
The Credit Section:
All offensive stats, pitches per PA for pitchers and league average stats are from the
Hardball Times
. Pitchers' stats and leverage indices are from
Fangraphs
. Minor-league stats are from
Minor League Splits
and
First Inning
. K% and BB% are strikeouts and walks as a percentage of plate appearances; GB% + LD% + FB% = 100.