Hey, maybe that's why teams bring in their closer in the ninth with a three run lead.
The idea being that you hope that on that inevitable occasion when your closer craps the bed, it happens to be when there's some margin for error. But yesterday,. alas, was not one of those days.
The Jays are off, travelling across country for their Rendezvous at the House that Ruth built. Doc will duke it out with Jabba the Hutt in the opener. Someone, with some actual talent for this sort of thing, really ought to produce an appropriate graphic.
Meanwhile, speaking of Yankees, today marks the 67th anniversary of the death of Lou Gehrig.
I don't know what in particular possessed me to put Gehrig's career alongside that of Barry Bonds. Barry is still being talked about quite a bit, of course.
The amateur draft has been on my mind lately, and people are always saying high school players have a higher ceiling than college players. Lou Gehrig and Barry Bonds are kind of the Poster Boys for the opposing viewpoint. Imagine them saying "Oh yeah? Check
this
out."
There's always my sense of Mischief, I suppose.
It's also well known that each player's career took a sudden, and extremely unusual, change in direction in their mid 30s. I thought it would be interesting to make an actual graphic of it. Here's each player's OPS+ by age: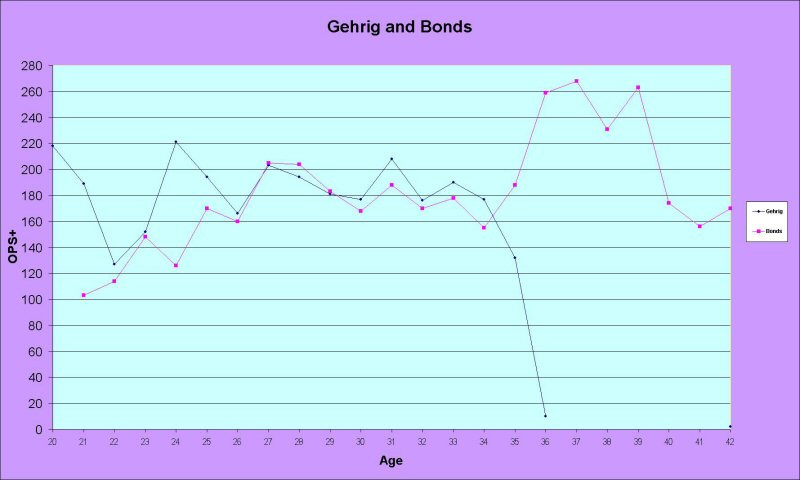 I think this is pretty cool. Gehrig's first two "seasons" (age 20 and 21) can really be discounted. He played just 13 and 10 games in them. His real rookie year is his age 22 season, and he arrives as
Lou Gehrig
at age 24 in 1927. Bonds' first full season is his age 21 year. It takes him a few more years to get started - the Pirates had him leading off and playing centre field, and neither assignment really suited his talents. He arrives as a truly outstanding player at age 25.
From age 26 through age 34 it's really quite remarkable how closely they track each other. Even their otherwise random ups and downs from one year to the next track each other, which is just plain weird. Gehrig is usually a shade better, but not always - Bonds is a microscopic hair or so better at age 27 and 29, and a little bit better (OPS+ of 204 to 194) at age 28. I don't think its as well understood as it should be just how great a player Bonds was before 1999 - sure, he won three MVPs and should have won at least one more. Sure, whatever. But if you're keeping up with
Lou Gehrig
, you're really, really good.
They both started to slip at age 34. Nothing too strange about that. But a year later, Gehrig skidded dramatically. No one at the time knew why he was struggling so badly in the second half of 1938, although by next summer the whole world knew. At the same age, Bonds began his completely unprecedented ascension to... well, somewhere new.
What, I wondered, would their career numbers look like if whatever it was that happened to them... didn't happen?
Well, I have but a crude old tool to work with, that I copied out of a
Baseball Abstract
and saved to a spreadsheet many, many years ago. But when I plug in these two players career numbers through age 34 and let the program fill in the rest of their careers I end up with:
Bonds with a .292 lifetime BAVG, six points below where it stands now. He ends up with 2886 hits, 647 HR, 1919 RBI, and 2142 runs scored. He's obviously still one of the greatest hitters who ever lived even without the strange turn his career took in his late 30s.
Gehrig with a .339 lifetime BAVG. He loses a point there, but his counting numbers go right through the roof - 3775 hits, 661 HR, 2573 RBI, 2478 runs scored. He would be the all time leader in both RBI and runs scored, which is hardly surprising. He was the greatest RBI man who ever lived and stands fifth on the all-time list despite missing a big chunk of his career.
Both of them clear 2000 career walks, but neither quite catches Rickey Henderson for top spot overall.
This is not a serious analysis - it's
me
, people. I don't do that stuff! I just liked the graphic!
Remember - none of this takes any account whatsoever of the offensive contexts of the day they played in. Gehrig played his entire career before the game was integrated, and before they started playing at night. Gehrig's career started in a good hitting environment, which rather suddenly exploded into an historically great hitting environment. Bonds' career started in a relatively neutral offensive environment by comparison, although in mid-career it changed somewhat suddenly into the best offensive context the game had seen since Gehrig was in his prime. Bonds started his career in a pretty good hitter's park, but spent his prime years in a very good pitcher's park. Gehrig played his entire career in one of the greatest pitcher's parks of all time. (Gehrig is famous, of course, for driving in more than 100 runs in his
road games
one year.)
And of course, they both batted and threw left-handed. Barry still does.