The Jays have called up outfielder David Dellucci from AAA Las Vegas. To make room, Russ Adams has been designated for assignment.
Update July 3/09 @ 1:00 p.m. - Dellucci will be batting eighth for the Jays and playing in left field in this afternoon's game and will be wearing Lyle Overbay's old number 17. For those of you who have the #17 Overbay jerseys, just slap some duct tape over the name plate and write in Dellucci. Imagine how cool you're going to look at the next home game. You also save hundreds of dollars by not having to order another jersey. Another money-saving tip courtesy of Batter's Box. You're welcome!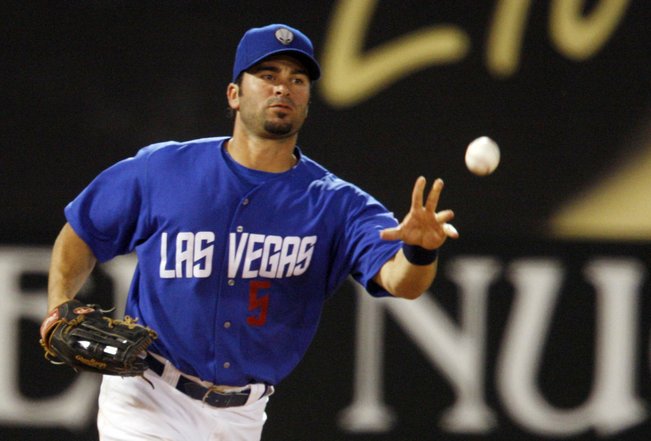 The 35 year-old Dellucci hit .317/.380/.556 in 16 games with the 51's this season. He hit three homers, drove in nine runs, added six doubles and maintained a stolen base percentage of 100 by going 1-for-1 in that department. The left-handed hitting outfielder began his career with the Orioles in 1997 and has also spent time with the Diamondbacks, Yankees, Rangers, Phillies and Indians. His career batting average is .258/.340/.438.
Dellucci has some post-season experience as he was a member of the 2001 World Series champion Arizona Diamondbacks with current Blue Jay Rod Barajas. That marked the start of three straight playoff appearances for him as he saw post-season action with the D-Backs and Yankees. He's a career .313 hitter in the playoffs.
On the flip side, this appears to be the end of the line for Russ Adams as a member of the Jays organization. The 2002 first round pick hit just .200/.238/.200 in 20 at-bats with Toronto this season. If he had just come up with a hit during that pinch-hit appearance with the bases loaded against the Phillies Sunday, he might've bought some more time for himself with the big club. A pair of 0-for-3 performances against the D-Rays this week turned out to be his undoing. The 28 year-old left-handed hitter's career batting line is .247/.313/.372.