The Toronto Blue Jays (13-15) start a three-game series against the Pittsburgh Pirates (10-8) at PNC Park this weekend. The Jays are three games back in the loss column of the Yankees and Orioles in the AL East while the Bucs are tied with the Cubs for the NL Central basement and are 9.5 games back of the surprising Milwaukee Brewers.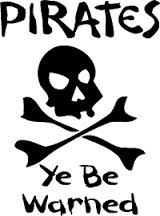 Game Times & Probable Starters...
Friday @ 7:05 pm ET - RHP Brandon Morrow (1-2, 6.04) vs. RHP Gerrit Cole (2-2, 3.18).
Saturday @ 7:05 pm ET - RHP R.A. Dickey (2-3, 5.09) vs. LHP Francisco Liriano (0-3, 3.97).
Sunday @ 1:35 pm ET - RHP Dustin McGowan (1-1, 587) vs. RHP Edinson Volquez (1-2, 3.21).
The Jays have called up catcher
Erik Kratz
from Buffalo and have sent down righty
Chad Jenkins
back to Triple-A.
Steve Tolleson
, called up from the Bisons yesterday is wearing #18,
Jim Clancy
's old number, or
Mike McCoy
's old digits for you youngsters in the audience.