A tip of the retro Blue Jays cap to Bauxite brent for pointing out that the Jays are taking a gander at lefty John Halama down in the Dominican. Should the Jays sign the 37 year-old hurler, it would continue a trend by GM Alex Anthopoulos of acquiring players whose last name begins with "H". Halama would join fellow southpaw Sean Henn and second baseman Jarrett Hoffpauir in the "H" gang. Again, more hard-hitting analysis from Batter's Box. Subscribe now!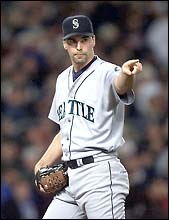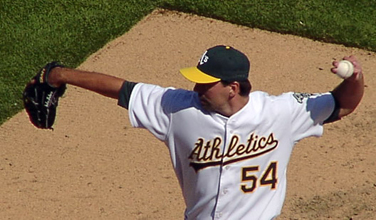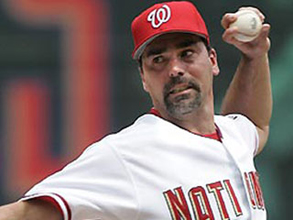 The 6-5, 215 pound native from Brooklyn started his big league career in 1998 with the Houston Astros where he split a pair of decisions with a 5.85 ERA. Halama was then sent to Seattle as the player to be named later in the Randy Johnson deal that also saw pitchers Freddy Garcia and infielder Carlos Guillen go to the Pacific Northwest. He enjoyed his best years with the Mariners by going 41-31 in four seasons. He won a career best 14 games with the M's in 2000 despite an ERA hovering over five. In 2001, Halama pitched the first ever nine-inning perfect game in Pacific Coast League history when he handcuffed the Calgary Cannons while he was with Tacoma. He had suffered an elbow injury the year before and he was sent down to the Rainiers to regain his form.
By the time he left Seattle, Halama was starting and relieving. He spent 2003 in Oakland and 2004 in Tampa Bay before splitting the 2005 campaign with Boston and Washington. In 2006, he headed further along the Beltway to Baltimore where he went 3-1 with a 6.14 ERA in 17 appearances, including seven starts.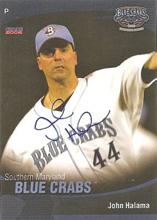 That's the last time Halama has been in the bigs. He went to play for the Long Island Ducks in the independent Atlantic League in 2007 and joined the expansion Southern Maryland Blue Crabs in 2008 before earning a minor league deal with Cleveland later that season. Despite an 8-6 record and 4.60 ERA with AAA Buffalo, Halama was let go by the Indians. He earned another minor league shot with Atlanta this past season after a strong start in Southern Maryland that saw him win 8 of 9 decisions with an ERA of 1.96. He was also named the Atlantic League's pitcher of the month for April/May. However, a 4-7 record and 4.48 ERA at AAA Gwinnett County was not enough to impress the Braves brass and they let him go in September. Halama rejoined Southern Maryland for their playoff run and went 2-0 with an 0.57 ERA in their first round series win over Long Island. His season ended on a sour note by taking the series-ending loss to Somerset in the league final.
Halama is said to be a sinker-slider pitcher who tops out in the mid-80 MPH range and he also mixes in a change up. He's considered to be an extreme ground ball pitcher who puts the ball in play and his career stats bear that out. His strike out rate is only 4.9 per nine innings and his hit rate checked in at 10.4 along with a WHIP of 1.4. Despite the less than overwhelming peripherals, Halama still managed a 56-48 record over his nine seasons in the majors with a 4.65 ERA.
Will Halama be able to impress the Jays brass and earn another cup of coffee in the bigs? If nothing else, he would add depth to the minor league system and serve as a veteran presence on the Las Vegas staff.