Friday night was a fun night at the ballpark for Blue Jay fans. The Yankee fans in the house, and there were a lot of them, didn't have much to cheer about. Jose Bautista was Da Man and Brett Cecil was outstanding too.
When Cecil took 22 pitches to get through a three up, three down, first inning I though to myself "typical Yankee game, wear down the pitcher by fouling off a lot of pitches'". Nick Swisher and Derek Jeter did that all night but the rest of the lineup was hacking so Cecil was able to go eight which was great given the struggles of the Jays bullpen recently. I have to say that the bottom third of the Yankee line-up, Marcus Thames, Curtis Granderson and Chad Moeller was not very Yankee like. They certainly don't put "the fear" in a pitcher.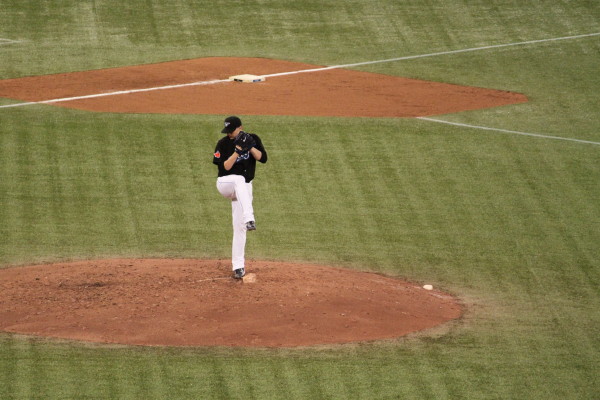 But credit Cecil and I liked his quote after the game where he said he wasn't intimidated by anyone this year. Cecil was helped by an excellent double play turned by the Jays on A-Rod. Here is a shot of A-Rod hitting first base after hitting into that DP.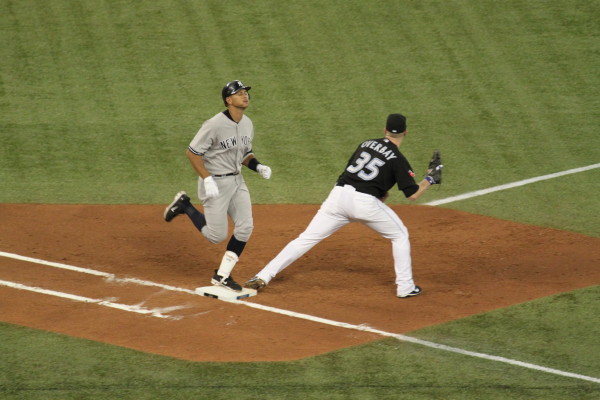 I taped the game and I watched a few highlights when I came home including that double play and Curtis Granderson's catch off Adam Lind in the first inning. The TV slows everything down so you don't get the same appreciation of how good those plays were. I didn't think Granderson was going to catch that ball and he had to go a long way, the distance looks much shorter on TV. And A-Rod smoked that ball that Gonzalez speared to start the DP.
But the man was Jose Bautista who continued his hot hitting. The Rays were careful with Jose and walked him a lot but the Yankees didn't learn and AJ missed his spot several times. Here is a shot of Jose fouling a ball off.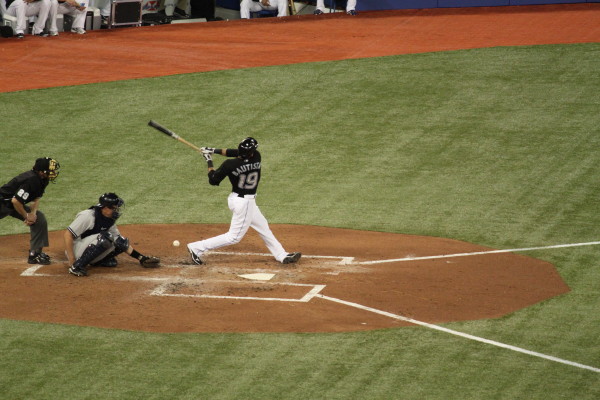 The crowd was quite lively on Friday and the Yankee fans were quiet. I heard lots of Yankees suck and AJ sucks chants. I just wish we had some Jose chants going to offset the lets go Blue Jays. But I am sure the players enjoyed playing in front of a big crowd that was behind them all the way.
Finally A-Rod had some unusual warm up exercises before the game. He uses a trainer to help him get ready.