Vince Horsman and Kenny Graham are the pitching and hitting coaches respectively for the Auburn Doubledays in the New York-Penn league. Kenny Graham is new to the organization and not well known here. However Vince Horsman is a Canadian, from Halifax, Nova Scotia, who played parts of five seasons in the major leagues including a whole four innings with the Blue Jays in 1991. After bouncing around a little after his playing days Horsman hooked on with the Blue Jays and is now in his second season as the pitching coach with the Doubledays.
I spoke with both coaches last week in Auburn.
Vince Horsman
BB: Let's start with a pitcher who is not here anymore, Drew Hutchison. What is the best part of his game?
VH: His mental approach, he is a pretty cerebral kind of guy. He just gets it, for such a young man. His stuff is very good and it plays. It's just a matter of getting the experience out there on the mound. Hutch has the ability to make adjustments on the fly whereas some guys don't know where to go to, they struggle with that from lack of experience. But Hutch does a really good job of understanding what is working that particular day and he might have to change his plan of attack and he can do that and still go out there and compete. He is a good kid and fun to watch.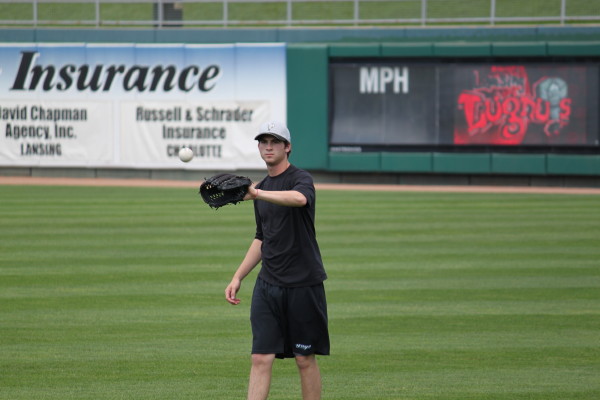 BB: He has had some struggles in the first inning, is that due to his cerebral approach or is it just getting into a rhythm.
VH: Some guys you have to get them early or you don't get them, he might fall into that category. His first inning he is trying to feel his way through it and see what might be working and then after that, once he figures it out, he puts it in cruise control. We have talked about it, his approach in the first inning. Maybe you come out firing and go from there instead of trying to feel your way through it. Those are things you have to learn with experience.
BB: What is his breaking ball?
VH: It's a slider. It has really improved a lot from extended all the way through here. His slider was probably below average in extended and now it's above average, major league pitch so he has come a long ways.
BB: Tonight's starter, Daniel Webb, is mainly a fastball guy, right?
VH: Yes, sinker, slider, change.
BB: He has to work on the slider and change, is that where he is at?
VH: The slider has gotten better, the change has gotten better. With Danny he is having a hard time putting it all together for a complete game. He'll tease you, he will show you flashes of the 94 mph sinker and a good slider, and with Danny it's the same thing as Hutch, it's about getting the experience. It's just that Hutch is a little further along than Danny.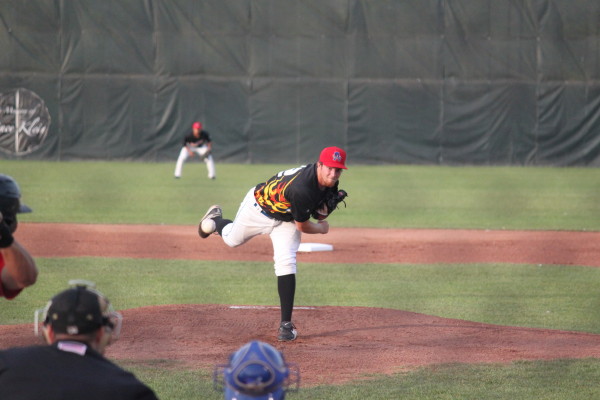 BB: I know you haven't seen much of him but what is your initial impression of Sean Nolin?
VH: The jury is out with Sean and I think what happened is that he didn't come here in shape. After his junior college season I think he went home and didn't do much and so I don't think he was in throwing shape and I think he is trying to catch up in the middle of a season and that's tough to do. But I saw his numbers at his junior college and he is lefthanded which is a plus for me but I think it will be more interesting to see how he is near the end of the season rather than how he is now because he is really playing himself into shape.
BB: You only had Asher Wojciechowski for a little while. Was he a "big guy, throws hard"?
VH: Yes. Just a tremendous kid, what a great demeanour about him, he just exudes that air of confidence, he's calm. What a great kid, he is going to be fun to watch.
BB: Do you think he will start in Lansing next season?
VH: I wouldn't be surprised if he started in Dunedin, he is that good.
BB: Finally, Casey Lawrence, an undrafted player. Why is he successful here, is it just his command?
VH: Yes that's it, he commands his stuff. And his stuff isn't bad, guys just sometimes get overlooked. Sometimes because of the region they live in or the school they are at they don't get a lot of exposure. Casey's stuff is good, it's decent. His slider has gotten better and his change-up has gotten better and his command is a plus. Casey is a guy who is going to have to prove himself at every level but he gives himself a chance because he knows he has to keep the ball down, sink it, and throw his slider to be successful.
---------------------------
Kenny Graham

BB: Tell me about Carlos Perez, is there anything in particular he is working on?
KG: Carlos is a young guy but he is a hitter. You talk about guys who need to work on this or that everyone has something they need to work on. Carlos hits but there is a lot more power in there too. You know the home run numbers are not as good as they could be, you have to remember that he is only 19 years old too. When he gets bigger and stronger the power numbers will come. I still think he can get in position better to drive the balls better.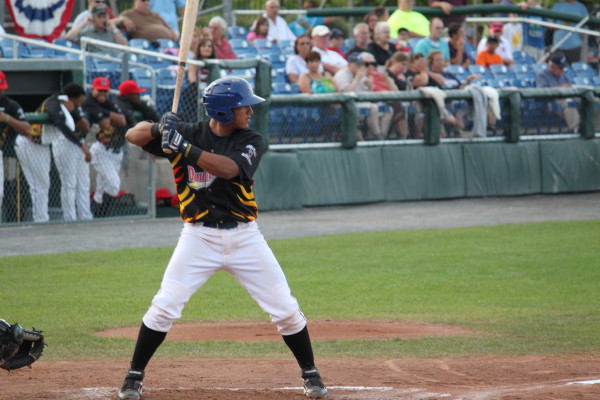 BB: I am not a scout but it looked to me yesterday that his swing sometimes looked a little long?
KG: Carlos almost tries to run before he hits. He runs so well that he is almost thinking triple before he hits the ball. It sometimes looks like he gets long but he is not sitting in his legs and driving the ball which make it look like he is falling off and getting long.
BB: Gustavo Pierre, like a lot of latin kids who come over is an aggressive hitter. Is that something you try and change or do you just say he is an aggressive hitter?
KG: Our philosophy is that it is not time, it's not at-bats, it's pitches. The more at-bats he has, the more pitches he sees, it will help him learn the strike zone for one but more importantly learn what pitches he can hit and what pitches he can't hit. Believe it or not he has gotten a lot better this year. He is much better at seeing pitches and swinging at good pitches and you know the batting average is so deceiving sometimes. He has played and he has hit a lot better than his batting average appears and he has grown so much as a player and as a hitter this year. He has made some pretty big strides.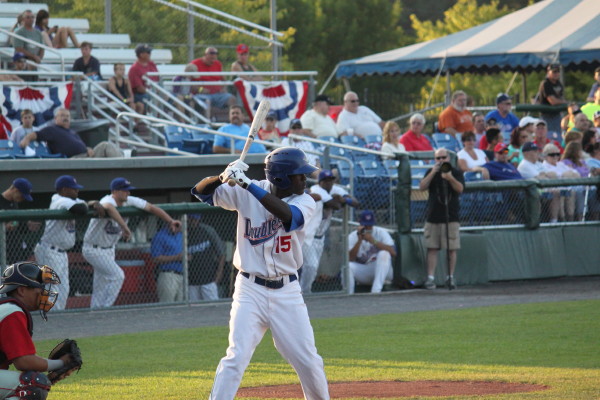 BB: He has good power too, in batting practice he hits the ball well out there, there is a lot of power in that bat.
KG: Like Carlos Perez he is a young guy, he is still a teenager, and the ball jumps off his bat. He has a lot of bat speed, he generates a lot of power. The more he learns to control the strike zone and to control which pitches to swing at, that will help him grow. And physically, he is going to get bigger and he already has a nice frame right now, he is going to be a fine player some day.
BB: Marcus Knecht hit a nice home run last night to right field. Is he a player who uses all fields or was that a one off?
KG: Marcus Knecht's pretty close to Carlos Perez, he is a hitter. He competes every time he steps in the box and he showed last night he has power to the opposite field, and he works real hard. he is still a young guy too but he will get bigger and learn his swing a bit better too. He has gotten a lot better already and he has the ability to spray it all over the field, just a good hitter with a lot of bat speed.
BB: Finally one guy who seems to hit well is Jonathan Jones.
KG: Yes we just talked about that last night. That is why the batting average is so deceiving. Night after night after night he has just competed his tail off, gone deep in counts and gotten on base and done everything we have asked him to do and more and played a great centre-field. His numbers don't reflect at all the kind of year he's had, he has had an outstanding year. Just a great kid, an unbelievable worker and an unbelievable competitor.
BB: Does he have a bit of an upper-cut swing?
KG: We talked about that today, he just works under the ball a little bit. I don't know if I would call it an upper cut swing but he does get under the ball. That's part of the process and we are trying to get him to understand his swing and why he does fly out sometimes. We don't want him to pound the ball into the ground all the time either, even though he can run. We want him to hit balls in the gap, doubles and triples and eventually balls out of the park.
------------------------------------------------------------------------------
Batters Box thanks Vince Horsman and Kenny Graham.