After a five year stay in Toronto,
Lyle Overbay
is heading back to the National League after inking a
one year deal
with the Pittsburgh Pirates last month.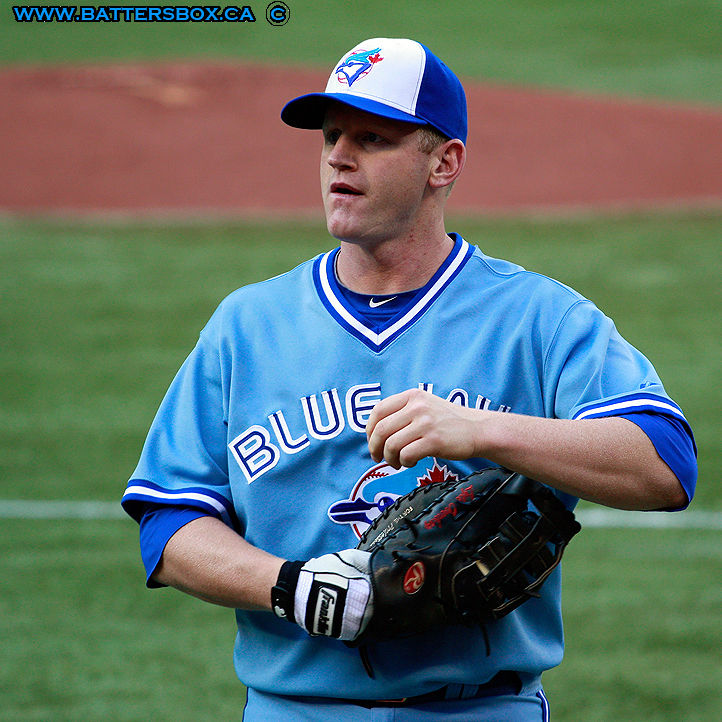 Overbay
gets ready for action against the Orioles on 80's Night at the Dome July 26th.
---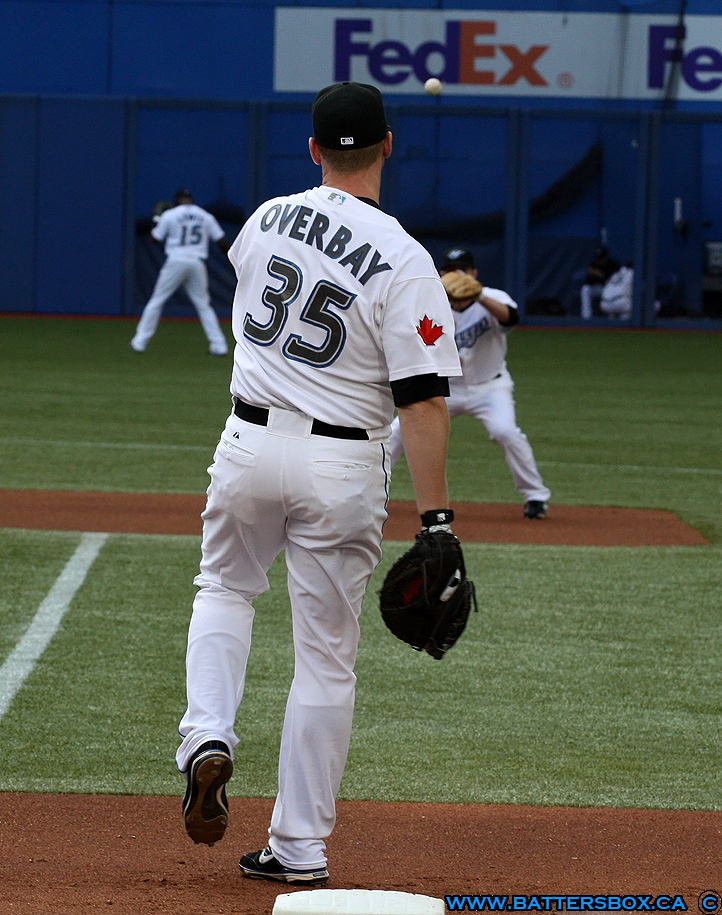 Overbay fires a warm-up toss to second base in between innings against the Cardinals at the Dome June 24th.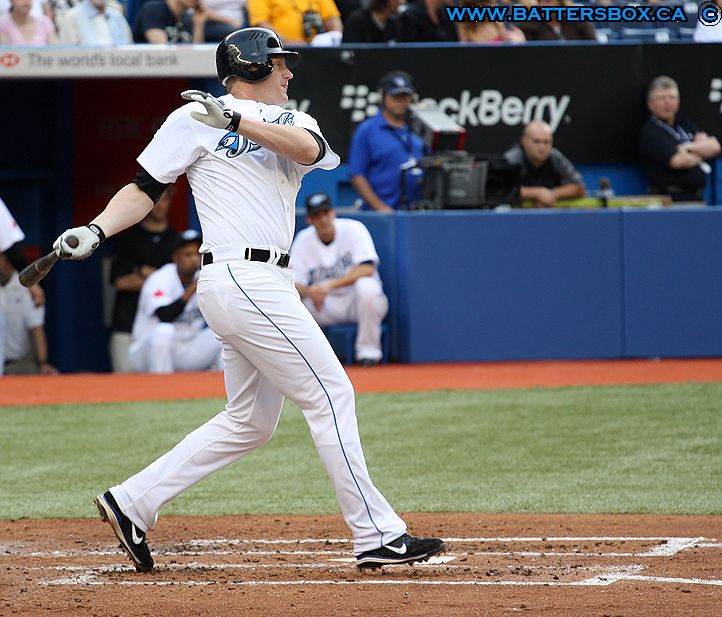 Overbay swings away against the Cardinals
Adam Wainwright
in the second inning. He would reach first on an error by Cards second baseman
Aaron Miles
.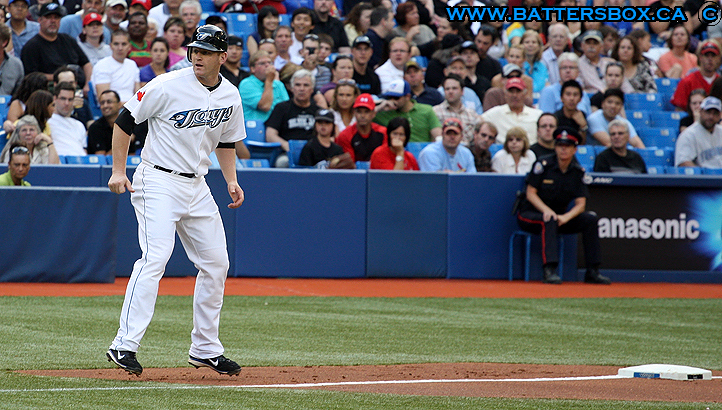 Overbay appears to hover from third base after advancing on a
Jose Molina
double.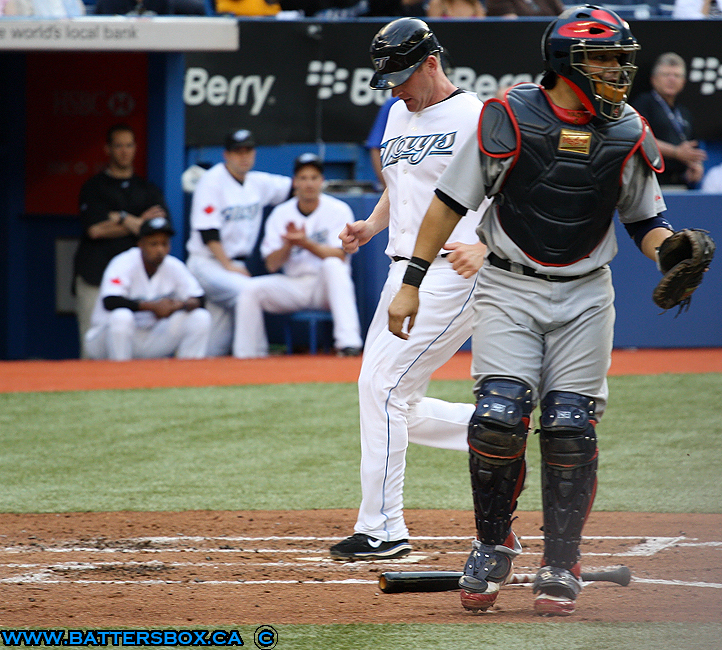 Overbay comes in to score on a
Fred Lewis
sac fly behind Cards catcher
Yadier Molina
. That was the Jays fourth run in an eventual 5-0 victory over St. Louis.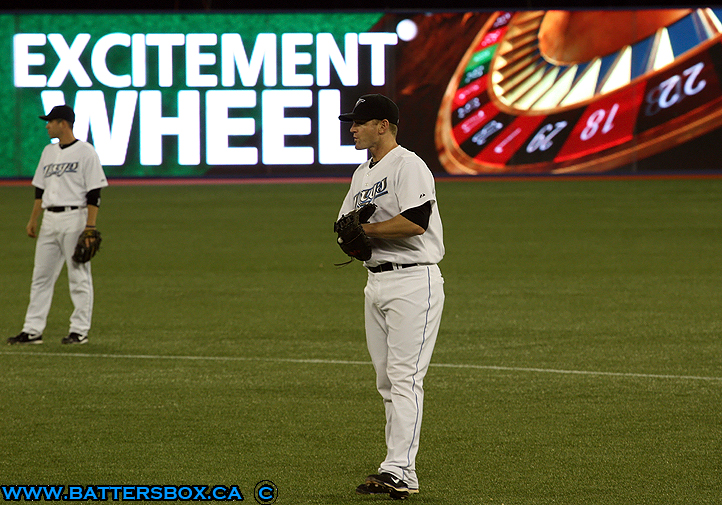 Overbay manning first against the Cardinals. He made just six errors and had a fielding percentage of .996 in 2010.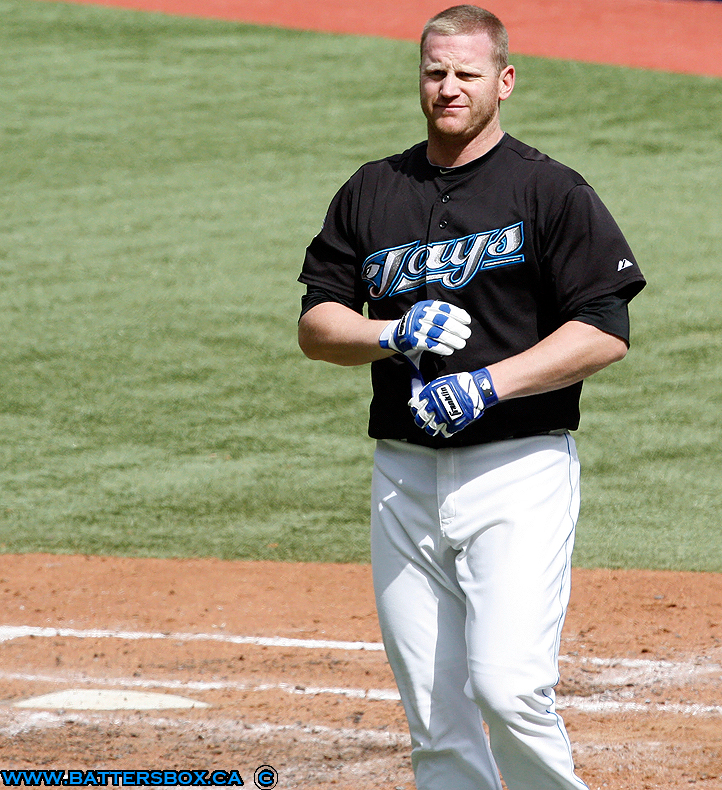 Overbay goes down swinging against the Rangers
Tommy Hunter
September 6th at the Dome. However, he had a 2-for-3 afternoon at the plate with a pair of doubles, a walk and a run scored.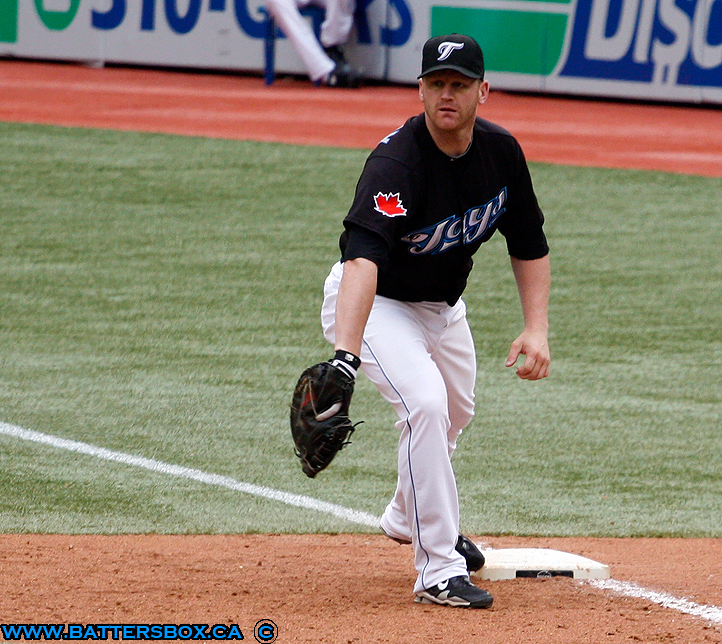 Overbay makes a putout against the Rangers. He ranked first in the American League in Range Factor per game at first base from 2006 to 2008 and led the AL with a .998 fielding percentage in 2009.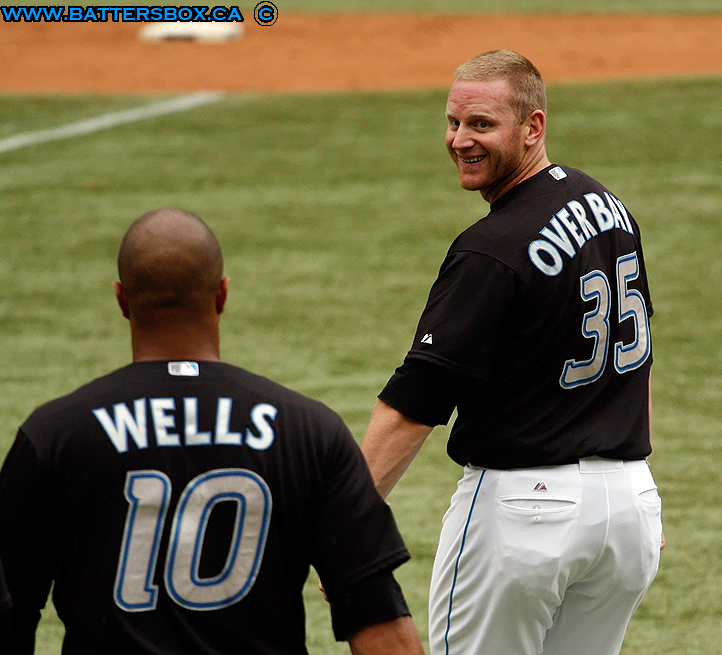 Overbay smiles back at
Vernon Wells
as the Jays get set to put the finishing touches on a 7-2 win over the Rangers.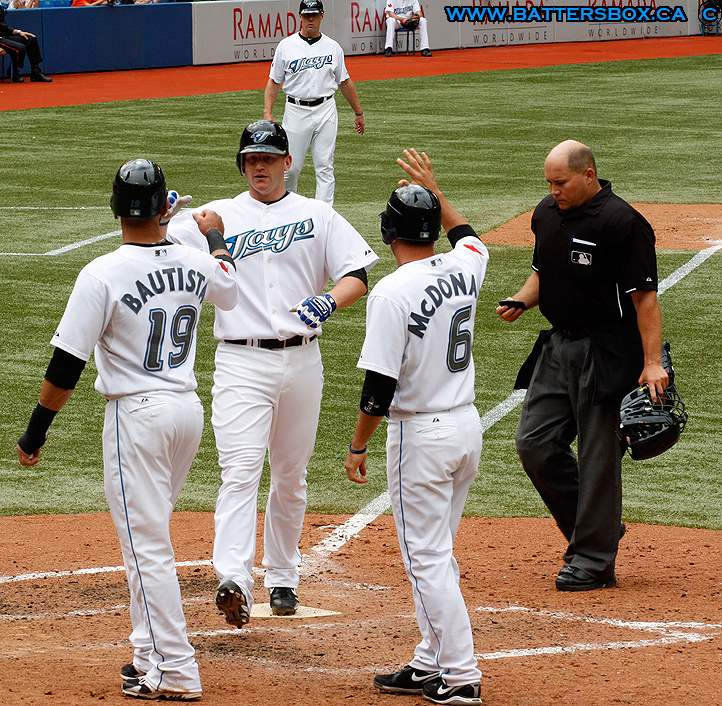 Overbay touches home plate after belting his 13th homer of the season to score
Jose Bautista
and pinch runner
John McDonald
in the seventh inning. Overbay's blast against
Chad Qualls
capped an eight homer day for the Jays and they needed all of them as they held off the Rays 17-11 at the Dome August 7th.
---
Lyle Overbay
, the pride of Centralia, Washington, began his career back in 2001 with the Arizona Diamondbacks after he was selected from the University of Nevada in the 18th round of the 1999 amateur draft. He singled in his first at-bat against Colorado's
Jay Powell
September 19th but he was not on the World Series roster as the D-Backs beat the Damn Yankees in 7 games. The 6-foot-2, 235 pound first baseman had just one hit in 10 at-bats in 2002 but saw action in 86 games in 2003 in which he hit .276/.365./402 with four homers and 28 runs batted in.
Overbay was traded to Milwaukee in the
Richie Sexson
deal and became a fan favourite with the Brewers after hitting .301/.385/.478 in 2004 with a league-leading 53 doubles as well as one triple, 16 homers and 87 RBI. He followed that up with 34 doubles and 19 homers in 2005 along with a .276/.367/.449 batting line. However, Milwaukee sent Overbay and right-hander
Ty Taubenheim
to Toronto for righty
Dave Bush
, lefty
Zach Jackson
and outfielder
Gabe Gross
.
Overbay's first season in a Jays uniform was his best as he hit .312/.372/.508 with 46 doubles, one triple, 22 homers and 92 RBI. His first double was a 12th inning game winner against the Red Sox at the Dome to drive home
Troy Glaus
from first with the winning run April 21. Signed to a four year deal worth $24-million dollars, Overbay had trouble justifying his newfound wealth. His 2007 campaign was curtailed after he was hit in the hand by a pitch in early June against the White Sox. He also drew the wrath of Jays fans for hitting into a league leading 24 double plays in 2008 and hit into an unassisted triple play turned by the Indians
Asdrubal Cabrera
. The left-handed hitting first baseman slugged .466 in 2009 and reached the 20 homer mark again with the Jays in 2010. The 33 year-old Overbay slugged 83 homers during his five year stay with the Jays and drove in 336 runs. He batted .268/.350/.446 overall with Toronto and racked up 180 doubles. Though he never won a Gold Glove, Overbay was pretty reliable with the leather
among other things
.
By the way, Overbay and the Pittsburgh Pirates will be in Toronto to begin the six game "Pennsylvania Homestand" in 2011. The Bucs will be at the Dome June 28-30 before
Roy Halladay
and the Philadelphia Phillies are in town for the Canada Day weekend July 1-3. Best of luck with the Bucs, Lyle!! It'll be strange not to hear Jays public announcer Tim Langton not say "Lyle OOOOOOOOOOOOverbay" anymore.