Today's POTD features Scott Downs, who has pitched for four Canadian teams in his professional career.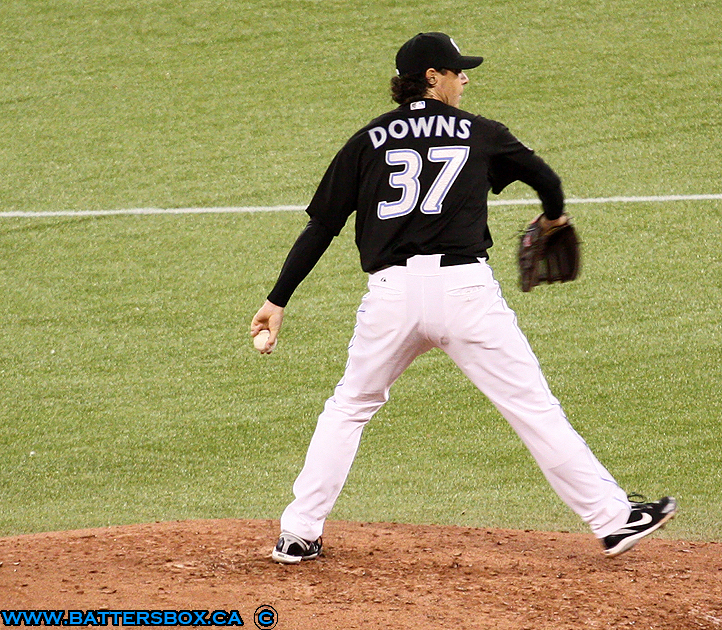 Scott Downs throws a pitch against his future employers, the Los Angeles Angels, at the Dome April 18.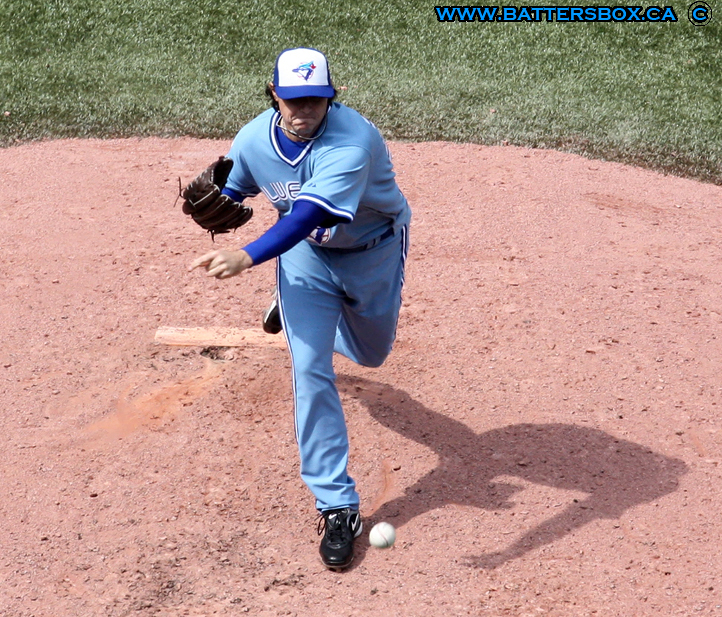 Downs delivers against the Kansas City Royals at the Dome April 21.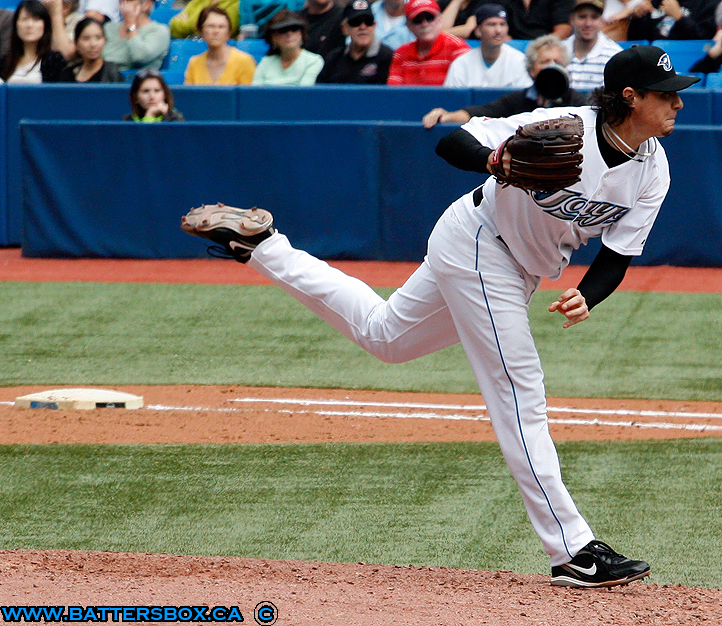 Downs goes to work against the Seattle Mariners at the Dome September 23.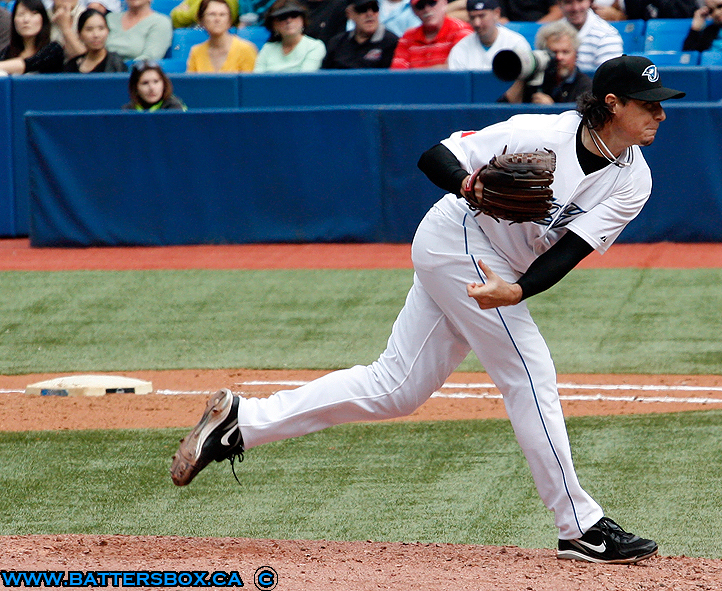 It was usually thumbs up from Jays fans when Downs entered a game.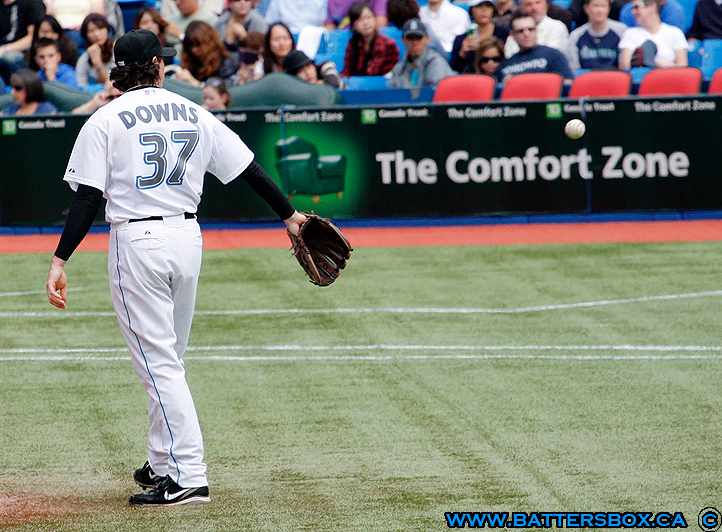 You could say Jays fans were in "a comfort zone" when Downs climbed the mound.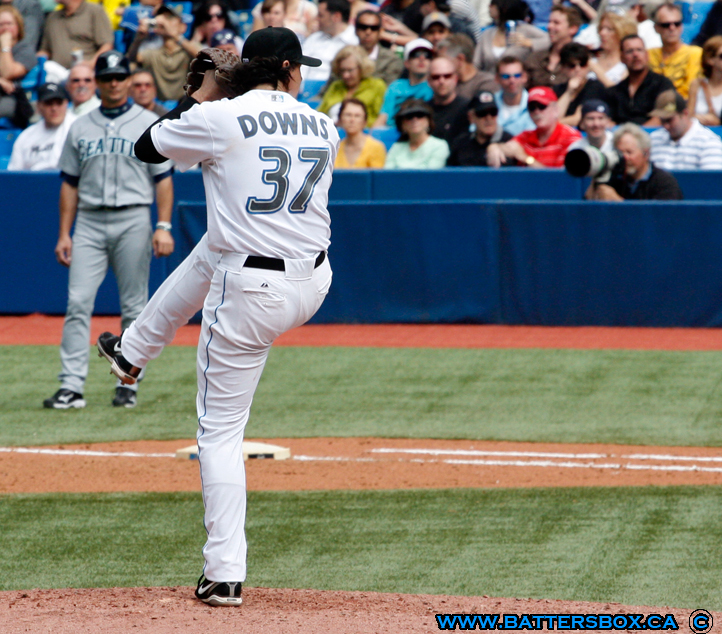 Downs split 10 decisions in 2010 to go along with an earned run average of 2.64.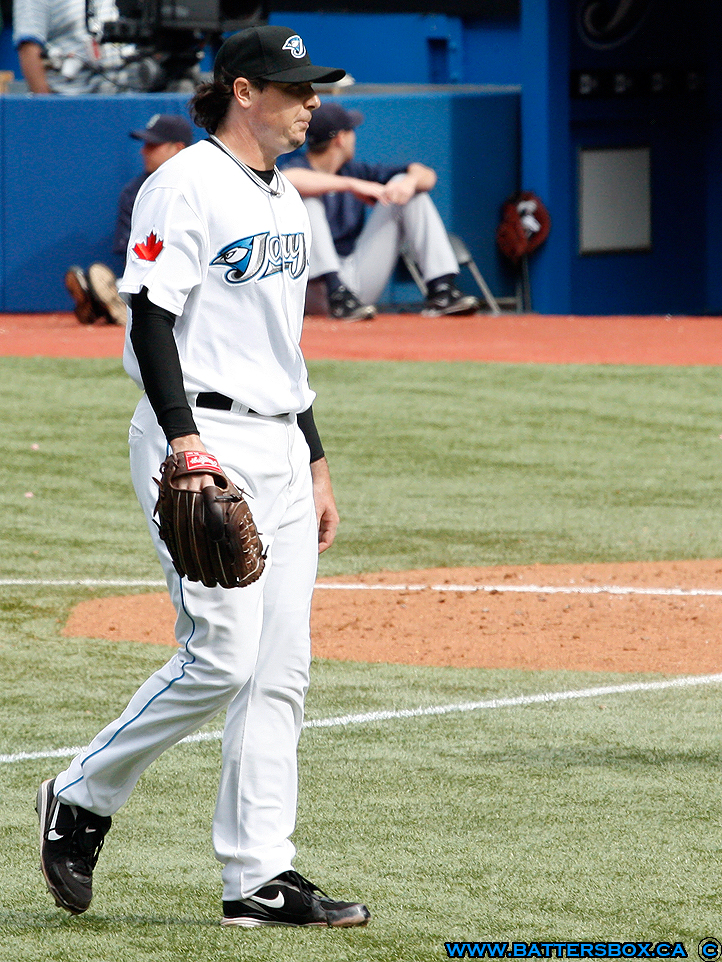 Downs heads to the dugout made after a shutout inning of relief in an eventual 1-0 victory over Seattle.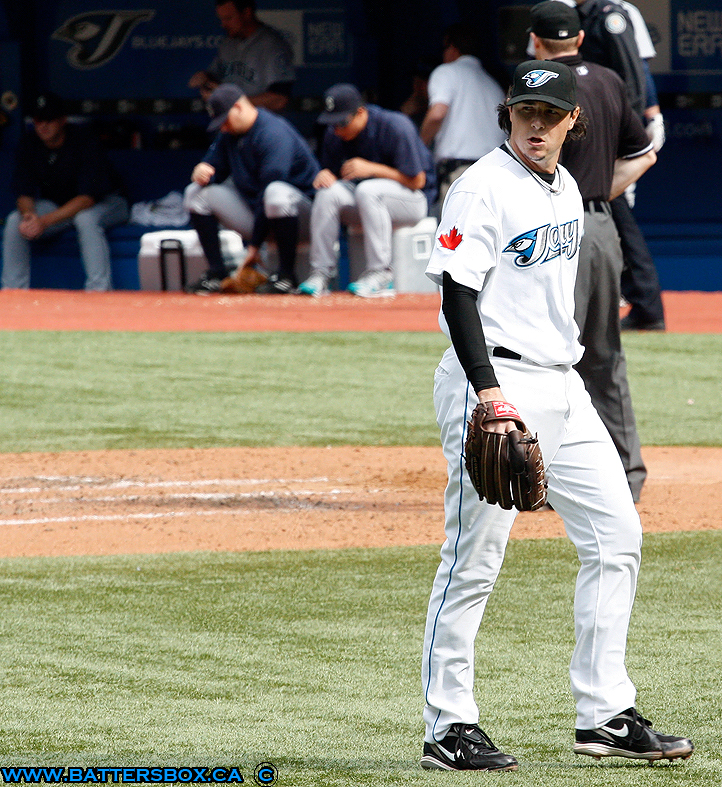 Downs collected 26 holds for Toronto in 2010.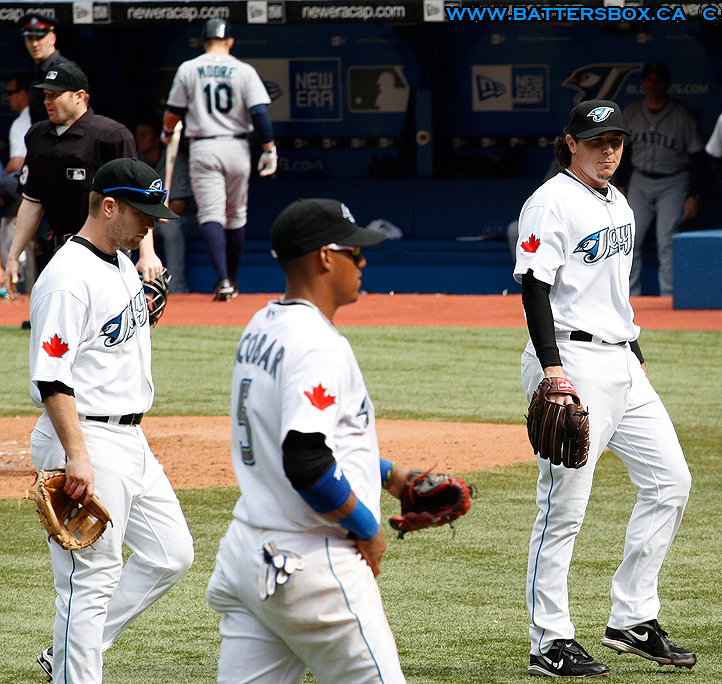 His WHIP was a sterling 0.995 in 61 1/3 innings of work with a K-BB total of 48-14.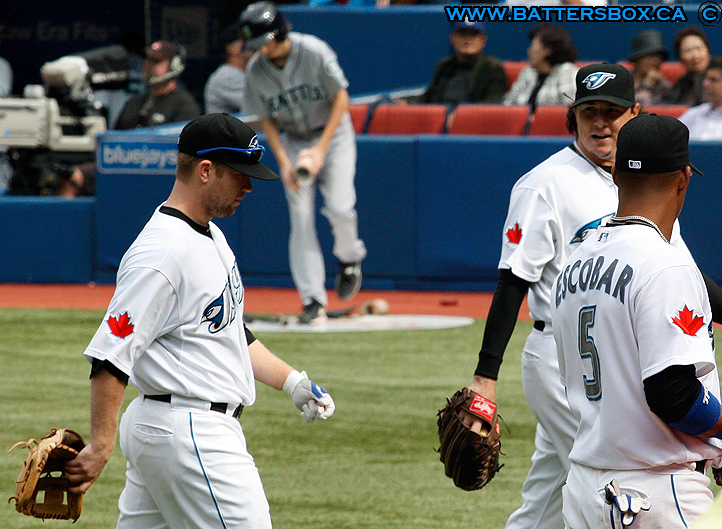 Downs went 20-18 during his six seasons with Toronto with a 3.18 ERA and 16 saves over 347 appearances.
---
Scott Downs
will look to continue his successful career south of the border in 2011. The 34 year-old lefty from Louisville, Kentucky was originally selected by the Atlanta Braves in the 12th round of the 1994 amateur draft but he decided to pitch for the University of Kentucky instead. Downs was taken by the Chicago Cubs in round three of the '97 draft. He would be traded to Minnesota for former Jays hurler
Mike Morgan
in 1998 but was dealt back to the Cubs in a deal involving another pitcher,
Kyle Lohse
, in 1999.
Downs made it to the bigs in 2000 with the North Siders and had a 4-3 record with a 5.17 ERA before being traded to Montreal for outfielder Rondell White at the July 31 trade deadline. He pitched just three innings for the Expos in his lone start in early August and did not see the mound again until 2002 thanks to Tommy John surgery. Downs' only action in '02 was in Brevard County and Ottawa as he made a combined 24 relief appearances. He was 2-1 with a 5.79 ERA during his stint with the Lynx.
Even though the Expos left the Nation's Capital as their Triple-A affiliate, Downs would remain in Canada as the Expos teamed up with the Edmonton Trappers. Save for one start with Montreal in 2003 in which he took the loss, Downs remained in Alberta as he went 8-9 with a 4.29 ERA and pitched three complete games. His greatest accomplishment with Edmonton came in 2004 when he no-hit the Las Vegas 51's June 11. He would go 10-6 with the Trappers that year with a 3.52 ERA and two complete game shutouts. Just over two weeks after his no-hitter, Downs was called up by the Expos to make his first start against the Jays at the Dome June 26. It was not exactly his finest hour. He would finish the year with a 3-6 mark with a 5.14 ERA but he had two strong starts. He earned his first Expos victory by allowing an unearned run over seven innings against Pittsburgh July 11 and spun a complete game shutout against his former team, the Cubs, by allowing just five hits and a walk September 8.
In arguably the best move made by former GM J.P. Ricciardi, Downs was signed as a free agent by the Blue Jays in December of 2004. After going 2-3 with a 4.81 ERA in Syracuse to start 2005, Downs was called up to Toronto in May to join the bullpen. He would earn his first win in a Jays uniform as a starter with seven strong frames against the Tigers August 11. He would finish the year in the starting rotation and would end the year 4-3 with a 4.31 ERA.
Downs would really prove his value to the Jays in 2006 as he became a valuable member of the team's bullpen. Of his 59 appearances, 54 of them came in relief as he posted a 6-2 record with a 4.09 ERA and one save. His 2007 season was even better as he made a league leading 81 appearances while winning four of six decisions with a 2.17 ERA and one save. That performance earned Downs a three year contract to remain a Blue Jay.
The 2008 season saw Downs lower his ERA to 1.88 while picking up five saves in 66 appearances. In 2009, Downs took over for an ineffective B.J. Ryan as the team's closer but his season went downhill after he injured his big toe during an at-bat in Philadelphia June 16. He would miss chunks of time for the rest of the year as he made just 48 appearances while winning just one of four decisions. However, he earned a career high nine saves to go along with a 3.09 ERA.
After signing a three-year deal with the Angels, Downs will join Vernon Wells in Anaheim and they are scheduled to be back in Toronto August 12-14 and September 19-22. Whenever they make their first appearances at the Dome, I hope the fans show them the proper respect and give them a standing ovation. I'll miss his ritual of writing the initials of his kids with his finger before climbing the mound. He was worthy of wearing Dave Stieb's #37.