Sportsnet's Shi Davidi
says second baseman
Kelly Johnson
has accepted
arbitration from the Blue Jays.

Kelly Johnson
on
JaysVision
during lineup introductions against the Yankees September 18. The 29 year-old, acquired from Arizona for second baseman
Aaron Hill
and shortstop
John McDonald
in late August, made $5.85-million in 2011.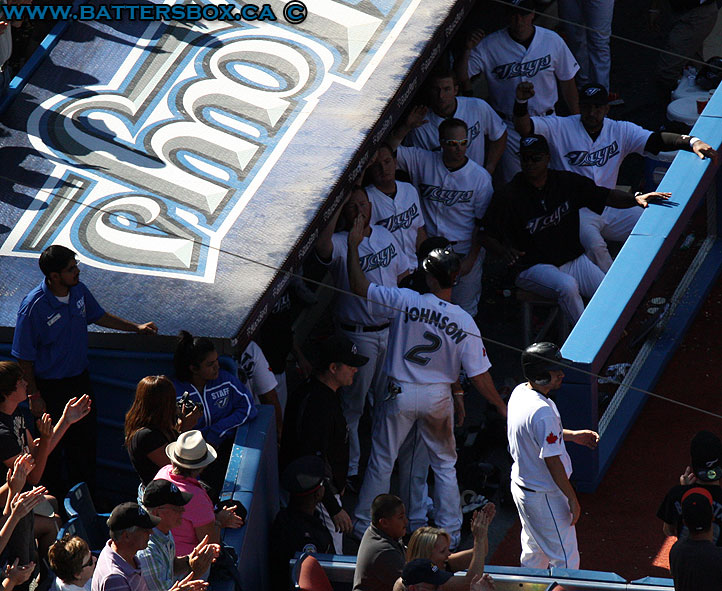 Kelly Johnson
will get to exchange more high-fives with the Blue Jays in 2012 after accepting arbitration. He gets congratulated after scoring the tying run in the ninth inning in an eventual 5-4 win over the Orioles at the Dome September 10. Johnson batted .270/.364/.417 with four doubles, two triples, three home runs and nine runs batted in during his 33 games with the Jays last season.

Davidi also notes the following about Johnson's decision to accept arbitration.
"The decision removes another item from Alex Anthopoulosís winter checklist, although the general manager indicated Wednesday afternoon that Johnsonís decision wouldnít preclude the search for a longer-term solution at second base since he can also be used in left field.

"

The Toronto Star's Richard Griffin
also expands
on the possibility
of Johnson playing left field for the Jays in 2012.
"Anthopoulos also explained that in an earlier telephone conversation he told Johnsonís agent, Mike Milchon, that there was a chance that if Johnson accepted, he could become a left fielder. If that was ever designed to send Johnson in another direction, it didnít work.

'Kellyís got positional flexibility as well. He played a lot of left field before. We talked about signing him as a left fielder. Thereís absolutely a scenario where he could be a candidate for left field. So we havenít ruled (that) out if thereís a player we can get. The fact that Kelly can go out there and play left, (means) thereís more competition for (jobs) and he can do more things for us. Weíre open-minded. Again, if we can get a core piece, a controllable piece, we have the ability to do that.' "

The Globe And Mail's Jeff Blair
discusses the
trade possibilities
that exist with Johnson's decision to accept arbitration.
The Blue Jays already have two left-handed hitters who play left field in Travis Snider and Eric Thames, so that might increase the likelihood of a trade. Anthopoulos said he had other second base options available in the trade market if Johnson had declined the arbitration offer (the Jays would have received compensatory picks from the team signing him) but with the possibility of a left-field stint it is unclear whether Johnsonís decision actually closed the door firmly on those other options. The Blue Jays will now have to make a roster move Thursday to make room on their 40-man roster.

Johnson will not be the only one sampling the menu from Arby's as Boston Red Sox designated hitter
David Ortiz
and Milwaukee Brewers reliever
Francisco Rodriguez
have also
accepted arbitration
. Are you happy Johnson is back in the Jays nest for 2012 or would you have preferred the two draft picks instead? The floor is yours, Bauxites.