Doug Davis is the Blue Jays minor league field coordinator. I talked with him last week about various players in the Blue Jays system.
BB: Anthony Gose had a good year last year but seems to have fallen off the wagon with his hitting this year.
DD: Yes Anthony is going through some struggles this year offensively and that's a tough thing for him. He is doing everything he can right now to dig himself out of it and find something he is comfortable with and works for him. Obviously he spent time in the big leagues last year and had a chance to help out a bit this year but ever since he has come back down, again I think it has been a struggle. I think a little bit mentally and then when things don't go right it just piles on and that's the way it has been for him. But he is still young, he is very athletic and very skilled and I think everyone has such high expectations they forget how young he is. Still he has to go through some growing pains and I think right now that's what it is and he is going to have to figure out how to deal with it. Baseball is such a mental grind that way.
BB: AJ Jimenez has had some lingering issues with his arm this year, is he over that now or do you have to watch him carefully?
DD: We are watching him, I don't know how carefully. I am thrilled, as is Sal Fasano, with where he is right now and he can go out and play everyday, unless he tells us otherwise. He has had great results, I wouldn't say his throwing is back 100% to where it was but it's close. He is swinging the bat well and I think he is back to where he was last year to the point where we can start thinking about the future.
BB: Hitting wise he is a see ball hit ball kind of guy. Are you working with him on that or do the pitchers have to teach him that lesson?
DD: I think time will do that but he is doing a great job so far. The swing has improved dramatically from where it was a couple of years ago. He did well in AA last year and this year he has picked up where he left off and it has gotten even better. I think every young hitter is the same way, patience is something you have to learn and the more confident and comfortable you get with your surroundings the more patient you get. He is not someone we want to walk a certain amount of time but he is someone who we want to be a productive hitter.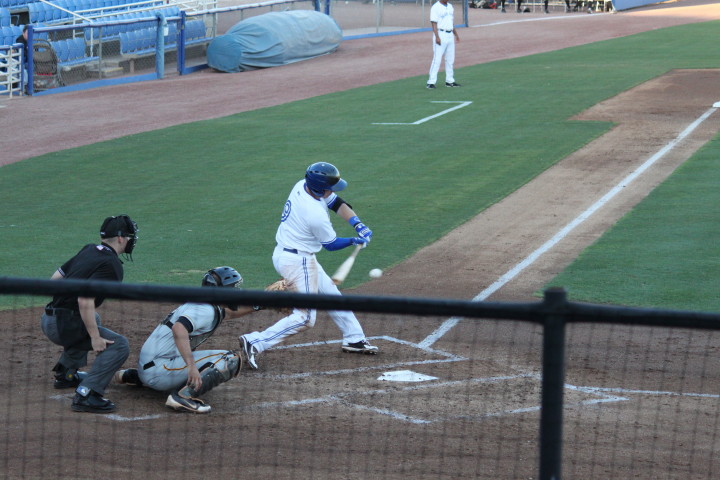 BB: Andy Burns has got off to a slow start in AA, is that due to anything in particular?
DD: I think over aggressiveness might be one reason. Andy is an aggressive guy, offensively and defensively. In AA you see better pitching, easier velocity, firmer fastballs and they use it well and I think thats what he is finding out. He is another one where patience is something he has to learn playing at that level but he has had some productive at-bats, I have seen him a couple of times already. You need to give guys 100 or 150 at-bats before you begin to get concerned. I am not concerned and I don't think anyone is. I expect he will finish up strong at that level.
BB: I want to ask you about some injured guys, Jacob Anderson is missing the whole year, is that right?
DD: Yes it will be the whole year. He had a rib issue, I am not fully up to speed with medical issues. He did have rib surgery but then it didn't get better and I think he had some issue with infection. Fortunately he is young and we hope he gets back for instructional league.
BB: How about Osuna, what's up with him?
DD: After he came back from the DL and started throwing it wasn't quite the same. Right now we are trying to figure out what's different. He has gone back down to Florida where they are looking at it. I didn't see him but some of our guys did and they said he wasn't the same so we sent him to Florida to figure out what's going on.
BB: Did you see Daniel Norris pitch in Lansing?
DD: I did not this time but from what everyone says he is back to 100% and he should pick up from where he left things off.
BB: Have you seen Marcus Stroman pitch?
DD: Yes I have. His pitches have gotten progressively better, he is a dominating pitcher at the AA level.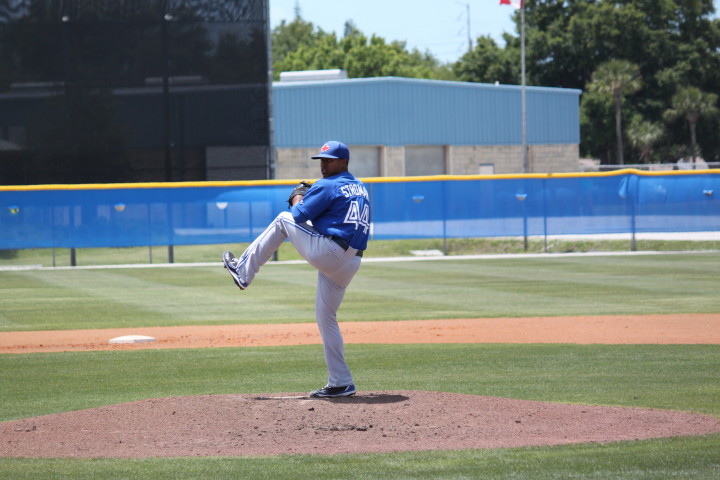 BB: Some of his critics have said his fastball is too straight, what do you think of that?
DD: Well it is, it is a straight fastball that doesn't have a tremendous amount of movement. But I think he is learning how to pitch with the fastball that he does have. It's an overpowering fastball at times. Because he is not a tall pitcher he tends to pitch up in the zone more than other guys and he has to command his fastball to be dominant.
BB: And I guess that is why developing a good change-up is so important for him.
DD: Absolutely. The first couple of outings in AA he didn't use it a lot and then he got hit around a little bit and he started to break out that change-up more and its become very effective for him and he has a good one. He has 3 above average pitches with the change-up being one of them and he is using it more now to make his fastball more effective. He has good poise on the mound, good temperament and he doesn't get rattled.
BB: Sean Nolin had an early call-up to the major leagues and whether it was nerves or inexperience he pitched too much in the middle of the plate. I assume he is working on that back in AA.
DD: I think pitchers who are in AA are typically working on that regardless of whether they have pitched in the big leagues or not. I think Sean is continuing to progress and working on command like most pitchers of his age and experience. I saw him pitch very well in Harrisburg, he has strung a bunch of good outings together. It is all about command for him, he is using his curveball, he is using his slider, change-up is very effective and he likes to use it. His fastball is good too, he will pitch at 88-89 and every so often when he needs a little extra he will pump it up to 92-93.
BB: I need to ask you about a pitcher in Dunedin, Tyler Ybarra, who hasn't given up a run in 28 or 30 innings. What is holding him back from moving up the ladder?
DD: Tyler is a guy who has had some injury issues in the past and we are careful with him. We pay attention to the number of innings he throws and days off in between. We are just trying to get him to the point where he feels confident enough to go out there on back to back days. Also his fastball command is something he is working on. He has tremendous stuff, when he is in the zone with his fastball and curveball he is almost unhittable. It won't be long, we are just paying attention to where he is at physically.
BB: Last year Alberto Tirado pitched really well, this year seems to have started more slowly for him.
DD: I think you just need to watch him pitch, I wouldn't say he has got off to a slower start. He is pitching at a higher level now, we got him out of Florida and under the lights which is a new experience for him and I think he is settling in nicely. When you grade out his stuff his fastball is explosive and he has a hard breaking slider which is a plus pitch for me. I saw him pitch very well. It's always going to be about command for young guys like him, he is prgressing right the way we want him to be.
BB: How are you guys going to roll out the weighted balls progra, is this voluntary, compulsery, targetted at different levels?
DD: You have players at every level, including the major leagues, using it. For the most part it's an optional program, it's available to pitchers who feel like they need it. But we also encourage some of the guys who we feel would benefit from it to use it as well. It's been effective so far and there are a couple of guys on the big league staff who swear by it. When guys like that endorse it, it's a good thing to try and use it in other places. It's our first year so we will have to wait and see what the benefit is but so far it has been good for us.
BB: John Stilson has been pitching well in Buffalo but his strikeout numbers are low. Does he have to work on something in particular to improve his strikeouts?
DD: He has movement, he has power, it's all command. John's young, he hasn't been a pro for too long. At AAA he is facing some professional hitters who are throwing some professional at-bats at him. He is learning how to control his emotions, command his fastball, command that slider. I saw him throw a couple of different times with different results and it's all about command. But when he is on he will miss bats and he will do that in AAA and in the major leagues.
BB: Last question seeing that you are in Vancouver, Dickie Thon has been playing well this year.
DD: He is hitting over 300. I think right now Dickie is in a real good place, he is comfortable with his surroundings, he loves being here, he is playing every day and he is playing well. He has learned to control himself a little bit, from a maturity level, experience level, he has grown up. He is doing a nice job here offensively and defensively.
BB: Did he play in centre field earlier this year?
DD: Yeah we ran him out there a little bit. If nothing else it gets him out of the infield and gives his mind a break. Dickie is athletic enough and that may be something he does in the future.
-------------------------------
Batters Box thanks Doug Davis for his time.