The Vancouver Canadians won a nail-biter in Game 1 of the Northwest League North Division final at Nat Bailey Stadium Wednesday night. Pitching, defence and a bit of timely hitting helped the C's grab a 1-0 lead in the best-of-three series.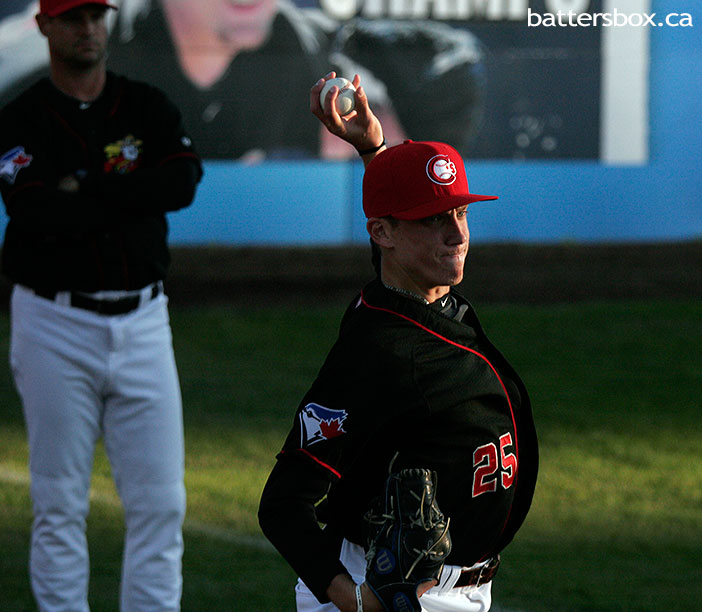 Ryan Borucki
warms up in the pen with pitching coach
Jeff Ware
looking on. The Illinois native stranded two singles by striking out the side in order to end the first inning and survived a leadoff triple. The 15th round pick of 2012 stranded all six runners over seven shutout innings by giving up just five hits. He plunked a batter but struck out four. He also got some help from left fielder
Jonathan Davis
with three of the best catches I've seen a left fielder make live since the days of
Reed Johnson
.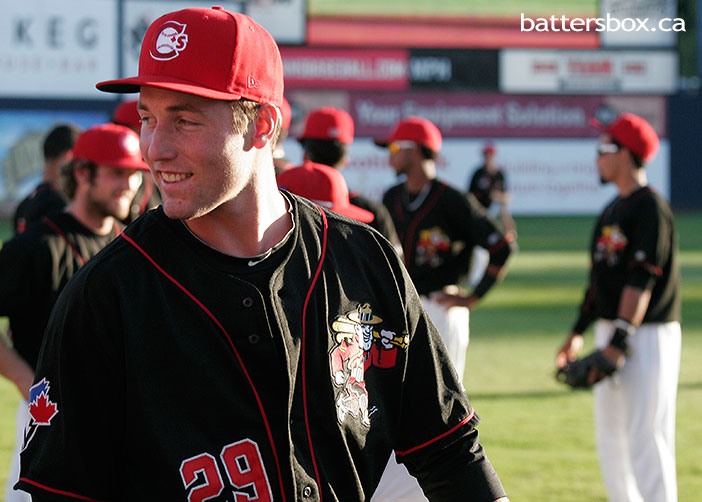 Sean Reid-Foley,
wearing #29, was promoted from the Gulf Coast League Blue Jays to help out the pitching staff. The righthander did not pitch in the game but he was seen playing catch with left fielder
Jonathan Davis
between innings. Perhaps the second round pick of the 2014 draft helped Davis play a huge role in this one. Maybe between-innings warmups is the new market inefficiency! ;D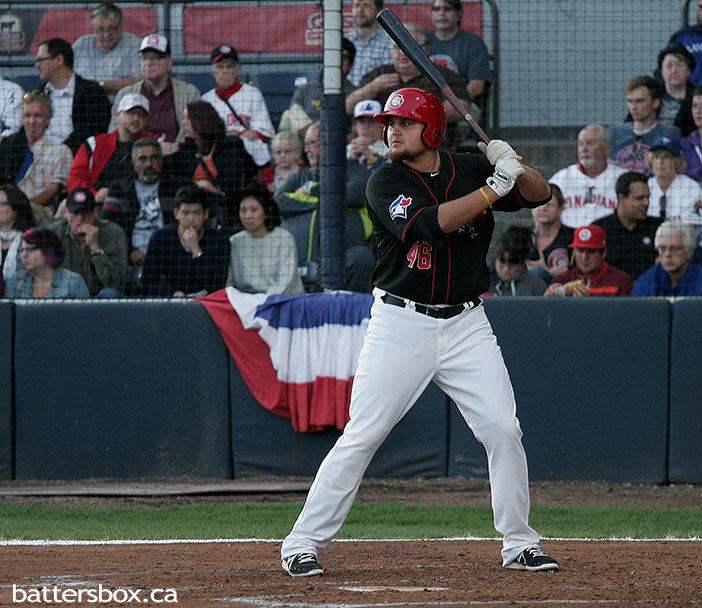 Rowdy Tellez
- who was summoned to Vancouver along with
Sean Reid-Foley
- makes his first plate appearance as the designated hitter in the second inning. Wearing #46 (originally listed as #34 on the starting lineup chalkboard inside the stadium), Tellez grounded out to second base in this at-bat and would go 0-for-3 in his Vancouver debut.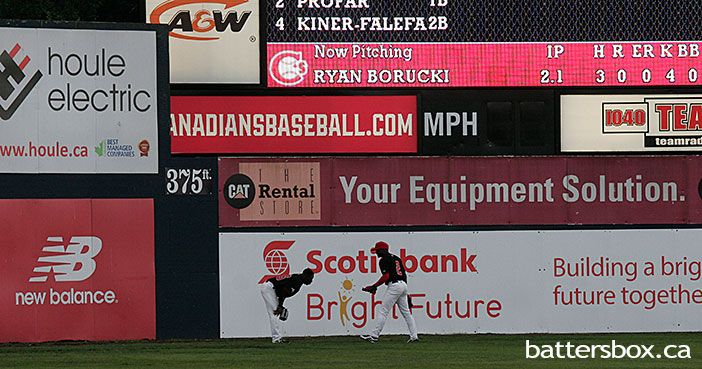 Jonathan Davis
(left) hunches over after making an incredible leaping catch to rob Spokane's
Jose Trevino
of extra bases in the third inning.
Roemon Fields
checks in on Davis to make sure he's okay. That helped
Ryan Borucki
record his first 1-2-3 inning.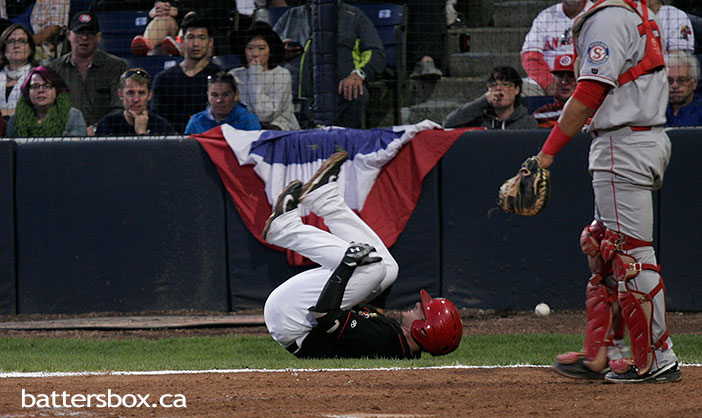 Ryan McBroom
hits the deck after being hit in the foot by a pitch with two outs in the fourth inning. He did take his base and finished out the contest at first base.
Mike Reeves
broke up the no-hit bid of Spokane starter
Derek Thompson
with a base hit two outs into the fifth inning. Reeves is being held on by Indians first baseman
Juremi Profar
, the younger brother of Jurickson. The next hit by Reeves would lead to good things later on.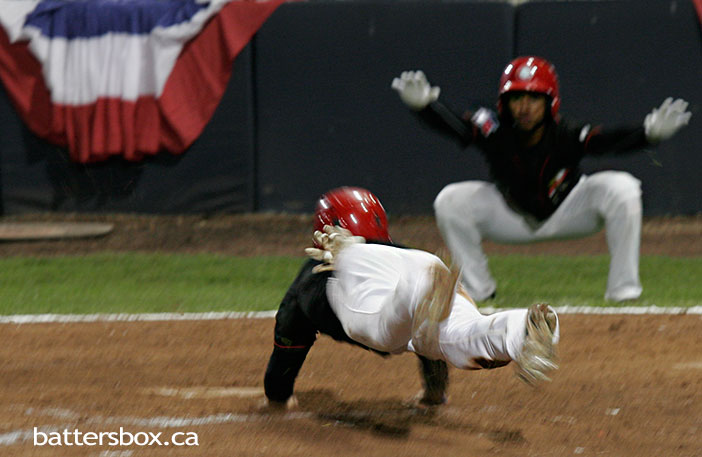 Chris Carlson
led off the seventh inning with a single off Thompson to chase him from the game. Carlson advanced to second after a grounder to short by
Jonathan Davis
that he beat out on a head-first slide according to everyone with eyes except the first base umpire. After Spokane reliever
Darrell Hunter
retired Davis, Indians manager
Tim Hulett
went with lefty
Luis Pollorena
to face the left-handed hitting
Mike Reeves
. The Peterborough native foiled Hulett's strategy by bouncing a single up the middle to center field to bring in a diving Carlson. On-deck hitter
Richard Urena
urges Carlson to hit the dirt.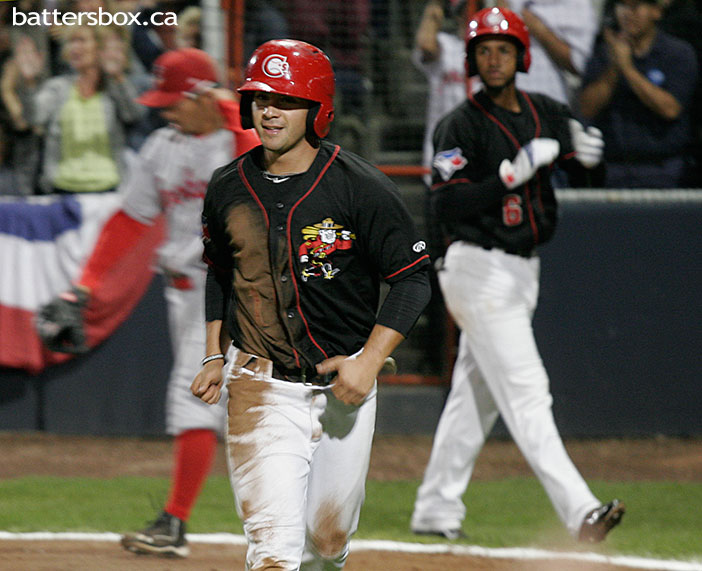 Chris Carlson
heads back to the dugout after scoring the first run of the game.
Richard Urena
applauds in the background.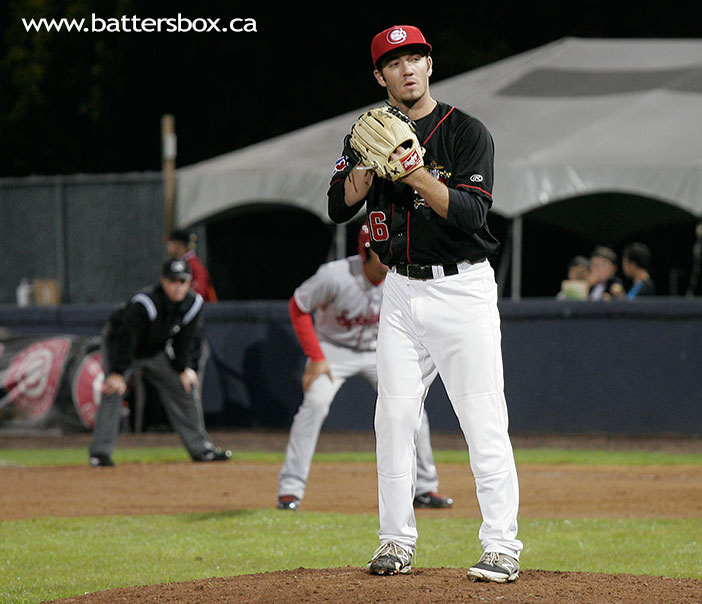 Michael Kraft
relieved Borucki and got the first two outs of the eighth inning but not before a leadoff walk and an intentional walk to Indians cleanup hitter
Luke Tendler
despite having the lefty-lefty matchup. Canadians manager
John Schneider
elected to go with the hammer and bring in closer
Phil Kish
(pictured here), who struck out
Josh Morgan
to end the eighth on an 83 MPH offering. Kish gave up a one-out single in the ninth but struck out the final two hitters he faced to preserve the 1-0 win for Vancouver.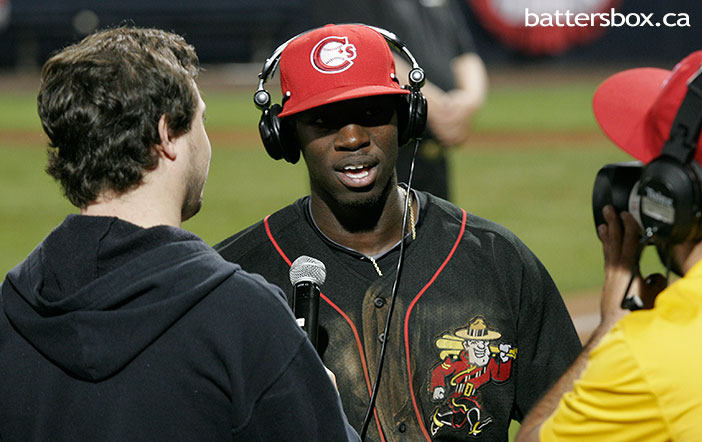 Jonathan Davis
gets interviewed for his defensive heroics after the game. As mentioned, he made three spectacular catches in left field to help winning pitcher
Ryan Borucki
. Check the Canadians Facebook page for
visual evidence
.
---
Random Observations...Ryan Borucki
was clocked in the 72-94 MPH range. He was pretty animated, especially after striking out the side to strand two singles to the first two Spokane hitters in the first inning. The lefty stranded a leadoff triple with a strikeout, a popup to short and a comebacker to the mound to end the second. On that triple,
Chris Carlson
got a glove on the ball in right field but could not catch it. Carlson would redeem himself later with a leaping catch at the warning trick in the sixth inning. After coming off the mound after the sixth, Borucki appeared to signal one more inning with his index finger. After stranding a
Juremi Profar
double in the seventh, Borucki heaved a huge sigh of relief.

Ryan McBroom
had a couple of interesting at-bats. After getting plunked, he worked the count to 2-1 in his next at-bat in the sixth inning and the strike was lined just foul down the third base side. His bat apparently cracked on contact and he went into the dugout himself to choose a new club, taking his time in doing so. When McBroom emerged, he continued to manicure his new weapon of choice. I guess all the down time led to Spokane manager
Tim Hulett
to order his starter
Derek Thompson
to give McBroom an intentional pass. Maybe Hulett figured McBroom might have been too relaxed or too confident and was afraid he would deliver a run-scoring hit with
Tim Locastro
on second base with a one-out double. Hulett made the correct call as Thompson retired
Rowdy Tellez
on a tapper to the mound in a lefty-lefty battle to end the inning. Tellez did not really make hard contact in his three plate appearances.
Locastro
was just one of two Canadians players who managed to get into scoring position. The other was
Chris Carlson
, who came in to score on the
Mike Reeves
single.
From sitting just behind the Canadians third base dugout, I could hear hitting coach
Dave Pano
urge his team to get the bats going before the seventh. Reeves
complied by driving in the winning run as part of a 2-for-2 performance with a walk. The person next to me kept referring to Reeves as "Big Country". I think he meant it as a compliment but it really wasn't as he was referring to
this guy
! Besides, I think of these criminally
underappreciated
guys instead.
The first base umpire robbed the Canadians of two infield hits, the aforementioned one by Davis that left hitting/first base coach
Dave Pano
just beside himself in the seventh inning. Maybe he figured that since Davis was robbing Spokane of three hits, he would give Davis payback? Anyways, the same ump also robbed Locastro of a two-hit night after beating out a grounder to second. The ump got a well-deserved Bronx Cheer after
Franklin Barreto
easily beat out a ground ball to short. Usually, there are only two umpires for regular season games in the Northwest League, one for behind home plate and the other on the bases. Last night featured four umps but not twice the improvement.
Phil Kish
kind of reminds me of
Casey Janssen
. He's not a flamethrower but he throws strikes and works quickly. I did see him reach 92 miles per hour on the radar gun.
Speaking to a couple of team officials afterwards, they agreed this game drew some interesting parallels to
this one
from two years ago.
Game 2 between Vancouver and Spokane goes tonight in Spokane at 9:35 pm Eastern.
Steve Ewen
of
The Vancouver Province
tweeted after the game that C's manager
John Schneider
will use lefty
Jairo Labourt
on the mound instead of
Chase Mallard
to take advantage of Tuesday's rainout. The winner of this series will take on the Hillsboro Hops. The Arizona affiliate swept the Chicago Cubs-affiliated Boise Hawks in two straight games to win the Northwest League South Division title.