Giddy up.
It's time again for the annual division previews, featuring wacky uniform changes, super teams, grand entrances, contract years, retirement tours and of course perpetual futility! We begin this tour de course with the National League West, or "Where?" as it's known in the AL East. I'll be taking a look at one major theme facing each team from this far away land, where yes they do play (a similar brand of) baseball.
Let's begin --
(*plus-minus indicates how many runs they outscored/were outscored by)
-----San Francisco Giants (2015: 84-78, 2nd, 8 GB, *+71)-----Odds and Evens
Yeah yeah, we all know the fable by now. It's an even numbered year, therefore the Giants of the Great California Bay are destined for glory. And to be fair, they did add some very interesting pieces this past offseason. On paper, their rotation boasts the kind of rotation you build in a video game with the "fair-trade" setting off. Madison Bumgarner is still awesome (in general and as a pitcher), while Johnny Cueto and Jeff Samardzija bring their talents back not only to the NL but to a home pitching paradise in AT&T Park, something neither Cueto (Great American Ballpark) or Samardjiza (Wrigley Field) enjoyed in their successful senior circuit days. Heck, if Matt Cain can slay the zombie that's been impersonating him since 2013, a
healthy
Jake Peavy becomes your fifth starter. If Cain really is a zombie though, second year pitcher Chris Heston is still around to be the Tanner Roark of 2016. Hmmm, there's something familiar going on here...
No matter. What is matter? Nevermind. The 2016 Giants will not be the 2015 Nationals for three reasons. 1: not nearly as much overhype (it's a word, right?), 2: Bruce Bochy > Matt Williams, 3: I don't see them losing their minds enough to trade for Jonathan Papelbon. When they won it all in 2014 they were a wildcard team. If (when) they do it again in 2016 that won't be the case. They'll take the division crown.
SPUR OF THE MOMENT PREDICTION -- 94-68, NL WEST TITLE (and more...?)-----Los Angeles Dodgers (2015: 92-70, 1st!
,
8 GA, *+72)-----

Carolina Corey


There's a good chance that Dodgertown, California is about to become Corey Seager Country. The former top prospect looks to begin the season as the Dodgers everyday shortstop, a tall task for any normal 21 year old (22 in April). But Seager has legit Prospect Pedigree(TM), showing enough in a September callup to overcome the veteranness of the old man version of Jimmy Rollins and steal a chunk of the shortstop job in the playoffs. Now he has that chewy gooey chunk all to himself, and while he's been slowed by a knee issue this spring the expectations and excitement are Hollywood Hill high. It will be very interesting to see how he does over a full major league season. After all, Blue Jays fans know all about hotshot 21 year old infielders exploding onto the major league scene... *cough* *cough*. I think if Seager avoids diving into camera bays though he'll probably be fine. It'll be easier to avoid that kind of thing at shortstop.
As for the team, I'm really not sure. I don't think anyone is. The offense is full of serious question marks (What will Puig do? Does Carl Crawford still exist? Will Joc Pederson strike out 300 times? Why does Andre freakin Ethier make so much money?) as is the pitching staff. Kershaw is Kershaw but everybody else around here is helping make sports doctors very rich. Brett Anderson will be gone most of the season (shocker I know), Ryu is still going to miss another month or two, Brandon McCarthy's health record is barely better than Anderson's (McCarthy might return mid-season) and Kenta Maeda has yet to throw a regular season major league pitch, though he'd looked solid thus far in the spring. Suddenly when Scott Kazmir is looking like your sturdiest (and healthiest) number two option, you might be in store for some difficulty. I think by the end of it all they'll be all right, perhaps even good, but there's too much unpredictability running amok here to declare anything beyond that. They're a Wildcard Maybe(TM) for me.
SPUR OF THE MOMENT PREDICTION -- 85-77, 2nd NL WEST


--Arizona Diamondbacks (2015: 79-83, 3rd, 13 GB, *+7)--

Shades of Gray


Now that spring training is a few weeks old, we've had an opportunity to see the Diamondbacks experimental jerseys on the field. And the results have been... uh....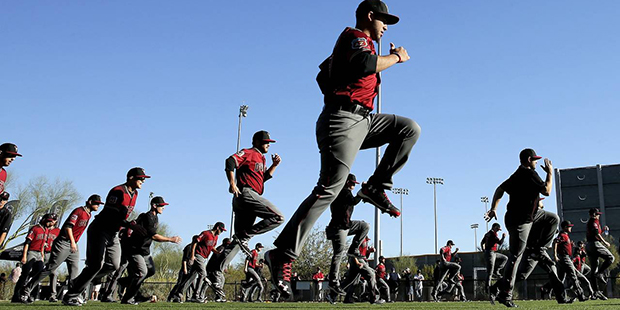 Not to go on a whole Uni Watch thing here (because if you're interested in that stuff go check out Uni Watch. It's awesome) but those duds are no es bueno. Those eraser gray pants in particular: with those on in the wrong lighting they look more like a fancy squad of garbagemen than a baseball team. (Oh the garbageman can, Marge. The garbageman can...)
There was a lot of, well not quite excitement... lets call it buzzing curiousity (buzziousity?) about the unconventional changes to the Dback jerseys for the 2016 season. They unveiled something like thirty combinations of uniforms when you factor in the different shirts, pants and hats (!), which sounds cool until you take a closer look at what they came up with. The Blue Jays rebrand (a.k.a. when they switched back to blue) was a work of marketing genius. It was similar enough to a classic look to evoke memories of the glory days, yet different enough to avoid being repetitive or dwelling on past success. The Diamondbacks, despite their 2001 title, don't have a rich visual history to draw inspiration from. As such, the multitude of options now available suggests a creative process akin to:
"Hey, here's an idea."
"I like ideas! Lets use it!"
It should be fascinating to see what combination the team consistently settles upon. It might take a while...
But enough about laundry. This is a team that made some big moves this winter, stealing away Zack Greinke from the division rival Dodgers, adding Shelby Miller from the Braves in a deal many are considering to be freeway robbery for Atlanta, and they still have Paul Goldschmidt who is obscenely good. As an aside, I have a severe soft spot for Goldy because we were born on the exact same day, same year. I also share a birthday with Joey Votto (YEEAHHH BOOOOY!!!) but he's a few years older than I. By this point you've probably noticed I'm well into my fifth paragraph about the Diamondbacks and yet I've hardly said anything about what they're likely to do on the field. There's a reason for that, because frankly this is not a very exciting team. Goldy is awesome, A.J Pollock is a nice piece, David Peralta might be something, Greinke and Miller make a nice 1-2, Brad Ziegler: Closer is extremely enjoyable and I am a big Patrick Corbin fan. Outside of that? There's not much going on, just a lot of interchangeability. It's like that Star Trek Next Generation episode where Commander Riker gets infected by that plant spore and the only cure is showing a bunch of clips from old episodes. Except, nowhere near that impressive height of apathetic boredom. They might contend, especially if Corbin bounces back strong, but... meh.
SPUR OF THE MOMENT PREDICTION -- 81-81, 3rd NL WEST-San Diego Padres (2015: 74-88, 4th, 18 GB,
*
-81)-


Winning The Offseason

Well that didn't work.
Remember how the Padres were the talk of the town going into the 2015 season? Their relatively new GM, A.J. Preller, made so many splashy moves they considered building a pool in his name at Petco Park! (Thank you, thank you, I'm here all week. Don't try the Goose Gossage Special.) But seriously, the Padres became such a revolving door of player transactions it became hard to remember who actually played for them. And I wonder if that's what happened here, that Preller got so aggressive in transforming the roster that he lost sight of how successful teams are actually constructed.
There's a classic adage in regards to the NBA draft that says "Always pick the best player available, regardless of positional need". This is what may have happened here. Matt Kemp, Wil Myers, Craig Kimbrel, James Shields, Derek Norris, Justin Upton are all available? Just gimme the superteam and everything else will sort itself out! Except baseball is much, much different than basketball. For example, there are only five positions in Bball, and guys like LeBron James, Draymond Green or Norman Powell are capable of playing/guarding three or more of those positions. That doesn't work in baseball, the positional flexibility isn't as common because the required skills are more specialized. Just because a guy is an infielder doesn't mean he can play shortstop, or that he's an outfielder means he can play a good centerfield. This is what Alex Anthopoulos learned the hard way in 2013, despite his exciting self-built super team, after watching Emilo Bonifacio and Maicer Izturis butcher second base for an entire season. The really, really good teams can get away with this kind of stuff, but not every squad can be one of those.
You look over this roster and think "Hey, maybe if this guy returns to that level" or "If this guy puts it all together" or the classic "When this guy stays healthy, watch out". I'm not a fan of that, probably because those Blue Jays teams of 2007-2012 are still so fresh in my mind. This won't be a good team, though some pitchers will surely look good thanks to Petco.
SPUR OF THE MOMENT PREDICTION -- 71-91, 4th NL WEST



-Colorado Rockies (2015: 68-94, 5th, 24 GB, *-107)-

Stars And Stripes


Are the Rockies the most uninteresting team in the majors? I'm sure many who think about that question would eventually conclude that yes, they indeed are. Aside from a crazy playoff run in 2007 there's little history to this organization, few iconic moments to immediately leap to mind. Just inflated home run totals and a lot of Todd Helton. It doesn't help that they haven't sniffed playoff contention in several seasons running now, and show no sign of threatening so anytime soon. Sure, a lot of sluggers roll through this town and excite the imagination with big swings and bigger flies, and occasionally a pitcher will appear who's actually capable of keeping the ball in the yard or out of the gaps. But one of those two things is way more common than the other, which has always been the problem. There are still some legit star position players hanging around here, like Carlos Gonzalez or the fabulous glove of Nolan Arenado (the best 3B with the leather, sorry Machado) but that will always be so in some degree. The same problem always exists for the Colorado Rockies, and will continue to do so unless the game itself transforms, the conditions of Coors Field transform, or the organization pigeonholes a specific kind of pitcher that can succeed long term in that environment. In the meantime, lets enjoy (or not) the terrible team that will call Denver home in 2016. Uninteresting? Nah, baseball is rarely so to those invested in it. Indifference? That's a bit more like it.
SPUR OF THE MOMENT PREDICTION -- 64-98, 5th NL WEST



That's all the fun for now. Come the weekend we'll move on to the NL Central and shed a tear for my poor (extremely terrible) Reds...