On to Missouri!
This will be the fourth time the Jays have played the Cardinals in St. Louis, and the third time they've done so at Busch Stadium III, where they have a decent enough 4-2 record (thanks mainly to sweeping a three game set back in 2011.) This was the scene of the action when these teams last met, back in April 2017. The Jays won the first of three in a game that saw Brett Cecil pitch against the Blue Jays for the first time - he came out for the ninth with the scored tied at 4-4. He walked Pillar leading off, personally moved him to third base with an errant pickoff attempt, and surrendered an RBI single to Jose Bautista. But Roberto Osuna couldn't hold the lead in the bottom of the inning, and extras were needed. It ended with Marcus Stroman pinch-hitting for Jason Grilli with one out in the eleventh and lining a double to left field. He scored the go-ahead run on a throwing error by Aledmys Diaz and Ryan Tepera stranded Randal Grichuk on second to get the save. Lots of fun, no?
But the real reason we remember that game?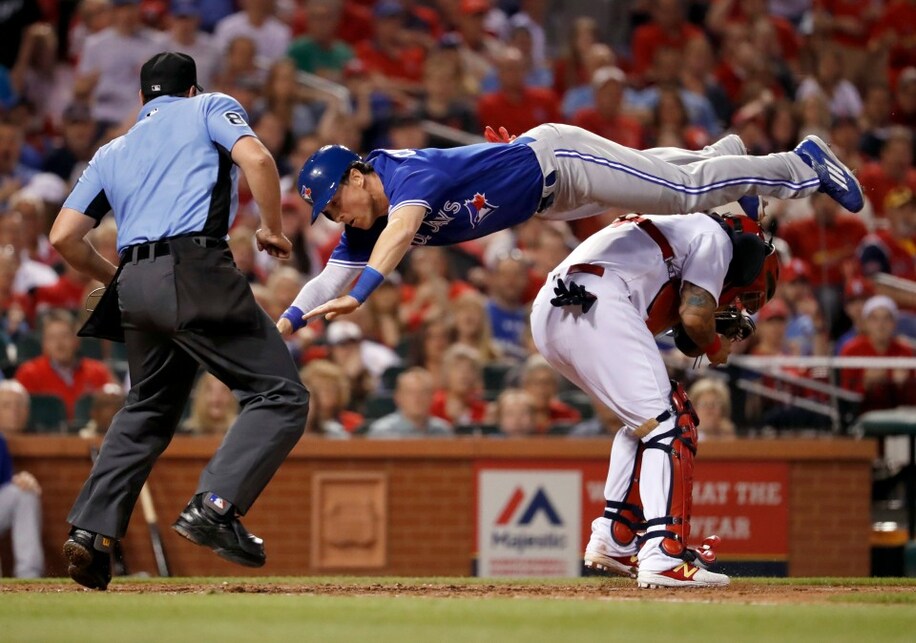 Coghlan's Leap, of course. Surely a piece of derring-do that will live in our hearts forever. Did it inspire the team to greater things going forward? It did not. The Cardinals won in 11 the next day on a walkoff grand slam struck by Matt Carpenter off J.P. Howell, and Adam Wainwright beat Casey Lawrence in the finale.
We won't see Wainwright in this set, which is a shame. He's 40 years old, and he's still really good. Wainwright, I've decided, is to his time more or less what Cy Young, Warren Spahn, and Don Sutton were in their times. Never the best pitcher around, but always one of the best, and someone who lasted while entire generations of pitchers came and went. Despite his late start (he was 25 years old when he took his spot in the rotation), despite losing most of three seasons to injury and much of another to global pandemic, he may even make it to 200 career wins this season. Spahn and Sutton are honoured at Cooperstown and if they're in you would surely think... (well, he'll have to wait his turn behind Max and Clayton and Justin and Zack, of course.)
Yadier Molina has a pretty decent Hall of Fame case his own self - the ten All-Star games, the nine Gold Gloves, the two championships don't exactly hurt. Ivan Rodriguez, Carlton Fisk, and Bob Boone are the only men to have caught more games in the majors. Boone was in many ways quite similar to Molina, just not as good, and Boone was a very fine player for a very long time.
We probably also need to start thinking about the Hall cases of Nolan Arenado, who turned 31 last month and will probably clear 300 career homers before the season is out (he already has nine Gold Gloves) and Paul Goldschmidt, born the very same day as our own beloved Eephus but blessed with a more impressive power stroke.
Albert Pujols, it seems safe to say, goes in on the first ballot. In his old age, Albert is pretty much helpless against RH pitching but even in his dotage he can still inflict pain on a southpaw.
The Cardinals startled us all last October when they dismissed manager Mike Shildt, after a professional career spent entirely in the Cardinals organization and (more to the point) after a 90-72 season that ended with them losing the Wild Card game to the mighty Dodgers. "Philosophical differences " were stated as the reason, and bench coach Oliver Marmol was promoted to the big chair. Marmol is the youngest manager in the majors - he spent five years managing at low levels in the minors before spending the last five years as a major league coach.
The Cardinals have been puttering along, rather like the Blue Jays - the pitching has been getting it done, the hitters (until yesterday) not so much. The aformentioned Paul Goldschmidt has practically been an offense all by himself. He, Arenado, and second baseman Tommy Edman have been hitting. But the rest of them... well, it hasn't been so good. Shortstop Paul DeJong and his .130/.209/.208 batting line has been banished to AAA Memphis, and rookie Brendan Donovan - a second baseman by trade - has been getting most of the starts at shortstop.
Our erstwhile chum Steven Matz came out of today's start after throwing just four pitches with shoulder stiffness. Angel Rondon and T.J. McFarland picked him up with eight innings of shutout relief while the Cardinals pounded out 20 hits and took an 18-0 lead into the ninth inning. So Yadier Molina pitched the ninth inning, hoping to best the pitching performance of Albert Pujols, who had closed out a similar Cardinals blowout a couple of weeks back. But like Albert, Molina allowed four otherwise meaningless ninth inning runs and must likewise endure the infamy of a 36.00 career ERA.
Matchups? OK...
Mon 23 May - Berrios (3-2, 4.83) vs Mikolas (3-2, 1.68)
Tue 24 May - Gausman (3-3, 2.52) vs Hicks (1-3, 4.21)
Hey, look who showed up to see the first game!