Your typical baseball fan knows all about 1961. Roger Maris, Mickey Mantle, home runs, Whitey Ford, New York Yankees, asterisks, Ralph Houk, Ford Frick, Yogi Berra, a million books, movies, you name it. More boring Yankee crap than you can shake a stick at.
Well, forget it.

Everyone has, over time, forgotten the most interesting thing to happen in 1961. Which is that the Cincinnati Reds won the National League pennant.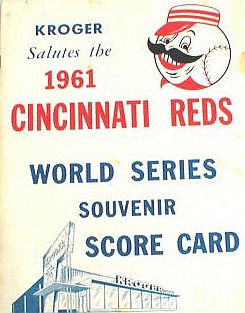 Well, who cares, right? The Reds were annihilated 4-1 in the World Series, destroyed by a combined score of 28-12 (they'd been a 12-5 underdog in the betting). What was so interesting about the Reds?
Only that the Reds finished first exactly one year after going 67-87, finishing in sixth place and winding up 28 games behind the pennant-winning Pirates. And they turned it around enough that they went 93-61, beating a terrific Dodger team by four games. Hopefully, you all can see where this is heading. What did the Reds do to turn it around?
The 1960 Reds were neither inspired nor inspiring. After a World Championship in 1940, just before the war, the Reds had seen a successful series of wartime campaigns fall just short of the pennant. After the war, the Reds found themselves unable to rebuild their ballclub in the late 1940s and early 1950s, as they struggled to find an identity and a manager. When longtime manager Bill McKechnie was fired near the end of the 1946 season, it began a managerial merry-go-round that stands up with the best of George Steinbrenner. Hank Gowdy saw out the 1946 season (the Reds finished 6th), then Johnny Neun took over to guide the Reds to 7th in 1947. Neun was fired after the All-Star Break in 1948, and Bucky Walters took over the team, only to meet the same fate near the end of the 1949 season. Luke Sewell then took over for 2 1/2 seasons, the longest tenure of anyone in this period. But Sewell could never lift the Reds out of sixth place, and when his time was up in 1952 the Reds went through five managers in the following two years - Sewell, Earle Brucker, Rogers Hornsby, Buster Mills, and finally Birdie Tebbets, who finally led the team to better days in the mid-1950s.
After struggling without an identity for many years, the Reds had found one as Ted Kluszewski's team. "Big Klu", every schoolboy's idol, was the centerpiece of a team (along with a young, developing, but slightly raw superstar named Frank Robinson) that finally put together some winning baseball, lifting the Reds to third place in 1956, their first finish in the first division in 12 years. Kluszewski was injured in 1957, and although the Reds continued to have some success he was traded before the 1958 season and despite Robinson's status as one of the game's foremost superstars, the Reds started to slink back into the second division. Pitching was a key problem; the Reds had not developed a large number of young pitchers on their own except the redoubtable Joe Nuxhall, so the Reds picked up pitchers in trades. Bob Purkey was acquired from the Pirates. The great Don Newcombe from the Dodgers. Jim Brosnan and Brooks Lawrence from the Cardinals. Hal Jeffcoat from the Cubs. Unfortunately, the hired arms had mixed success, and when the Reds farm system finally began graduating its own arms, they weren't very good. Jim O'Toole and Jay Hook both got started in 1959, and both were terrible. The offense was great, with rookie Vada Pinson scoring 131 runs, second baseman Johnny Temple making large contributions and scoring 102 runs himself, and Robinson still extraordinary. It added up to a disappointing 74-80 record, but if the pitching could just come around...
And then 1960 came, with new manager Fred Hutchinson around to give everyone hope. And you know, the pitching did come around a little. And the hitters stank. Here's what I wrote recently about the 1960 Reds...
The 1960 Reds went 67-87 and finished sixth. Cliff Cook was expected to take over at third but stank. Jay Hook served up home runs like apple pie, and went 11-18. Don Newcombe, expected to be a rotation mainstay, pitched horribly (he later admitted his drinking had gotten out of control), went 6-9 and retired. Billy Martin took over from Johnny Temple at second base and was completely terrible. Vada Pinson had an off year, and Gus Bell went south for good.
Bell, long a mainstay in the Reds outfield, hit just .262 with little power and a .300 OBP. When Cook couldn't handle third, shortstop Eddie Kasko went into service and was good with the glove, but punchless with the bat. Now there were two shortstops (along with Roy McMillan) and a punchless second sacker in Martin, in the infield. Wally Post eventually came over from Philadelphia for youngster Tony Gonzalez and Lee Walls, but it was too little too late for the offense. Post's arrival meant Frank Robinson shifted from the outfield to first base, squeezing out young Gordy Coleman, who hadn't got the job done at first base. Post arrived on June 15, and Newcombe was sold to the Cleveland Indians on July 29th, and in August and September the Reds played a little better, coming out of a two-month funk. They still didn't play well, but they did go 25-33 in August and September, a slight improvement.
Bad on the field meant bad at the box office, too. The Reds drew 663,486 to Crosley Field (8,617 per game), last in all of baseball.
That offseason, the Reds didn't do a lot to improve the team. Martin was sold to the Braves, no doubt cheering a few fans, and Roy McMillan was traded to the Braves as well, clearing out the infield and marking the return of Kasko to shortstop. For McMillan, they got Joey Jay, a righty reliever and former bonus baby who'd gone 9-8 the year before. Jay seemed to be crowding an already crowded Reds bullpen. They also got Gene Freese from the White Sox (it was a three-way deal) in exchange for starter Cal McLish. McLish hadn't pitched particularly well, but he was a starter and the Reds were short of those. Freese, though, solved the third base problem, because he was at least a genuine third baseman. Somewhat defensively challenged, Freese could put the ball in the seats as he'd shown in the past, but his defensive problems had led to him bouncing around from Pittsburgh to St. Louis to Chicago.
Finally, in January longtime Red Joe Nuxhall was traded, to the Athletics for two young players. With another starter gone, the Reds were looking at a complete rebuild on their starting rotation. Needless to say, things did not look good for the Reds.
April confirmed the sinking feeling the fans must have had entering the '61 season. After a number of rainouts, the Reds' record stood at 5-9 on April 29 when longtime starting catcher Ed Bailey, one of the Reds' few star-quality players, was traded to the Giants.
The Bailey trade was a stinker for the Reds. They got back backup catcher Bob Schmidt, who had hit for a little power in San Francisco but did nothing in Cincy, hitting .129 for the rest of the year. They got pitcher Sherman Jones (in May, as a PTBNL) who pitched sparingly and uninspiringly in relief. And they got second baseman Don Blasingame, who until 1959 had been a very solid player with the Giants but was a complete bust with the Reds. Blazer was the regular second baseman all the rest of the way for the Reds and was awful, hitting .222 with no power and playing so badly he began to lose time to the legendary Elio Chacon as the season went on.
Oh, and by the way, the Reds immediately went on a nine-game winning streak, won 13 of their next 15 and 21 of their next 26, and were in first place by the end of May.
Funny old game, baseball.
What had happened was that the Reds had started to hit. Remember how well they'd done in 1959? It turns out they weren't dead in 1960, only sleeping. The Reds offense was on fire for the rest of the '61 season, and after averaging 3.5 runs a game in their 6-10 April, they averaged nearly five runs a contest the rest of the way. They were doing it with one hand tied behind their backs, too: it wasn't just Blasingame doing his best to sink the offense. Kasko, returned to shortstop, played well defensively but didn't hit much. And the Cincy catchers were putrid. Not just Bob Schmidt's .129 average, but a mighty .206/.252/.230 performance from Jerry Zimmerman, the erstwhile starter. The other catcher was the lefty-hitting Johnny Edwards, who provided Zimmerman with a dandy platoon partner by hitting .186/.279/.262. To add insult to injury, their pitchers didn't hit well either.
But the other five guys hit. A lot. Remember how Gus Bell had had a rough time of it in 1960? He continued to struggle in 1961, but mostly as a reserve, because Gordy Coleman had been given a second chance at first base by manager Fred Hutchinson. Coleman (a truly excellent fielder) responded, hitting .287 with 26 dingers. Gene Freese also hit 26 as the new third baseman, and was much improved at third base. Vada Pinson hit .343, more reminiscent of his wonderful rookie form. And with Post continuing to hit and Frank Robinson being... well... being Frank Robinson (.323, 37 HR, 127 RBI), the Reds were scoring enough runs without a bottom half of the order.
At the same time, the cobbled-together rotation featuring three kids under 25 was pitching solidly and consistently. Jim O'Toole made The Leap. Joey Jay blossomed as a starter and would win 20 games. Bob Purkey was his same consistent self, and a raw rookie, Ken Hunt, would fill in admirably and went 9-10. Jim Brosnan was once again magnificent as the closer (going 10-4 with 16 saves) and lefty reliever Bill Henry had one of those otherworldly seasons that relievers sometimes have.
And they won. They were tied for the lead with the Giants at the end of May, but the Giants cooled and it was the Dodgers who shadowed them most of the way. The crucial series happened in mid-August. Trailing the Dodgers by two games and heading into LA for a three-game midweek series (a Tuesday game followed by a Wednesday doubleheader) the Reds held their season in their hands. It was never in doubt. The Reds behind Joey Jay beat the Dodgers (and Koufax) 5-2 in the opener to draw within one game. In the doubleheader to follow, it was never in doubt. The Dodgers were crushed 6-0 and 8-0, with Purkey and O'Toole getting the shutouts. The Reds left LA with a lead that they would never relinquish.
So how did the Reds do it? A huge leap forward from one young starter (O'Toole) who had already shown much promise. A successful conversion project (Jay) to generate another starter. Another good season from Purkey. Half a season of good pitching from a raw rookie, Hunt. One good season and one great season, from a couple of established relievers.
One young player who'd struggled, Coleman, got a second chance and was very good. A new low-OBP, defensively challenged hitter came in and did what he was signed to do (drive in runs). The centerfielder returned to his All-Star form. They got one otherworldly season out of Jerry Lynch, a good lefty hitter exiled to the bench for his defensive shortcomings in the outfield. One young player, Leo Cardenas, played very well after some struggles the season before as a rookie. And they weathered two absolute zeros in their lineup - players as bad as any pennant winner has ever had. They needed some luck (the Reds beat their Pythagorean projection by ten games) but they did it, in style, improving 26 games over 1960 and well, the less said about the World Series the better. But they made it.
Anyone can. Did I mention it's a funny old game?
Thanks, as always, to Baseball-Reference and Retrosheet.