The Braves and Marlins continue to surge, the Mets and Nats hover just over .500 and the Phils continue to struggle.
Standings as of May 8th:

TEAM             W	L	 PCT   GB	
Atlanta	        20     11	.645    -	
Florida	        17     11	.607  1.5	
Washington	17     14	.567  3.0	
NY Mets	        17     15	.531  3.5
Philadelphia	14     18	.438  6.5	
The following chart was first started on 4/24 and is updated each week.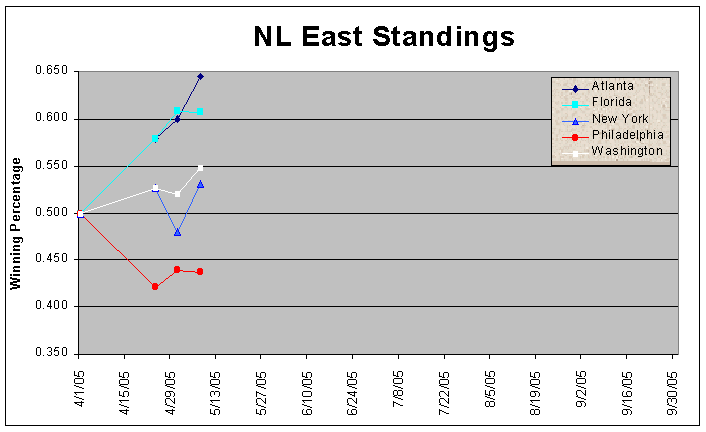 The Braves continue to roll, almost to the point where I'm going to have to chance the winning percentage scale.
Atlanta Braves
Overall Record: 20-11
Run Differential: +49
Record in last period: 9-3
The Braves pitching is still going strong, ranking 2nd in the NL with a 3.01 ERA. You're probably familiar with the starting staff (all with an ERA under the league average) but the Braves have also had a few surprising strong contributions from the bullpen.

NAME	          IP	WHIP	 ERA
Chris Reitsma	15.1	0.85	1.17
K. Gryboski	 7.0	1.43	1.29
Adam Bernero	15.0	1.07	3.00
Two weeks ago the Braves were 14th in the NL in runs. Now they're up to 5th in the NL, helped by yesterday's 16-0 thumping of the Astros and led by Chipper Jones who's hitting .349/.472/.640. However, the Braves still have two big holes in the corner OFs.

NAME	        G	AB	 BA	 OBP	 SLG
Brian Jordan	29	105	.238	.289	.324
Raul Mondesi	27	99	.202	.238	.354
It'll be interesting to see how long the Braves go with Jordan and Mondesi in the OF. Rumors have the Braves inquiring about OFs - there was talk they were interested in Gabe Gross at the beginning of the year, and more recently Alex Rios and Austin Kearns. Perhaps Chipper Jones in the OF and Andy Marte at 3B would be the easiest upgrade for the Braves to make (altough Marte isn't exactly tearing AAA up).
Florida Marlins
Overall Record: 17-11
Run Differential: +50
Record in last period: 6-3
The Marlins continue to ride the success of their starters to the best ERA in the NL (also helped by 3 postponed games in Colorado). Well, at least they're riding four of their top five starters.

NAME	        IP	WHIP	ERA
D. Willis	42.0	0.86	1.07
Josh Beckett	42.0	1.14	2.14
Brian Moehler	24.2	1.18	2.19
A.J. Burnett	43.0	1.16	2.72
Al Leiter	29.2	1.62	6.67
The Marlin offense is still in the middle of the pack in runs scored and are led by baseball's next superstar and an old friend.

NAME	          BA	 OBP	 SLG	 
M. Cabrera	.374	.415	.598	
C. Delgado	.304	.392	.510
New York Mets
Overall Record: 17-15
Run Differential: +8
Record in last period: 7-6
The streaky Mets were at it again. In the last two weeks they've managed a four game winning streak and a four game losing streak.
Kris Benson returned from injury sending Jae Seo back to the minors after he capably replaced Kaz Ishii in three starts. Tom Glavine continues his stuggles, with 24 walks in 36.2 innings, and a 6.87 ERA. Is he done?
The Met offense continues to surprise, ranking in the top tier in the NL. Cliff Floyd and Victor Diaz continue to hit well, and now Mike Cameron is back and is 6-11 with 3 extra base hits. The Mets will need to decide whether to trade one or hold them all in case an injury comes up and rotate them based on matchups.
Philadelphia Phillies
Overall Record: 14-18 
Run Differential: -24
Record in last period: 6-7
Some math: Jim Thome + back problems + slow start = trouble.
The Phils pitching ranks 12th in the NL with a 4.66 ERA, which is an improvement from a 5.34 ERA 2 weeks earlier. The problem continues to be the bullpen which has a 5.93 ERA. Don't blame Ryan Madson though. He's thrown 16 innings of 3.38 ERA ball with 19 Ks, 2 BBs, and just 1 HR.
Only the Pirates have scored fewer runs/game than the Phillies. And now Jim Thome is on the DL with a bad back. Ryan Howard is off to a 1-14 start replacing Thome.

NAME	          BA	 OBP	 SLG	 OPS
Jim Thome	.203	.347	.304	.651
Jimmy Rollins	.237	.285	.363	.648
M. Lieberthal	.227	.299	.318	.617
David Bell	.229	.276	.330	.606
P. Polanco	.241	.326	.266	.592	

You'd think that most, if not all, of these players will rebound to 'established levels' and the Phillies will start their climb up the divison standinds, but I thought that two weeks ago as well.
Washington Nationals
Overall Record: 17-14
Run Differential: +3
Record in last period: 7-5
The Nationals rank 6th in the NL with a 4.24 ERA down from 4.85 ERA two weeks ago. Chad Cordero, drafted in the first round in 2003, continues his quick rise to a top reliever (and likely is making Craig Hansen a lot of money). He's pitched 14 times with just one run allowed. Luis Ayala hasn't been nearly that good, but he's been quite durable so far as he's appeared in 19 games so far this season. In 20.1 innings of work Ayala has given just one free pass.
While the Phillies surprise by not hitting, the Nationals surprise by hitting well, in what most figured to be a pitcher's park (and still may be).

NAME	          BA	 OBP	 SLG	 OPS
Jose Guillen	.322	.354	.609	.963
Nick Johnson	.318	.438	.486	.924
V. Castilla	.307	.386	.515	.901
Jose Vidro	.290	.365	.510	.875
B. Wilkerson	.295	.367	.484	.851

Surprisingly, given that, the Nationals only rank 10th in the NL in runs/game.
Wrap up: At this point the Braves and Marlins look to be the best of the bunch in the NL East. In addition to being at the top of the standings, both teams have strong run differentials.