I was in Erie last weekend watching the New Hampshire Fisher Cats play. I spent some time getting to know Zach Jackson and Ryan Roberts.
Zach Jackson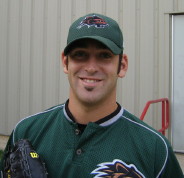 Zach Jackson has risen fast this season, jumping to AA at the end of May, less than a year since he was drafted in 2004. Jackson had a 2.88 ERA in 10 starts in Dunedin, before lowering his ERA to 1.35 in three AA starts. Jackson had one really bad start in Dunedin where he allowed eight earned runs in 3.2 innings, if that start is excluded Jackson's Dunedin ERA was 1.78 in nine starts. Jackson recently celebrated his 22nd birthday.
I asked Jackson about his first exposure to pro ball in Auburn last year. "To be honest, after a long season at (Texas) A&M, I was just getting my feet wet at Auburn, I was exhausted after a long season. My whole focus in the off-season was to work out to get ready for this long season. In Dunedin I was trying to soak up as much information as I could about the game from our coaches and our pitching coordinator Dane Johnson, just play my game and see what happens from there."
I wondered what Zach thought of the difference in his pitching in college to the pro's. "The biggest difference was in instructional league (in fall 2004) when Dane Johnson showed me the cutter, and I think that got me over the hump and got me here." Readers with good memories will recall that Dave LaRoche pointed out in an earlier interview that the Jays are trying to teach the cutter to many of their pitchers. Jackson throws a sinker as well as the cutter, a great combination. As Jackson says "I am not a big strikeout guy, my job is to miss barrels and get them to hit my pitch. Rick Langford helped me out in Dunedin, showed me a new grip on my two seamer, which is now my sinker and with that 1-2 (sinker, cutter) and I still have my 4 seamer, a good changeup and my slider or slurve." I suggested to Zach that he is a much better pitcher today than he was a year ago. "Absolutely, the coaches have really helped me out with the stuff they have in their back pocket. I am learning to pitch a lot more."
What about the move to AA? "I wondered how I would do against these hitters but I followed my game plan and I had similar results so I will still just go out there and attack the hitters." With his unusual delivery, being left-handed, pitching in New Hampshire and learning the cutter, I asked Jackson if he had heard any comparisons to Chacin. "Yeah I have heard a few of them, I had a chance to meet him in spring training and we have the same cutter and all those guys said to me if you throw strikes you will be OK."
Finally I asked Zach for a scouting report on new Jay Robert Ray, a former teammate of Jackson's. "Robert was picked in the seventh round, he is a tall, lanky right handed pitcher, throws hard, a fastball that explodes, mid nineties sometimes, real good curveball. More than anything he is one of the best guys you can meet. He was real good last year in the Cape Cod league."
Ryan Roberts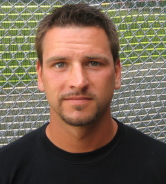 Ryan Roberts was an 18th round selection by the Jays in 2003. Roberts had a good year at Auburn in 2003 and moved to Charleston in 2004 where he hit .283 with 13 home runs in a half season. In June Roberts was moved to Dunedin where he struggled a little, hitting just .239. Roberts returned to Dunedin for 2005 where his hitting was much improved over 2004, Roberts had a .380 OBP and a .506 SLG. The Blue Jays promoted Roberts on May 23rd and he his continued hitting at New Hampshire with a .376 OBP and a .671 SLG. Ryan is 24 years old and will turn 25 just after the season ends. Baseball America did not include Roberts on their top 30 list after 2004, although our own Jordan Furlong did have Roberts at #20. The night before I caught up with the team last weekend Roberts had hit a home run over the batters eye in Akron, a distance several of the players told me was around 440 feet. When your teammates are talking about your shots, you know it was a good one. On my first night in Erie, Roberts hit two out, one off a 92 mph fastball, the other off a 84 mph changeup.
I started by asking Ryan what he thought of AA pitching? "The miles per hour on the fastballs guys throw here are about the same, I have faced guys in Florida who throw hard, but here in AA the difference is the pitches guys throw for strikes. They can throw fastballs, sliders, sinkers, change-ups for strikes, and the difference is you cannot really sit on one pitch, in a fastball count, even if the count is 3-0, they can throw a change-up for a strike just as easy as they throw a fastball."
Although Ryan had started the year strongly at Dunedin, his call-up was a bit of a surprise, was it for Ryan? "I wasn't thinking of a call-up but it's always a surprise and its always good to get called-up, but I just try to go out and play hard and keep my approach. Obviously it's worked out well and I have been swinging the bat well so far."
The one setback in Roberts' stats was when he was first promoted to Dunedin, was there a reason for that? "It's a big difference from low A to high A, I was just talking to our catcher Eric Kratz about that. The difference is command, you are used to seeing guys when they want to throw a fastball away they end up throwing it down the middle. At High A when they want to throw a fastball away they pinpoint it. The sliders and change-ups are better too. You have to become a better hitter, if you want to be able to hit you have to have an approach and think of what you need to do. Thats what I try and do, I try and think about what the pitcher is going to throw me and when he is going to throw it. I watch other batters and I try to make adjustments through the game from what he throws me early in the game to what he throws me late in the game. Basically try to keep the approach we have been taught in this organization and I think it works well."
Roberts started as a third baseman in the Jays system, but switched to second base after his first year. "I played shortstop in college for my freshman and sophomore years, then third base in my junior and senior years." I wondered what he thought when the Jays moved him from third to second. "I really didn't care. I played third base my first season in Auburn. When I found out I was going to second it really didn't matter, all I wanted to do was play, it took some time to adjust to playing on the other side of the infield, but we have great coaches who taught me, and showed me easy ways to do things. It was hard at first but it has become easier as time goes by."
I talked about Roberts with Vince Perkins who said that he was happy with Ryan back there, he felt he was the best second baseman in the system. When I said that to Roberts he said he was flattered and looked surprised. "I had to go to instructional league for three and a half weeks to learn different things."
Ryan is obviously "inked" on his arms, you can the tattoos as he gets ready to hit, and I asked about the artwork. "I think they are cool, they tell stories about people, they are like a scrapbook." Ryan has heard about other heavily inked Blue Jays like Justin Miller and Brandon League and would welcome the opportunity to get to AAA to compare.
I would like to thank Zach and Ryan for giving me their time. Look for a Clint Johnston story tomorrow.