The Blue Jays recently fielded a lineup with six first round draft picks, Vernon Wells, Roy Halladay, Alex Rios, Russ Adams, Aaron Hill and Gabe Gross. There is another first round draftee playing in New Hampshire who would love to play for the Blue Jays, first baseman Clint Johnston.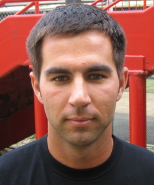 Johnston was selected by the Pittsburgh Pirates in the first round in 1998, 15th overall. Johnston was a two way player in college for Vanderbilt, playing first base and right field, and, when needed, coming in to close out games. Shaun Marcum filled a similar role for Southwest Missouri State where he played shortstop and was the closer. When the Pirates drafted Johnston in 1998 they told him they wanted him to pitch. Johnston gives a scouting report on himself. "I was a lefty who threw hard. I didn't pitch a whole lot before I was drafted, I played in the field and would come in to close games. I don't think I ever threw more than forty innings in college. I threw hard, had a decent change-up and a pretty good slider. I didn't have a whole lot of experience pitching but the Pirates thought a power arm from the left side was worth a number one pick."
Johnston was assigned to the South Atlantic League after the draft and had good numbers. In 16 games, Johnston had a 2.75 ERA, 6.4 hits per 9 innings and 10.4 K's per 9. His walks were a little high at 4.9/9. Those numbers look like a hard throwing pitcher, perhaps a little wild. Johnston went back to the sally league in 1999 but began to have some arm problems. In 1999 Johnston pitched 93 innings, in 2000 37 innings and in 2001 20 innings. Because Johnston had been injured so much, the Pirates felt safe in leaving Johnston on their AA roster at the end of 2001. The Blue Jays spotted Johnston and drafted him in the minor league portion of the rule 5 draft and put him on their AAA roster. "The Pirates phoned me to tell me I had been selected by the Blue Jays, I didn't even know there was a rule 5 draft, so I called my agent and left a message. He called back and said I think the Jays want you as a hitter." I asked Tony LaCava, the Blue Jays Director of Player Personnel, who in the Blue Jays office decided to make Johnston switch? "In the 1998 draft several teams would have selected Clint as a hitter, shortly after the Pirates selected him as a pitcher. In the Jays office several of us remembered that Clint was a great hitter in college."
I wondered if Clint was disappointed to switch. "I was actually pretty excited. I had just come off what I felt were two wasted seasons where I had elbow surgery and then strained my ulnar nerve the next year, I was tired of being hurt. I like pitching a lot, but when I wasn't pitching I was just miserable being in uniform but not on the field. I knew, after four years off, it would be pretty tough going back to rookie ball and working your way back up."
The Jays assigned Johnston to Auburn for 2002 where he hit .242 with a .344 OBP and a .352 SLG. But Johnston injured his ankle and missed time and in 2003 he tore his ACL and had to go on the DL again. "Last year was my first full season where I played from spring training all the way through to the end. That was a good season to get my 500 at-bats and get into a routine every day."
As a 1998 draftee Johnston was a free agent after 2004 but came back when the Jays told him he would be playing in Dunedin. "The FSL is a great place to play, the travel is good, you play in really nice stadiums, the only problem is there are no crowds there." Was he surprised to be called up so soon? I was hoping to get called up sometime this season. When you start a season you always want to be called up at some point, and I had gotten off to a really good start. I was a little surprised that it was as early as it was." Johnston hit .310 in 42 games for Dunedin before his promotion. Since being promoted Johnston is hitting .380, with a .446 OBP and a .640 SLG. It looks like the AA pitchers are not proving to be much different from A ball. "They don't throw any harder, they are around the plate more, the quality of the pitches is better, and they try to get to chase pitches that are pretty close to the strike zone. You really have to know your strike zone better up here, you have to lay off those pitches."
At the end of the year Clint will likely be a free agent unless the Jays place him on the 40 man roster. Johnston is old for a prospect, he will be 28 next month. Has he finally found his batting stroke, or is he having his career year at age 28? The Jays will have to figure that out before the end of the season.