Can't complain about much of anything after the Blue Jays took two of three from the first place Red Sox. In Fenway, behind a pair of left-handed starters.
They probably didn't draw it up
quite
this way. The Jays did it with the back half of their rotation. Troy Glaus went 2-10, both singles, in the three games. Lyle Overbay went 1-12. Shea Hillenbrand went 1-9 in the first two games, and with his BAVG on the wrong side of the Mendoza Line, was replaced for the finale by Eric Hinske, who promptly rapped out three hits.
A few pronouncements regarding last night's game:
Star of the Game
- Ted the Tease, obviously. Three batters into the game, Ted Lilly had allowed a double by Loretta and an RBI single by Big Papi. And then - doubtless saying to himself "the line must be drawn
here
" - he held the formidable Boston lineup to four singles over the next 6.2 innings, striking out 10 and walking none. Game Score: 71.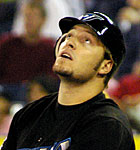 Unsung Hero
- The Dude got the offense started in the second with a leadoff single and scored with some nice aggressive baserunning on Zaun's double. He chipped with two more hits and drove in a run. I am, and I remain, the Dude's Advocate. And Vernon Wells managed just a single hit in five at bats. But when that one hit is a grand-slam home run... we give the man his due.
For the Sox
- David Ortiz drove in the first Boston run and his two-run homer off Tallett cued the Boston comeback attempt, which eventually brought B.J. Ryan into the game to face... David Ortiz, representing the tying run.
Defensive Play of the Game
- Not so much an outstanding play as a timely and necessary one. The Jays were up 6-1, but Gonzalez and Youkilis led off the Boston third with singles. Mark Loretta was the hitter, and after him would come Big Papi and Manny. Lilly got the ground ball, and Aaron Hill started a 4-6-3 double play, which took a lot of steam out of the impending threat. Lilly then fanned Ortiz to escape the inning.
Defensive Misplay of the Game
- Jerry Howarth was all over this on the radio, both at the time it happened, and later as its consequences played themselves out. The score was tied 1-1 in the Toronto second, Zaun was on third and Rios was on first. Aaron Hill hit a ground ball to Mike Lowell at third base, and Zaun lit out for home. Lowell, for reasons that surpasseth all understanding, made no attempt to turn the 5-4-3 double play and instead threw home to erase Zaun. At Fenway Park, in the second inning. Zaun was eventually tagged out, but Russ Adams got to bat with runners on first and second rather than the bases empty. Would Youkilis have been able to make a play on Adams' hit in those circumstances, for the third out of the inning? Maybe, maybe not - but after Adams' RBI single, Catalanotto walked and Wells hit his slam and it was 6-1 Toronto.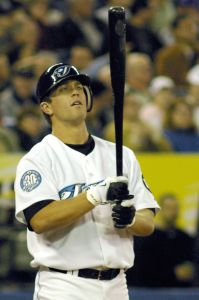 Streakers
- Vernon Wells extended his to 9 games, but Aaron Hill went 0-4 and had his streak broken off at 7 games.
DP Watch
- Even with Hillenbrand and Molina sitting on the bench, this team can still produce two outs with a single swing of the bat pretty well any time they want. They managed to hit into three double plays last night, courtesy of Hill, Zaun, and Overbay. The Jays now lead their division, their league, and the entire majors in this dubious category.
Boxscore
-
Here you go.
The Toronto offense isn't this good - the team is hitting better than .330 - but the pitching is considerably better than it's shown so far. One half of the bullpen - Ryan, Schoeneweis, and Speier - has been outstanding. The SS LOOGY still hasn;t allowed a base hit - Ryan gave up his first safety last night. However, the other half of the pen has been an abomination in plain sight. The work of Chulk, Frasor and Walker was one of the 2005 team's strengths. Furthermore, while Josh Towers has had each of his two starts ruined by a single big inning, ruined is still ruined and he is 0-2, 6.75. The Blue Jay nation suffers serious heart palpitations when Roy Halladay has a cold, never mind a strained forearm. And of course A.J. Burnett still hasn't thrown a pitch that matters.
And yet... after this series at Fenway I see no reason to think the Blue Jays can't play at the same table with the Beasts of the East. Toronto's team, as a whole, looks better to me than Boston's. The Red Sox still have their two mighty offensive superstars, which has been a major difference-maker in the past. I don't know that it's going to be enough anymore.
Elsewhere
- Maybe there is a Mazzone effect. So far, the Braves are allowing 7 runs a game. This is not something seen often in Atlanta in recent years. They're scoring just as many as they give up (the Braves and the Dodgers lead the majors in runs scored), which is keeping them afloat, although the Mets have come out of the gate
smokin'
.
Today is the birthday of a Hall of Famer - Greg Maddux is 40 years old, and he sports a 2-0, 1.46 log after his first two starts. Smoke and mirrors? Well, mirrors maybe.