The Orioles bulpen, the gift that keeps on giving.
The good guys waited out a good start by Erik Bedard and then got to work on the O's failing 'pen. The Jays relievers had their own troubles in the ninth, which gave B.J. Ryan a chance to come in and get the one-out save in his old ballpark. Ted Lilly had one of his better games after a shaky start and worked into the eighth, giving up just two earned runs.
Star of The Game
: Two homeruns, two doubles four runs and four RBI. Troy Glaus is quite good at this hitting thing, I think he may have a future in the game.
Unsung Hero:
John McDonald was again quietly impressive in the field and at the plate, but it's Shea Hillenbrand again, continuing his hot streak going 3 for 4 and picking up a walk.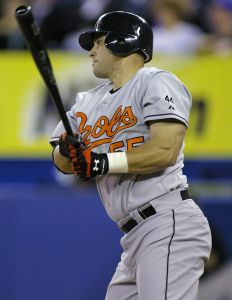 For the Orioles
: Ramon Hernandez had another good game. Nice pickup by the O's (words that are not spoken often).
Defensive Play of the Game
: Before the year there was a lot of talk about how bad the Jays infield defensive would be, with Glaus arriving and Hill taking over the O-Dog. So today this goes jointly to Glaus and Hill, Glaus for a lovely charge, bare-handed pick up and strong throw to nail Markakis in the sixth, Hill for a nice ranging catch behind second on a looping Tejada liner in the eigth.
Defensive MisPlay of the Game
: I didn't really spot anything terribly bad, anyone got any candidates? Glaus had an error on a throw, but I missed it.
Poor old Sam
: As if only having half a bullpen who can be relied on to throw the ball in the general direction of the plate isn't bad enough, Perlozzo's bench last night consisted of Raul Chavez and Luis Terrero.
Boxscore
:
here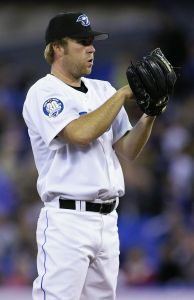 Today's Game
: Casey Janssen has a chance for revenge as he goes against Kris Benson again.
Elsewhere
: The Red Sox re-acquired Doug Mirabelli to be Wakefield's catcher yesterday. Josh Bard had let ten passed balls get by in the first month and was shipped to the Padres along with minor league pitcher Cla Meredith and a suitcase full of cash. There were lots of fun and games at Fenway as Mirabelli arrived from the airport in his uniform about 15 minutes before game time (much to the relief of Jason Varitek). Some Red Sox fans seem less than impressed by the trade, but every team needs a
stud catcher who can go deep.
If you haven't seen this video
re-creation of the 10th inning of game six of the 1986 World Servies
, then you should. It will move Moffatt to tears.