Halifax's own Vince Horsman is the pitching coach for the Lansing Lugnuts. This year Horsman has had a lot of talent entrusted to him and he is expected to get them ready to pitch both in Dunedin and in the major leagues. Horsman played parts of five seasons in the major leagues including four innings with the 1991 Blue Jays as a 24 year old.
I spoke with Horsman a week ago when I was in Lansing with the Lugnuts. I have split the interview into two parts. Today's deals mainly with the pitching philosophy of the Blue Jays minor leagues. The second installment will be up as soon as I get it transcribed.
BB: In regard to the tandem starters, does the three inning limit impact development? Does it hurt the development of breaking balls and does the fact that the starter is not turning over the order two or three times have an impact?
VH: It depends on what is going on that night. Sometimes the fastball command is not there and they have to get to their secondary pitches earlier. The downside, in the case of Syndergaard or Sanchez, where their fastball is no dominant, they don't really need their secondary stuff and they don't have to turn the lineup over. From a developmental standpoint it the same as if they were going five or six innings, they are still going to work on their stuff, they still use those pitches in between innings (note: in the warm-up pitches) and they still work on the pitches in their side work in between games. Right now we are just controlling their innings but as we get deeper into the season we will give them more innings and then we will see if they get to their secondary pitches more often and turn the lineups over.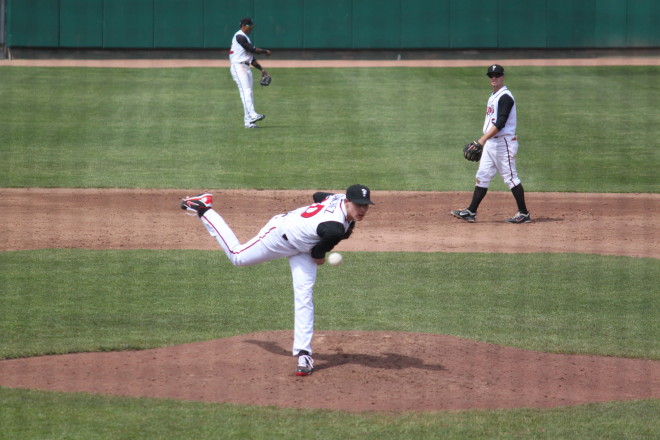 BB: So you don't mandate they have to throw so many curves or change-ups in a start?
VH: Well we do want them to throw X amount of curveballs or X amount of change-ups in a start but that changes from night to night, what's going on in the game, what kind of fastball they have, what kind of command they have. If they are struggling they may have to go to a secondary pitch to bail them out. If they are not throwing enough off-speed pitches I might talk to them between innings and say for example "I want to see four change-ups this inning, I don't care when, I don't care where, but I want to see four".
BB: What about the mental aspect? These are guys who were the studs on their high school teams, probably pitched complete games and now they are being held back. Do you see them getting frustrated or anxious by this? They are all competitive guys, they want to go.
VH: Yes, well they are all like that. That's a blessing, to have guys who want the ball and want to get deep in the game. But I think they understand there is a plan in place for them and it's not how you start it's how you finish. The finish line for a lot of those kids is in Toronto and there is a process we have to go through, it's with their best interests at heart and they understand that. They have accepted it and as we move into May they will get another inning and in June another one, then they will be back where they want to be and we will have controlled their innings, allowed them to get their feet wet and build their confidence.
BB: Do you often give them the Drew Hutchison example of a guy who was here a year ago and now is in the major leagues?
VH: I don't have to give them that example. When they found out (about Drew) they realize that this isn't as far away as you might think. We are here at the lowest of the full season teams but things can happen fast. If you are doing what you need to be doing, that is commanding your fastball to both sides of the plate, and you are using your off-speed pitches, there is no telling how far or how fast you might move through the system and get to the big leagues. Drew is a perfect example of a kid who started in the Midwest League, struggled a bit in April, got it together in May and June, then he started breezing through the system and less than a year later he is in the major leagues.
BB: Let me ask about some of the pitchers. I saw Noah pitch on Thursday, good fastball, pitches on a downhill plane, keeps it down in the zone. Does his fastball need more movement?
VH: Noah commands his fastball very well for his age. He can turn the ball over once in a while but mainly he throws the four seamer and he can pitch inside very well with it. That's part of the encouragement I am giving him, to pitch inside, and for want of a better phrase, intimidate some hitters with that good heater. That opens up the rest of the plate for you and you open up your secondary pitches by commanding your fastball. Now it's just a case of getting the kids to buy into that, they are seeing the results which helps. It's a simple formula, it's not simple in practice. We talk about it, if you want to pitch in the big leagues what must you do. And they know the answers, work ahead, change speeds. And I will just shake my head no and they look at me dumbfounded and I will say if you want to pitch in the big leagues command your fastball. And they look at you like "is it that easy" and I say yes it is that easy, but it's not. You can go to the big leagues and have very marginal secondary pitches but if you can command your fastball you can go out there and compete. But if you can't command your fastball you can't get to your secondary pitches because you are always behind and then you get predictable and you get very easy to hit.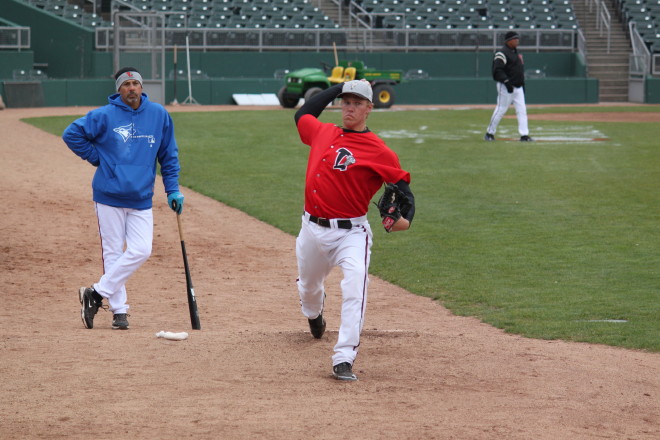 Horsman helps Syndergaard during a side session.
In the games here where we got hit around that's what happened, we fell behind the hitters, couldn't get to our secondary pitches, became predictable and then it doesn't matter how hard you throw, the hitters could catch up to it. By feeding them that information, when they have success following that formula, and when they don't have success because of those reasons I mentioned they start to get it now. If I can command my fastball I can have nothing (note: no other pitches working) when I go out there and I can make my fastball four different pitches, up, down, in, out, and if I can incorporate some movement now it's five. That's just off one pitch and I don't think that information has been presented to them when they were coming through high school, or even in junior college or collge, so when they see what can happen with that one pitch, that you throw the majority of the time, it helps give them some confidence. And then their secondary pitches will play up because of their fastball command. And they are all starting to get it.
Thanks to Vince Horsman. Part 2 coming soon.