The first Blue Jays game I distinctly remember attending took place on September 27th, 1998. It was John Fowler's birthday and the Tigers were in town. I was 11. I had been to the Skydome before, of course – my grandfather was a baseball nut, and I can remember he and I traversing down Peter Street to get to the Dome, vendors hawking peanuts and, after '92, pennants. Or was it after '93? Though I must have attended dozens of games with my grandpa Jack, those early memories have a tendency to blend together after a while. So the first Blue Jays game that I can definitely say that I attended was that Sunday afternoon in late September.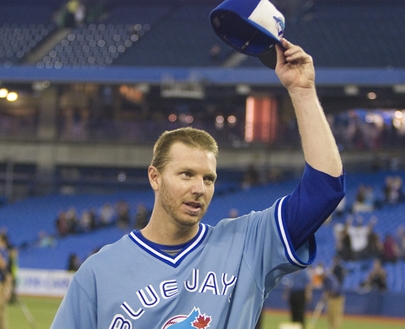 I imagine that the game is etched indelibly in the memories of most of the people at the Dome that day. It was the last game of the season, and of no import whatsoever, as was and has remained the case for most September Blue Jay affairs. To be fair the Jays had in fact done pretty well in 1998, finishing with 88 wins, which still stands as the franchise high water mark during the post-World Series years. Of course the Yankees did better, famously, winning an astonishing 114 games, while the Red Sox scraped by with 92; needless to say, heading in the potential for drama was fairly limited. But one of the Jays' top prospects, the gentle giant Harry Leroy "Doc" Halladay, was making his second career start, and nearly 40,000 people showed up to celebrate. Anyway, I'm sure by this point you know where this is going. Felipe Crespo, in his otherwise undistinguished Blue Jays career, made a lousy error in the fifth, and Bobby Higginson hit a two-out home run in the ninth. And that was it. Maybe the mantle wasn't quite literally passed from Dave Stieb (who was actually in the Jays bullpen at the time, part of an inexplicable, failed comeback at age 40) to Halladay, but it sure seemed like a good start.
Of course the best laid schemes of mice and men often go awry. Halladay made it through the 1999 season intact, splitting time between the bullpen and the rotation, and with a nifty 3.92 ERA to boot. It was, however, illusory – Doc walked about as many as he struck out, which is to say way too many and way too few. His 2000 season was much the same, except this time his luck didn't hold. His ERA hit two digits in almost 70 innings, one of the worst pitcher seasons of all time, and he spent the latter half of 2000 and the beginning of 2001 in the minors, working with roving pitching instructor Mel Queen. At 23 he could have been done, over before he even began.
If that had happened though we probably wouldn't be here today talking about Halladay's career. Queen broke down and rebuilt Halladay's, well, pretty much everything. Fortunately it worked: by September of 2001, when he struck out 38 and walked 5 in 38.2 innings, Halladay was Doc. He led the majors in innings in both 2002 and 2003, winning a combined 41 games and his first Cy Young award. Halladay was more than just good though - he was ruthless, and unrelenting, and always trying to get better. Tom Henke may have been the Terminator, but Doc was the unstoppable killing machine. 
In his two starts in 1998, including the one-hitter, Halladay recorded 12 groundballs vs. 26 fly balls. By the time he returned in 2002 he'd flipped those numbers, getting nearly 60% of his outs in play on the ground, a massive number. In 2003 he struck out more than six times as many as he walked (one of four times he'd do that in his career), and went less than 6 innings just three times in 36 starts. He pitched four straight complete games down the stretch, allowing 18 hits, 4 walks and 1 earned run over the course of 37 innings. Of course it wasn't enough to get the Jays in the playoffs, and never would be over the duration of his Blue Jays career, though it was never his fault. The team just wasn't good enough.
For a city that has a remarkable tendency to turn on its superstars once they decide to leave, fed up with the mediocrity that has afflicted Hogtown's teams for the better part of my lifetime (see Carter, Vince), Doc got the warmest response possible from Toronto fans during his first and only visit to the Skydome wearing visitor's colours. It wasn't his fault that he left, and we all knew it. Baseball is a team game, but less so than in any other sport can one man, no matter how much of a giant, have a singular impact upon each and every game. So to was it with Doc, who would struggle, like Sisyphus, never able to get that boulder to the top of the hill. So it didn't matter he was somewhere else, we just wanted the best for him. It didn't hurt, as it might have, that he was brilliant after he was gone, throwing a perfect game and winning his second Cy Young, and narrowly missing a third. We we're just happy for him.  And he got closer in Philadelphia than he ever did in Toronto, reaching the postseason twice and the NLCS once. He was inconsistent in the playoffs, throwing a no-hitter but getting knocked around in the NLCS. In his last playoff start he allowed one run in eight innings, and lost, to the Cardinals. Short, once again, through no fault of his own.
Last year was a rough one for Doc. Despite having adjusted his style of pitching constantly during his career, in pursuit of maximum efficiency coupled with minimal effort, Doc, health failing, just couldn't pull it together this time.  And so he decided to retire, to go out, if not on top, then at least on his own terms. That he'll do so as a member of the Blue Jays, signing a one day contract, speaks to the bond, and love, between Doc and this city and this team. I had always imagined, perhaps like other fans, that Doc would retire as a Blue Jay. I just thought it would be in 2022, when he would finally realize six o'clock in the morning is for fishing, not running stairs. But while Doc possessed the mound with a fervor and intensity near unmatched in modern baseball history, one never got the sense he was consumed with it, so perhaps this is for the best, for him and for the game.
Upon retirement questions immediately turned to Doc's Hall of Fame chances, because that is the world we live in. I don't know if Halladay is a Hall of Famer or not. I don't even really know what a Hall of Famer is anymore, to be honest. Despite his Herculean efforts on the mound his accumulated stats fall short of most of the pitchers in Cooperstown. Only 200 games won. Less than 3000 innings. Perhaps if he hadn't lost part of a year to shoulder problems, or had won a third Cy Young, rather than have his leg shattered by a Kevin Mench line drive, it would be an easier decision
But if not him, then who? After the Atlanta Trio, Roger Clemens*, Randy Johnson, Pedro Martinez and Mike Mussina (presumably) make it, who are the Hall of Famers of our generation?  Andy Pettite? CC Sabathia? Johan Santana? Tim Hudson, Mark Buehrle, or Cliff Lee? They're the only ones close to Halladay, in terms of career WAR. Sabathia, coming off the worst season of his career, and at his best rarely Halladay's equal, is the only pitcher amongst the active top ten with a chance to catch him (bWAR). Justin Verlander, Felix Hernandez, Matt Cain and Clayton Kershaw could surpass him, sure, but are four, five, six years away from doing so, at least, and as we've seen, when the end comes it can come fast.
In the end I'm not sure that I care. I doubt Doc would, frankly, as he rarely seemed concerned with individual accolades during his extraordinary career. To me the takeaway, whether it's in Philadelphia or Toronto, are those few indelible moments. After your 300th live baseball game, or 1300th on tv, or what have you, the games can start to run together a little bit. You understand how guys can talk about how that Boog Powell single won the 1966 World Series for the Orioles when actually it was Luis Aparicio, or whatever. Memory can be a funny thing. But for Doc, some games are just burned into your brain. The Tigers one hitter. The Reds no-hitter. The Perfect Game. The 10 inning shut out against Detroit, or that other 10 inning complete game against the Tigers*. I could go on, but you get the picture.
*Poor Detroit, they put up a 72 tOPS against him, career. Halladay walked 10 out of the 459 Tigers he faced. The Pirates were 33/182, and had 5 extra base hits. Unreal.
My grandfather never got to see Roy Halladay pitch, passing away a year before Halladay would make his big league debut. At the risk of sounding clichéd, I'm pretty sure he would have liked watching Doc on the mound. Big, durable, taciturn, Doc was a throwback in just about every way. Indelible. We're just fortunate that, due to some accident of fate, he was born forty years too late, and that we got to watch him take the mound every five days. Even if, after sixteen years, it still all seems too short.