The Fighting Jays win a wild and crazy one at Fenway as B.J Ryan outduels Papelbon in the ninth.
You have to love B.J Ryan, fine man though he may be I really really wouldn't have wanted to see Batista trotting out there last night, as soon as Ryan John-Wayned his way to the mound I figured the game was won.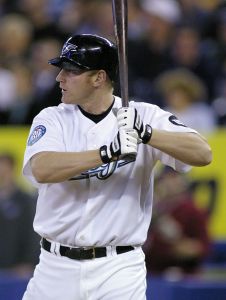 Star of The Game
: Overbay was 4 for 4 with a couple of runs.
Unsung Hero:
McGowan came in to the eighth with the Fenway crowd going nuts, a man on second and no outs. It wasn't a vintage performance by any means as he immediately gave up a Lowell single and a run, but he hung in and gutsed his way through the rest of the Inning to keep the Sox at bay and the game tied.
For the Sox:
Manny was being nothing like Manny, but he still went 3 for 4, he seemed quite happy to be lining singles last night and not trying to hit scary, nasty bombs everywhere.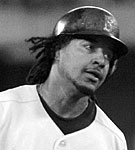 Defensive Play of the Game:
A couple stand out. Wells made a beautiful sliding catch on a ball that was dropping in front of him and greatly impressed Rance in the booth in the process. Hinske, back at first in the ninth, made a lovely jumping snag on a rocket from Manny.
Defensive MisPlay of the Game:
Zaun had a mini meltdown in the ninth with back-to-back bad plays. First he let Ryan's strikeout pitch to Mohr get away from him and allowed to Mohr to scamper up to first, then trying to atone he threw the ball past the bag at second when Harris was trying to steal second letting him advance to third. Ryan picked him up by striking out Varitek to end the game.
Ouch:
Aaron Hill took a nasty Youkilis shot off the chin, but being a Fighting Jay still made the out before checking whether anything was broken.
SOSH:
The Sons of Sam Horn is one of the worlds great sources of unintentional comedy, here are a few random snippets from last night:
"Beckett's career has been one big postseason and a .500 record. He may never be anything more."
"The most disappointing aspect of tonight's game was Beckett's performance. He's beginning to remind me of Clement."
"I think my absolute hatred of the blue jays is aproaching yankeesque levels. These ******* ***** have our numbers, its like they know our signs or something. They get away with a balk, alex gonzalez sucks and then they smack Paplebon around. What a game."
"The Blue Jays are really ******* me off. I used to kinda like them, but now they **** me off. When did they decide to get competitive and ****?"
"This Mike Lowell guy is a stud and should be mated with the finest of females!!!"
"Alex Gonzalez, meet the first base coach. Not sure if you've met before."
WWJP
: Was there one? Was anything interesting forthcoming?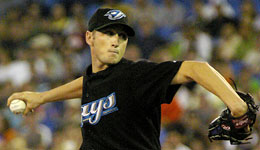 Boxscore
:
here
Today's Game
: Josh Towers (10.45 ERA) takes on Matt Clement (6.14 ERA), if you're scoring this one at home you might need an extra pencil.