The Jays were again undone by poor starting pitching and the double play.
Oh, and Grady Sizemore of course. A.J has been very good recently, but last night he didn't have his stuff. He battled hard to be fair to him and gave the Jays seven Innings in filthy weather, but his struggles showed in his numbers he struck out just two and walked five while giving up all Cleveland's six runs. He just couldn't seem to keep his fastball in the zone and his sinker wasn't sinking last night. Cleveland's hitters hit him hard, for a homer and three big doubles off the left field wall. For Cleveland Paul Byrd had a little better time of it, but needed Fernando Cabrera to get him out of a bases loaded jam in the sixth. With a three run lead Byrd gave up four straight hits to Wells, Glaus, Overbay and Zaunto open ihe Inning, scoring a run and loading the bases with no outs. Cabrera came in and turned things around for the Indians, he got Molina to ground into the 6-4-3, this scored a run but killed the Jays rally. Rios followed up with a flyout to center.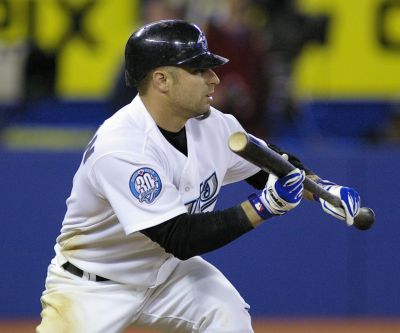 Star of the Game:
The Amazing Mr Sizemore was three for five with a double and a massive homer. He leads the league now in extra base hits, runs and doubles.
Unsung Hero:
Paul Byrd wishes to award this to Cabrera - "Cabrera picked me up," Byrd said. "I didn't deserve the win. He should have gotten it."
For the Jays:
Sparky had another typically great three-hit Sparky game, capped off with another fantastic bunt single, this time to the first base side, and his 30th double of the year.
Boxscore
Russ Adams
was back with the club and in the lineup last night, called up from AAA as a swap with Roberts.
Jordan Bastien has a look at Russ' personal season from hell.
"I haven't had a whole lot of fun," said Adams, the master of understatement. Adams will be backing up McDonald and Hill, and he has a lot to prove to the organisation over the next few weeks.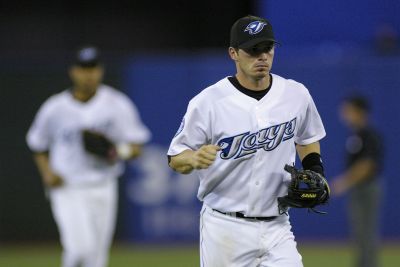 Congratulations Cat!
Mrs Cat gave birth to the Catalanotto's third child on Monday, daughter Karson Riley, Cat will miss the series to be with them and will rejoin the team in Boston on Thursday.
Elsewhere in the East:
Boston kept their lead in the second place race to two by losing to Oakland and He Who Shall Not Be Named, more alarmingly for the Sox Big Papi will return to Boston today for more tests on his irregular heartbeat. "He will get a clean bill of health before he plays again," manager Terry Francona said. "The games are important, but we have a responsibility to do what's right."
Today:
Chacin goes to the hill against big C.C, 7:05 P