Hey, for once, the Devil Rays didn't blow a lead!
Yesterday's Game, Executive Summary:
Good pitching and a four-run sixth sunk Tampa Bay.
Star of the Game:
Some might say John McDonald, but I say Adam Lind. Did you know he already has more doubles with the Jays than McDonald has all year?
Defensive Play of the Game:
The double play started by Ben Zobrist would be the one. Though it took McDonald 4.56 seconds to reach first base; that's enough time to turn two, especially when Tomas Perez's throw was just a bit down the line...
Headwin:
I don't know how Edwin Jackson survived that one. He doesn't even get credit in the play-by-play, either: "Adam Lind doubles (7) on a line drive to left fielder Carl Crawford." Perhaps Gameday should introduce the notation "In play, brain-damaging play".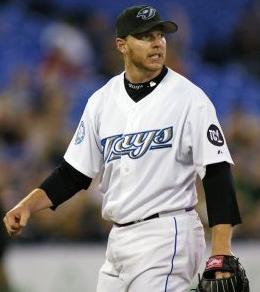 And While I'm Here:
John Gibbons said something after Friday's game that, if true, made me shake my head and wonder what he could be thinking.
Mark Polishuk
, what was that exactly?

Gibbons said that denying Halladay a chance at the win by not sending him out for the 10th inning was "the toughest decision I've made all year," but the hurler felt it was the right move.


Come on.
That
was the "toughest decision" you've made all year? Your ace left his last start due to injury. He throws 110 pitches in the next one through nine innings. The bullpen is super-rested -- they all had the day off Thursday and only Justin Speier threw on Wednesday. The only
other time
Halladay went more than nine innings, he finished with 99 pitches and was cruising like nobody's business against our generation's version of the '62 Mets. If John Gibbons really had such a hard time deciding
not
to send Halladay out for the tenth on Friday...well, that's just wrong.
Elsewhere,
the Red Sox and Yankees split a doubleheader, meaning that Boston and Toronto are now just one game apart in the A.L. East. The last time the Jays finished second, I was three years old, so this would be something new. When the same team wins the division every year, I guess you have to pick your battles.
As for the National League, I'll just point you to
this quote
. Dave Studeman's always-excellent
Ten Things I Didn't Know Last Week
article drove me to Balls, Sticks, & Stuff, where the line about the Phillies' playoff hopes is spot-on:
the Phillies have continued to flirt with the National League Wild Card race the same way a twelve year old boy flirts with a girl -- able to pull the pigtails but not sure what to do once he gets the desired attention