So you know how in football, when the talking heads want to hint at an upset in a game without actually predicting it, they call it a "trap game" for the favorite because there are certain circumstances that have a leveling effect, right? Well, this series is about as close to a baseball equivalent as you can get. Somehow, the baseball gods conspired to throw Tampa Bay's top three starters at the Jays in the second series of the year. The Jays also lucked into the one night the Trop should actually sell out with an energetic, partisan crowd - the home opener. And finally, Gregg Zaun's right arm just happened to have a disastrous series right before a three-game set against the most aggressive baserunning team in the AL. Yeah, I'm just a little bit antsy about the Jays' chances this weekend. Viewer discretion is advised as we move on to the Advance Scout...
Jamie Shields:
Scary. He was scheduled to give the Yankees fits earlier this week, helping the good guys out in their noble quest to subvert the dominant AL East paradigm, but got pushed back when the Yanks and Rays got rained out on Wednesday. Ye baseball gods.
At least the Rays won behind Jae Seo
yesterday, but Shields is the last person I, as a Jays fan, want to see when the Rays come up on the schedule. It's not that he's necessarily an above-average starter yet; it's that the Jays are a very good matchup for him. Why? He's an underrated righthanded strikeout artist with control. He's basically a two-pitch pitcher, but one of those two pitches is an irresistible modified changeup around 84 mph that made a lot of great hitters look stupid his first time through the league. If Shields gets you 0-2 or 1-2, you're in a world of hurt. So confident is Shields in his change that he has no qualms about telling
Bill Chastain
and hence the world at large everything there is to know about it: "I kind of invented [the grip] myself. I was messing around with different grips, but it's more or less a circle change -- a variation." He emphasizes the importance of making sure it breaks down, not left: "If you get more of a side-to-side movement, it's not that good. You get an angle, either straight down, or down to the right." As effective as the change is, Shields' two-pitchiness is likely what stands between him and being an above-average pitcher: he gets hit pretty hard since hitters can sit on the fastball early in the count. His line drive rate, BABIP and homers-per-fly rate will probably all stay above average until he develops a reliable third pitch. Last year he mixed in a curveball a bit, but still leaned heavily on the fastball-change combo. If he can start getting strikes and missing bats with the hammer, the Rays will have a strong 1-2 before Jeff Niemann ever sets foot at the Trop.
Casey Fossum:
Lefthanded trashball maestro with declining K rates. Fossum underwent shoulder surgery in September in hopes of regaining some of the velocity he had earlier in his career, and that might give him some of his lost K's back, but his bread and butter won't change: power curves, slow curves, sliders, slurves and whatever other possible permutations of the essence of breaking ball you can imagine. Fossum's curveballs are his favorite weapons because they're useful even when he's having a bad time spotting them. Take it away once again,
Bill Chastain
: "When [the hook isn't] going well, it's something I can bounce, get the batter to chase after it, throw it at a different point in the count when they're not expecting it -- drop it in there. I have pretty good control of my breaking ball. But when it's going good, I can throw it when they're looking for it and still get away with a ground ball or a swing and a miss." What makes Fossum particularly annoying when he's on is his ability to throw his curveball at two very different speeds: "Just like people have a changeup off their fastball, I have a changeup off my curveball. I throw that anywhere from 45 to 65. I can change speeds with it. I like the super hard one and the super slow one. If I start messing with stuff in between, it's harder." Aaron Hill, who
rakes Nate Robertson
, is 10-16 with a jack and four walks off Fossum. Perhaps there is a pattern here.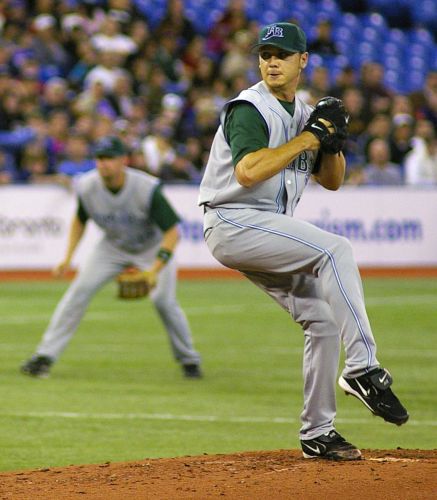 Scott Kazmir:
Rematch! The flamethrowing lefty faced Roy Halladay the first Sunday of last year, too, and won. That set the tone for his best year yet. He was dominant when healthy in 2006, but he only made three starts after July 23 due to inflammation in his left shoulder. However, it only took him until December to feel like he was at
100% again
. How long that lasts is anyone's guess. While it lasts, though, pity the poor teams that draw this guy: check out his line in the chart. His only warts are his tendency to run deep counts and his ever-so-slight homer issues. It's hard to find fault with a guy who gives you 6 innings a start with a 3.24 ERA, though. Kaz does it with his blazing fastball, his late-breaking death slider which he throws to both sides of the plate with confidence, and a change as well. The patient, homer-happy, right-leaning Jays are a rotten matchup for Kazmir, as they are for most lefties, but Doc still shouldn't expect too much support. It should be a good duel.
The Trop Itself:
Has been renovated! The floor is yours, Team President Matt Silverman: "Last year, the focus was on changing the personality of the building, and it became friendlier and more energetic. This year, the changes are dramatic to the visual sense with the new turf and the scoreboard and these other changes. When you walk into the bowl, you will have a different sensation."
Eduardo A. Encina
at the St. Pete Times has a detailed summary of the changes. There's a ginormous scoreboard in right that will cover a large portion of the wall above the right-field seats. In dead center, there is a dedicated box score video display board. There are vertical ads with faux brick surrounding them to give, as Silverman puts it, "an
Ybor City
theme." There will also be a beach-themed area in left field, lamp posts, a dance floor and the newest style of FieldTurf (watch for falling outfielders!). In addition, a significant section of the leftfield wall, formerly 9 feet high, is only 5 feet now. The motivation for this change was to give Carl Crawford more opportunities to steal homers for highlight-reel catches. As far as I can tell, the stadium dimensions are the same as they were last year, but it's still going to be a brave new Trop.
Blue In Green:
The Rays'
official site
has a double-blue theme rather than the traditional green, which can only help fuel rumors that the team is preparing to undergo a complete rebranding and desatanicization in 2008. Check it out. I think it looks very nice and surprisingly distinctive.
Elijah Dukes:
Maybe I'm just living under a rock, but it seemed like Dukes' .293/.401/.488 line in AAA stayed entirely under the radar this spring. I guess his cover's blown now, eh? Two games at Yankee Stadum, two loud bombs. Ho hum.
Amy K. Nelson
at ESPN, who specializes in optimism and enlightenment, has an optimistic and enlightening feature on the background and education of Elijah Dukes: "My biggest fear right now is making a way for my family and my kids. I just want to pave that way and make sure they never have to go through what I did growing up." It really sounds like the Rays love the guy; how many players have teammates who profess a willingness to take bullets for them?
Delmon Young:
Doesn't quite have anything remotely resembling Dukes' patience yet, but what he does possess is huge power potential. He rocketed through the Rays' system to make his ML debut at age 20 last year.

Akinori Iwamura:
Scroll down on the link to find his career stats and some fascinating notes on his career. His favorite food is fish, and a wrist injury he suffered in 2003 was rumored to have been caused by working out with a 45-ounce bat. Virility! Iwamura is nicknamed
Top Gun
'cause he has a rifle arm. In Monday's opener, he reached base three times and notched the Bronx's only spotless third-base defensive performance. The hit was the best part, as it earned him a much-desired reprieve from media criticism: "The only thing I was thinking was that no Japanese media are going to bother me about not getting a hit," he told the St. Pete Times'
Marc Topkin
. The hit helped him avoid the indignity of an 0-9 start like the one he had in spring training. How'd getting off the March schneid feel, Gun? "
Like I passed a kidney stone
."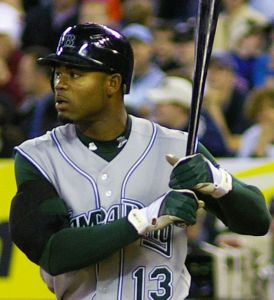 Carl Crawford:
Thinks this year's Rays are going to run wild
. He's probably right - there are a lot of really good stolen base percentages on this team and a surprising amount of on-base potential, but not much power. His goal is to steal 60 bases this year, and he has Upton penciled in for 50, Dukes 30 and Delmon Young 25. "We're not really driving the ball like other teams. So we've got to go to that speed game. We already saw [game pressure on the defense] in the first game, a bunch of movement going on, where you have to be perfect on throws. I'm pretty sure it's uncomfortable for pitchers and catchers." Hopefully Gregg Zaun's arm is back in order, because if not, this will be one wild weekend.
Rocco Baldelli:
Hit 10 homers after August 30 last year. He didn't play centerfield in the Yankees series, DHing Monday and sitting Thursday, but he will probably reassume his usual perch sometime this weekend.
Al Reyes:
Spent 2006 recovering from Tommy John surgery after a long and very productive career. The Rays smartly scooped him up with a minor-league contract in December. He pitched well in spring training - 6 K's, a walk and a 1.80 ERA in 10 innings. He's probably going to get all the Rays' save chances for now.
Ruddy Lugo
sees him as a mentor: "He's old. He's what? Thirty-six? But he worked hard to get back here. You can learn a lot from someone like him." Reyes' sinker was in the high 80s last night, when he pitched a 1-2-3 ninth to nail down a win in the Bronx. The Rays seem to like his experience in the closer's role, which is perfectly reasonable...
Shawn Camp:
... but for my money, Shawn Camp is the best pitcher in this pen. He's a proven groundball pitcher, with GB rates of 56.1%, 54.9% and 57.3% over the last three years. He's also a very good bet to post a 2.5 K/9 rate. He gets those groundballs actively with his sinker.
Bill Chastain
has the dirt on that pitch, too: "When I'm going bad, the ball is going side to side. [Rays pitching coach Jim Hickey] said when I can see the ball going side to side, I'm watching it -- trying to create a sink. Sinkers, you can't even see it when you're doing it. But the hitters will let you know, because they're hitting the top half of the ball." Camp is entering his fourth year in the majors and his second in Tampa. He's 31. He's a keeper. And here's to Mr Chastain for deriving maximum value from his access to an exciting young team and a mainstream media outlet. He is an example to us all.
Gary Glover:
Veteran reliever who had a 4.97 ERA in Japan last year. He made his major-league debut many moons ago, pitching exactly 1 inning for... the 1999 Toronto Blue Jays.
Brian Stokes:
An organizational soldier who was signed as an
undrafted free agent
in
1998
and saw his very first action in the majors as a September callup last year. Yup. And yet he does have a pretty live arm with a 94-mph fastball and a sharp slider. He was entrusted with eighth-inning duty last night. He was considered for the fifth starting job but lost out to Edwin Jackson. Stokes might get a few save opportunities before the year is over.
And, Credit Where Credit Is Due:
Batted-ball and Leverage Index data are available at
Fangraphs
. K% and BB% are strikeouts and walks respectively as a percentage of plate appearances. I replaced the LHP% stat for hitters with raw homers for no real reason other than that chicks dig the long ball. Everything else, most notably the AL average statistics, is available at
The Hardball Times
. The "Rest" column for relievers is basically self explanatory: the number on the left of the forward slash is the number of days off the pitcher has had, while the number on the right is the number of pitches the pitcher threw in his last outing.