Donít hate on the Rays just because theyíre young, talented and successful.
Does the Plexiglass Principle suggests the Rays will slip back this year?

The Plexiglass Principle - teams that improve in one year tend to decline the next - was one of six indicators that Bill James used to identify whether a team would improve or decline in the following season. Our friend Craig Burley wrote about them at The Hardball Times a couple of years ago. Altogether they are the Pythagorean Principle, The Plexiglass Principle, The Law of Competitive Balance (winning teams regress to the mean), Age (Young teams tend to improve), AAA performance and Late Season Performance.
For the Rays three indicators suggest a decline. The Pythagorean Principle (their Pythagorean record was 92-70), The Plexiglass Principle (a huge increase in wins from 2007 to 2008) and The Law of Competitive Balance. The other three indicators suggest the opposite. They Rays are a young team, all the starters are well under thirty, only two regular hitters (Burrell and Pena) are over thirty, it is only the bullpen where a few grey hairs might be spotted. AAA Performance (Durham were 74-70) and Late Season Performance, the Rays had a .585 winning percentage before the All Star Break and a .617 winning percentage afterwards.
So, pretty inconclusive. Edging I would suggest a little towards a decline as, I think the first three of these indicators carry a little more weight than the latter three. I've got nothing to back that up, it's just the way I see them.
Will the Rays Bullpen decline enough to stop them contending?

This line is being pushed by some of the MSM, Buster Olney and Tracey Ringolsby are the most recent writers I have seen using it. The Rays bullpen was excellent last year. Their 3.55 bullpen ERA was good for fifth in the Majors. Let's have a look at the numbers of the Rays' main relievers from last year.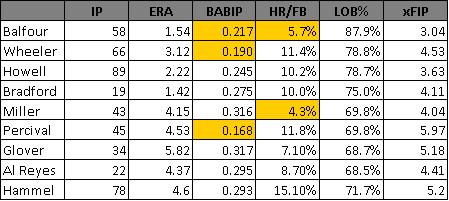 They got outstanding performances from Balfour, Wheeler, Howell and Bradford - all of whom will be back this year. However, there are some ominous warning signs, the shaded cells in the tables above are performances that are highly unlikely to be repeated. BABIP tends to be around .290-.300, even though that there are pitchers who seem to have an ability to out-perform their BABIP consistently, it is very unlikely that four Rays pitchers are going to have a BABIP under .220 again this year. Similarly research has shown about 11% of outfield flies are hit for home runs, rates around 5%, look to be more the result of luck and are very unlikely to be repeated. This suggests that Balfour, Wheeler and Percival are a good bet to be unable to match their performance of last year.
The balancing factor here is that Miller, Glover and Reyes are all gone and their Innings will largely be going to Brian Shouse (2.81 ERA, 3.42 xFIP in 2008)and Joe Nelson (2.00 ERA, 3.59 xFIP). Both these guys were considerably better than those they'll be replacing last year, and can expect to be again this year.
So whilst the bullpen will likely see some deteriorating performances from some of last years return-ees, the new blood should make it a more balanced group. Overall they might not be as effective a 'pen as last year, but there shouldn't be a huge fall-off.
Who rounds out the pitching staff?
There is one opening in the rotation and one in the bullpen to start the season. The fifth starters spot (behind Shields, Kazmir, Garza and Sonnanstine) is going to go to either Jeff Niemann or Jason Hammel. Both these guys are out of options and it seems likely that the Rays have been delaying making the call as there could be a trade brewing, if they get a good offer for one of the two he'll be moved and the other will start the season as the #5. There have been rumours in the Florida papers that the Padres and Pirates have expressed considerable interest in Niemann and the Rockies in Hammel. Joe Madden is being very diplomatic about who he might prefer: "You've seen these two guys and if you had to sit and evaluate them it's damn close". In the bullpen the final spot will go to either Jason Isringhausen or Lance Cormier. Issy is 36 and coming off elbow surgery, but the Rays seem to be intrigued with the idea of having a guy with 293 saves under his belt around if Troy Percival misses some time. Lance Cormier would seem to be a more logical fit in a 'pen that doesn't have a designated long man/spot starter right now, he's started 24 games in his career and could come in and go a few Innings if a starter gets knocked out early. The most logical choice to me would be to use Niemann in the rotation and Hammel in the bullpen and let Isringhausen and Cormier go, but that option doesn't seem to be being considered, or at least not reported. This will all change sooner or later in the year anyway when David Price is deemed ready to join the big club and Chad Bradford returns from injury.
Update: That'll teach me to be organised and write this a couple of days in advance. The Rays announced last night that Issy will be going on the DL to start the year, meaning the last bullpen spot will go to either Cormier or Hammel or Neimann depending upon who makes the rotation and if they can pull off a trade. Issy will probably be available to pitch a few weeks into the season, when he can slot in if there's an injury or if any of the incumbents isn't pitching well.
How will they lineup?
Once Upton is back with the club after his injury (maybe only a couple of weeks) the Rays will probably send this lineup out:
1. BJ Upton
2. Carl Crawford
3. Evan Longoria
4. Carlos Pena
5. Pat Burrell
6. Gabe Gross/Gabe Kapler
7. Dioner Navarro
8. Aki!
9. Jason Bartlett
That is a pretty impressive lineup one through five.
Matt Joyce seems to have the inside track on replacing Upton in the early going, Ben Zobrist might also see some time there. I doubt Joyce will lead off, he's more of a power guy, which suggests former leadoff guy Aki iwamura could see some time at the top of the order, perhaps with Zobrist getting the nod against lefties.
The bench will consist of Shawn Riggans, Zobrist, Willy Aybar and the spare Gabe.
Isn't sending David Price back to the Minors just showing off ?
Yes, if you're a Jays fan or Orioles fan it sure looks like it. They're just saying, look we have so many great young pitchers, we can afford to send this guy (a #1 ranked prospect with a 1.59 ERA in the post-season last year) down to AAA and still have a great rotation. Let's face it, if Price was an Oriole he'd be their ace, and he would probably be the Jays presumptive #2, but the Rays are sending him down because he's not quite shiny enough yet. Maddening I tell you, quite maddening.
Price is going down ostensibly to work on his changeup and his efficiency. The Rays don't want to give him a regular rotation spot until they're happy he can use his change effectively - he apparently didn't throw a single changeup in his impressive bullpen stint in the playoffs last year. They also seem to be worried he might be a little Kazmir-esque with his pitch efficiency - they need to send him a few Doc videos. Joe Madden noted when he was sent down "... he has done well, but a lot of high pitch counts after four or five Innings. We don't want that to be a part of his game". Keeping him in AAA of course has a couple of ancillary benefits. They get some time to showcase the fifth starter to the rest of the league, if they want to trade him before calling Price up, and probably more significantly they can monitor and limit his workload through the first couple of months of the season. As is often remarked it's easier to pull a guy out of games in the minors. They are clearly looking to ease Price into the season gently and hoping he can have a big impact in the stretch drive.
How's the Farm System now Longoria and Price are in or on the verge of the Majors?
Oh, still quite ridiculously deep. There's Wade Davis, Reid Brignac and Desmond Jennings at the top, they are all (of course) in Baseball America's Top 100 and have been around for a while. Relatively newly arrived there's last year's #1 pick Tim Beckham - he might have a future in the game by all accounts, and is also in the Top 100. Then there are a few more scarily good pitching prospects hanging around, like Jeremy Hellickson (B+ from John Sickels), Nick Barnese (B-), Matt Moore (B-), and Jake McGee who is back from Tommy John surgery. There's even a power hitting catcher in John Jaso, who'd probably be getting a lot of noise if he was in some other systems. Although they don't have all the best prospects in baseball anymore (Kevin Goldstein ranks Oakland and Texas ahead of them), they do still seem to have an unhealthy amount of them.
Will Carl Crawford be better in 2009?
Almost certainly. He was hampered by a hamstring injury and a finger problem in 2008, leading to his rather ordinary .273/.319/.400 line. He seems to have the non-Vernon Wells type of hamstrings though, and he'll be back completely healthy to start the year. Chone is predicting a .298/.343/.454 season and there will probably be about 50 odd steals, some top flight aggressive base running and stellar defense thrown in for good measure.
Is that annoying loud mouthed fan, going to be back?
There is some hope here. Heís a Real Estate Developer, and knowing the state of the Housing Market in Florida maybe he canít afford tickets any more?
** Did you know this guy is originally from Toronto? Iím mortified by this.
Are they going to win the AL East again?
It's quite possible, but I'm going to say no. They should win a few games over 90 and be in a three way race with Boston and New York for most of the year. I like them to edge the Yankees for the Wild Card and end up a couple of games behind the Red Sox for the Division.