The Jays are off to their best start in eight years after ruining the Indians home opener with a
13-7 win
Friday night at Progressive Energy Field.
Heading into this series, the Jays had dropped 15 of their last 17 games to the Tribe. That's what The Score Ticker told me when I was having lunch with the missus at East Side Mario's in Barrie. We were greeted by this very attractive hostess. I had the Mariboli Wrap which was quite good! Also enjoyed a Caesar salad. The missus was happy we were sitting near a Vancouver Canucks pennant. I thought it looked like a pissed off whale and that Mats Sundin looked quite silly wearing it. I think that was the real reason trophy wrecker Trevor Linden retired. I didn't tell her this because I would've worn her meal on my new suit from Korry's Clothiers, 569 Danforth Avenue.
Scott Richmond got off to a rocky start as Travis Hafner hit a two run double in the first and followed up with a solo blast in the third to give the Indians a 3-0 lead. The Jays fought back in the fourth when Vernon Wells singled and Adam Lind homered to left off Indians starter Scott Lewis. Lewis still couldn't get away scot-free (this stuff just writes itself, doesn't it?) as Scott Rolen followed with a double and he was driven home by a Kevin Millar single for his first RBI as a Jay. However, Millar tried to go to second on the play and he was tagged out. That wouldn't be the last time he had an adventure on the basepaths but more on that later. The next inning, the good guys grabbed the lead on Marco Scutaro's solo shot off Lewis in the fifth. Then the rains came down and the teams had to wait out a nearly four hour rain delay.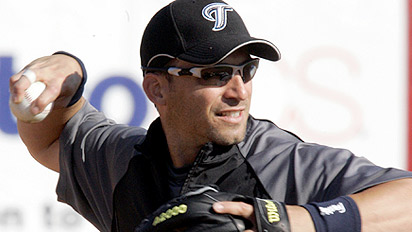 When the game resumed, Brian Tallet was brought in for Richmond to start the fifth and he struck out the side in order. In the top of the sixth, Lind doubled in the top of the sixth and he was brought home on a double play ball off the bat of Millar. The Tribe got that one back when Shin-Soo "not to be confused with shihtzu" Choo took Tallet deep to cut the Jays lead to 5-4. However, Toronto responded with two runs in the seventh on a two-run two bagger by Alex Rios.
That lead went in the toilet after stretch time when Cleveland scored three times to tie it up at 7-7. Victor Martinez launched a two run dinger to chase Tallet from the game. Jesse Carlson took over and like Tallet, he walked the first batter he faced. Carlson then got a groundball to short and it appeared the Jays would escape with a one run lead but Aaron Hill had trouble getting the throw over to first so they couldn't complete the inning ending 6-4-3 double play. Carlson wound up walking another hitter and Brandon League's control deserted him like Billy Bob Thornton's musical talent. League walked the first man he faced and plunked Ben Francisco in the posterior to force in the tying run.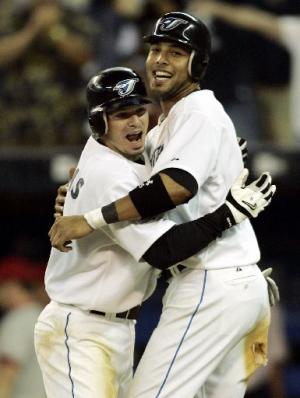 The Jays would take the lead for good in the eighth when they got a huge break. Rolen led off with a single and Millar hit a grounder deep to short. A diving Jhonny Peralta got to the ball but couldn't get it in time to second for the forceout. Asdrubal Cabrera had a chance to cowboy up and throw over to first to get Millar because he had stumbled out of the batter's box. Instead, Ryan Garko couldn't hang on to Cabrera's short hop throw to first and Millar, in spite of himself, was safe. A beautiful sac bunt by Jose Bautista moved the runners up and Michael Barrett was given an intentional pass. Scutaro then followed with a bloop single to score Rolen and pinch-runner John McDonald. Rios and Lind went on to smack a two-run double each to complete the six run uprising.
Shawn Camp finished up with two shutout innings, allowing just one walk while striking out two. He also got three groundball outs. However, the victory went to League who got the win to improve to 1-0. Richmond gave up three runs on five hits and two walks over four innings. He did strike out four but his groundout/flyout mark was 2-6.
The Jays had four RBI and three hit nights from Lind and Rios while Scutaro had a three hit night and scored three times. Everyone had a multi-hit against except for Barrett and Bautista but Barrett did get an intentional walk and Bautista contributed with a sac bunt and a nice running grab on a liner to left to end the seventh. In all, they collected 17 hits and were 6-for-14 with runners in scoring position. Lots of candidates for the Batter's Box Jay of the Game but let's go with Marco Scutaro because he had the winning RBI.
This afternoon, it's a showdown between the Cy Young award winner of 2008 and the runner-up. It's Cliff Lee and Roy Halladay at 1:05 p.m. EDT at the Field formerly known as Jacobs.
=========
In other TDIB notes....
* In the game of the day - the Brewers rallied to beat the Cubs 4-3 in their home opener at Miller Park. Rickie Weeks scored the winning touchdown, er, run!
* In the emotional game of the night, Angels beat the BoSox 6-3 in their first game after the Nick Adenhart tragedy, in which charges have been laid.
* The second place Orioles, trailing your Toronto Blue Jays by a half-a-game in the AL East, holds off Tampa 5-4 at Camden Yards
* Yankees won again unfortunately, beating the Royals 4-1. KC gets more bad news as Jose Guillen goes on the DL.
* Tigers destroy the Rangers 15-2 at Comerica Park
* Rockies drill the Phils 10-3 at Coors Field.
* Other winners were the Twins, M's, Marlins, Braves, Cards, Snakes, and Friars. Pittsburgh and Cincy were postponed due to rain.
* Your schedule and probable starters for today.